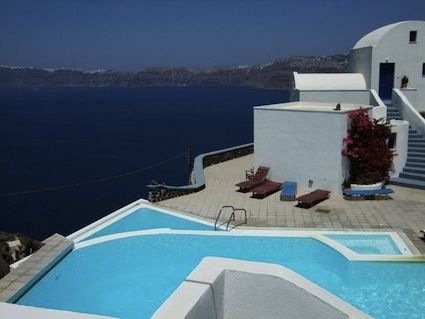 The evolution of the internet has made it unnecessary for anybody to work a 9-to-5 day job if they don't want to.  I venture to guess that if you are reading this site, you sometimes daydream, like I sometimes daydream about one day quitting your job and being your own boss from anywhere in the world.
It's very tough to decide when exactly is the right time to take that leap of faith.  I have a soft target of "retiring" if and when I ever start a family or if I stop enjoying my day job down the road.  I still go back and forth constantly about when is the best time to have kids but am starting to come around to the idea a little more lately in thinking more about my age and how fast time is going by now.  Doctors recommend having a baby before 35, which only continues to get closer for me whether I like it or not.  Even though I enjoy my day job I don't think I'll feel guilty walking away to take care of my family if that time comes.
As my friend Sam recommends, never quit, get laid off instead.  Part of the reasoning is that if you get laid off, you can usually collect severance, get extended healthcare coverage, and are eligible to apply for unemployment benefits which run a maximum of  $1,600-$2,100 a month across various states.
The average severance package comes in all shapes and sizes as I wrote about in an earlier post.  What I'd like to find out from all of you is how much severance pay would it take for you to leave your job with no backup.
SECRET SEVERANCE PACKAGES
The reason why there is no definitive answer on what the average severance package is has to do with severance pay being fully discretionary to all of us "at will" employees who are not part of a union.  I was talking to my friend over lunch the other day and she revealed she's in the middle of negotiating a severance package equal to about one year of her base pay.
It's a solid severance package, especially since she can start a new job immediately after her termination date is over, and still keep all of her of severance pay!  She said to me, "Sydney, if the rest of my colleagues were offered this severance package, I bet at least 30% of them would leave!  As for the other 70% not leaving, 30% probably wouldn't due to debt and family obligations, 20% probably wouldn't because they don't have enough confidence in themselves to find another job, and perhaps the other 20% because they truly love their jobs and feel fairly compensated."
I nodded emphatically in agreement because I would probably leave if my firm much sooner than later if I knew I could nail down that type of opportunity!
WHAT IS YOUR BARE MINIMUM?
Some of you have quit your jobs to travel the world with absolutely no severance package.  Hence, zero severance is your bare minimum! Perhaps it's because you've saved up enough, or you didn't like the work environment at your old company.  Whatever the case may be, quitting your job is gutsy.  For the rest of you, how many weeks or months in salary would it take for you to leave your job with nothing lined up?
If the screws started to turn on me to leave, I think I'd happily accept a minimum of 6 months severance pay.  Just don't tell anybody!  🙂 With 6 months, I'd be able to relax and travel for 3 months and do what I want.  I'd probably spend the other 3 months searching for new jobs in different fields or put it towards savings if I felt I was ready to go from being a part time entrepreneur to full time.
Personal Story: I was able to negotiate a severance package equal to six years of living expenses. Learn how to negotiate a great severance for yourself in my new book How to Engineer Your Layoff! Never quit, always get laid off so you can collect a severance, health care insurance, deferred compensation, unused vacation days, and be eligible for unemployment. If for whatever reason you do not find the book helpful, you can have a full refund.