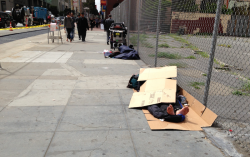 Money, money, money. We all need it, but the way we use it and how much we each have of it varies so much. I'm fearful that in many parts of the U.S., more and more many people are developing insensitive, entitled attitudes that are stripping away the best qualities of being human. Recently I found myself wondering, will the widening income gap kill human kindness?
Like It Or Not, We Can't Escape Money
There's not a day that goes by that I don't think about money in one way or another. I'm sure a lot of you would agree. The older I get, the more it's at the forefront of my mind too. Is my retirement savings on track? How much can I earn this week? Is there a cheaper option than xyz product/service? Am I making money in the stock market? What should I invest in this month? Am I supporting my parents enough? How else can I save and earn more money?
The way we each approach money and investing can be so different. Some people like my mom prefer denial and avoid talking about anything money related; others try to manage their money but give up too quickly due to a lack of experience; some like me find PF (personal finance) fascinating and steadily increase our knowledge; and others are like sponges for anything finance related – the natural experts who constantly teach us new things.
When I was in school, the only personal finance related lesson I remember having was learning how to write a check in 2nd grade. That's pretty pathetic. A slow but increasing trend to teach personal finance topics in schools is happening though. I sure hope it gains some serious momentum. I wish personal finance basics and investing 101 classes will one day be required in every high school and university. If we want to solve our nation's widening income gaps and retirement crisis we have to start with education.
Signs Of A Widening Income Gap In The U.S.
The middle class is shrinking and that's not a good thing. Check out this chart from CNN Money. The most worrisome trend is the increase in the lower class. Ideally if the upper class is rising we'd want to see more people moving from the lower class into the middle class, not the opposite.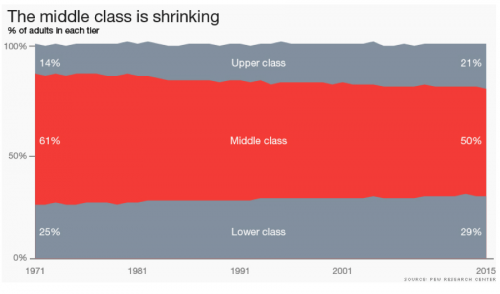 Looking further you can see a huge jump in assets of the rich, a marginal increase for the middle class, and a worrisome decline for the poor.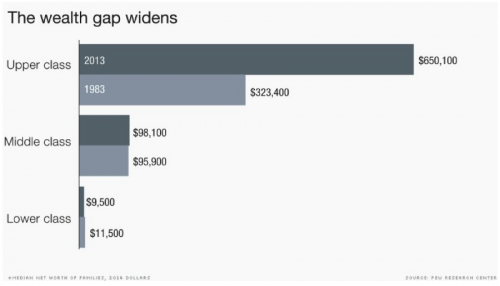 The problem with this chart is the middle and lower class are getting squeezed out. Some blame technology for reducing the number of middle-class wage job opportunities. Another possibility is an increase in the number of people only working part-time or freelancing, which typically excludes access to important benefits such as insurance and employer retirement plans. Increased resentment and tension amongst the middle and lower classes towards the rich is bound to happen if the widening income gap remains unresolved in the coming years.
Are We Becoming A Desensitized Society?
The widening income gap is a hot topic for the upcoming election and I can see why. Many of us feel its effects every day whether directly or indirectly. Stop and look around. Signs of trouble amongst the wealth classes are everywhere. It's becoming especially prominent here in San Francisco, Silicon Valley, and throughout the greater Bay Area.
One of the most shocking observations for visitors to San Francisco is how many homeless there are here. Whenever I have colleagues visiting SF from New York, and they are always in utter disbelief at how bad it is here. NYC used to have a lot of homeless, but the last few times I visited, I barely saw any. A lot of that is probably due to NYC buying one-way tickets for the homeless to leave the city. Sounds crazy, but it's true – shipping the homeless somewhere else doesn't solve the problem.
Anyway, poverty and homelessness are complex problems that are hard to fix. However, that shouldn't make us become so frustrated or insensitive that we treat the poor and homeless without respect. Unfortunately, more people with wealth are becoming insensitive. For example, a local SF tech developer and entrepreneur named Justin Keller recently sent an open letter to our mayor complaining about the city's homeless.
Keller's letter made headlines because it was angry, insensitive, and didn't provide any solutions. He sounded like what some would call a rich prick, carrying an utterly entitled attitude and lack of compassion. Here's an excerpt from his letter:
"The wealthy working people have earned their right to live in the city. They went out, got an education, work hard, and earned it. I shouldn't have to worry about being accosted. I shouldn't have to see the pain, struggle, and despair of homeless people to and from my way to work every day."
He went on to call the homeless "riff-raff" and described several unpleasant interactions he experienced with his family. I understand that safety is important, but the wealthy haven't "earned" more rights than the poor. Yes, the city needs to find ways to help the homeless, but calling them "riff-raff" in such an insensitive manner isn't helping. Keller sounds like an a$$hole. Sadly, there are likely many others who feel the same way.
With more and more people coming into quick wealth, especially due to the tech boom, we must be diligent not to lose sight of our core values and human kindness. If more people continue to adopt elitist attitudes, oh what a sad and prejudiced future we will face. At the end of the day, we are all human with feelings. Some people face more hardships than others and it isn't always their fault. Having money certainly doesn't make it okay to look down on those without.
Let's All Show More Compassion And Human Kindness
I hope that our next president will help develop solutions to address the widening income gap. If the number of low income households continues to increase things could get a lot worse.
There's nothing wrong with working hard and making a lot of money – I certainly want to continue to build my income streams – but letting it get to our heads is a dangerous and slippery slope.
Let's all try to show more compassion and human kindness to one another, especially those less fortunate than us. Every day we can take small steps to come together, stop being selfish, be more caring, and treat one another with mutual respect regardless of how much or how little we have.
Recommendations
Track Your Money And Net Worth For Free – Utilize free technology to track your own finances and net worth with Personal Capital. You can quickly link all of your accounts in one place. The best features are their Portfolio Fee Analyzer tool and their Retirement Planner. I was able to save over $1,000 a year in fees by using their free tools. The Retirement Planner is also great because it uses your own inputs to calculate your future cash flows. Take advantage of Personal Capital's free financial tools to maximize your net worth today.
Get A Free Personalized Investment Plan – Wealthfront is an excellent choice for personal wealth management for those who want the lowest fees and can't be bothered with actively managing their money themselves. In the long run, it is very hard to outperform any index, therefore, the key is to pay the lowest fees possible while investing your money in the market. Get a free personalized investment planfrom Wealthfront in just a couple minutes by answering a free six step questionnaire. You don't have to transfer a single penny to see Wealthfront's recommendations for your investments, but it's easy to fund an account if you choose to do so.
Start Your Own Profitable Website Today – Want to make more money and be more free? Work on building your brand by creating your own website the easy way with a WordPress site like mine through Bluehost for super cheap. You can register your domain for under $20/year and get hosting for only $3.49/month. Whatever your interests are, focus on building your skills and developing your own unique niche.
Untemplaters, what type of signs have you seen or experienced in regards to the widening income gap? Do you think more people are developing entitled attitudes that look down on the less fortunate? Are we losing compassion and human kindness?