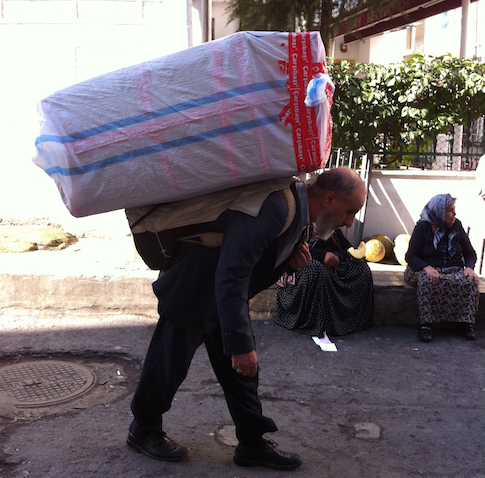 So you've decided to ignore my advice against quitting your job before you build at least a year's worth of sustainable income with your side endeavor. Living the untemplate lifestyle takes a lot of careful planning. We aren't encouraging you to be so foolish as to quit something stable to follow your passions without going through a long test run first. Here are 15 things you should consider before quitting.
Even if you do decide to jump into entrepreneurship or become a starving artist with no parachute, there's a good chance you should receive at least a month's worth of income safety net if you decide to negotiate a severance or get laid off. Never quit, because if you quit, you'll get nothing and like it.
The Worker Adjustment and Retraining Notification Act, or WARN Act for short is mandated by the U.S. Department of Labor that all businesses with 100 or more full-time workers file a WARN Act with the state they are operating in, and planning for "plant closing" or "mass layoffs." The WARN Act has been effective since Feb 4, 1989.
WARN offers protection to workers, their families and communities by requiring employers that meet certain criteria to provide notice 60 days in advance of covered plant closings and covered mass layoffs. This notice must be provided to either affected workers or their representatives (e.g., a labor union); to the state dislocated worker unit; and to the appropriate unit of local government.
In other words, if you are laid off tomorrow, you could technically still be an employee of the company for 60 days until your income, insurance, and all other benefits terminate. Here's an overview of how the federal WARN Act works.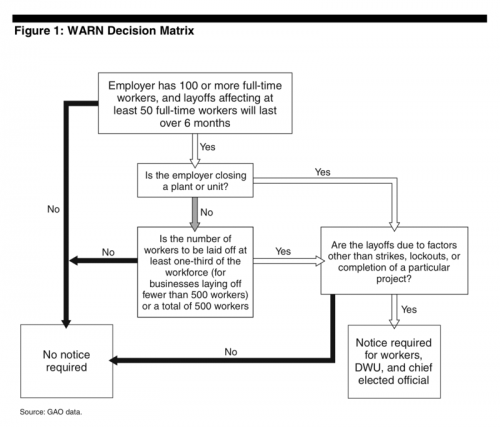 Some States have different "WARN periods," such as three months in New York and two months in California. The basic WARN period is 60 days. In addition, states can have their own additional rules for required notice on top of the federal requirements.
California law applies to firms with 75 or more full-time or part-time employees and removes the one-third rule. New York law drops the company size down to 50 or more employees where 25 or more workers are affected that are one-third the workers at the site, and raises the notice to 90 days.
A NEW STEP IN LAYOFF MANAGEMENT
I encourage everyone who wants to quit their job or get laid off to Google the words "WARN Notification *your state*" and see if your company comes up in the public filings. If you are in a satellite office, you should also Google WARN Notification and the state the headquarters is based.
By Googling "WARN Notification California," for example, I easily come to the California Employment Development Department and can search for an alphabetical list of employers to check if my company is planning any layoffs. The document is very precise and spells out who filed the WARN, exactly when the layoffs will commence, and why. If you want to get in the front of the queue to raise your hand to get laid off, I recommend checking your state's WARN list once a week.
SEVERANCE ON TOP OF WARN
Your 60-day WARN period is like a two month severance package, but not really since it is required by law. It's important to know that a severance package is entirely optional. Your company can decide to give you a certain amount of weeks per year worked on top of the two month WARN period if they want.
As noted in a previous Utemplater article, the average severance package ranges between 1 to 3 weeks of pay for every year worked. You'll not only get your severance, but you'll also get all your untaken vacation days which are valued as normal working days.
You should also realize that sick days are a benefit which have no monetary value when you receive your severance. Most companies allot a certain number of sick days a year per employee which once used up puts the employee on short term disability leave. This is why it's savvy to consider taking sick days instead of vacation days if you know you're at risk or are planning to engineer your layoff. Your employee handbook should tell you the amount of paid sick days you get a year.
I was a fool and took maybe 10 sick days over an 11 year career at my old firm. I actually had 132 sick days to burn!
THE GOVERNMENT IS DOING SOMETHING RIGHT
The government has actually done something right to protect workers from the unfortunate, or fortunate event of getting laid off with the WARN Act. From a company's perspective, laying people off is more costly than meets the eye. This is why you will see such large "one-time charges" in a companies quarterly profit statement after a mass layoff. You may think the company is saving money, but actually, the company is hemorrhaging money in the very beginning. The company hopes the market will look past this write-off, and focus on the recurring operating profits.
Please note that I am not a labor lawyer, but I have done plenty of research to write a 150 page book on how to profitably quit your job based on my own experience as well as the experience of others. You can start with the WARN fact sheet and go from there.
Just remember that if your company is saying you are getting a 1-3 month "severance," they are pulling the wool over your eyes because the 1-3 months of pay is likely mandatory by law. Severance is on top of your WARN pay!
RECOMMENDATIONS
Looking for affordable term life insurance? Check out PolicyGenius, an independent insurance broker that is revolutionizing the way we shop for life insurance – for free! You need life insurance if you have dependents or debt. Chances are high that if you currently do have life insurance, it's not the best policy for you. PolicyGenius provides unbiased advice on more than 25 A-rated top life insurance companies they have thoroughly researched and vetted. Because life insurance prices are regulated, you don't have to worry about not getting the best deals. PolicyGenius helps you compare the best quotes all in one place. I've met the CEO, Francois de Lame in person in NYC and strongly believe in his business
Need affordable health insurance fast? Take a look at the plans offered on Agile Health Insurance. They offer term coverage for as little as $1.50/day with premiums up to 50% less than Obamacare (ACA) plans. There are no lock-out periods so you can enroll any time of year, get immediate approval and get coverage in as little as 24 hours. Agile Health Insurance also offers broader doctor networks than most Obamacare plans and has customizable options for dental and discounts on prescriptions. Find a plan that works for you today..
Updated for 2017 and beyond.