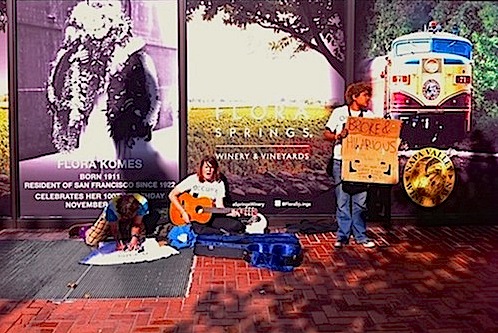 Before you take advice from someone to not get a job after college or quit your current job to "live your dreams," breathe for a moment and punch yourself in the face. After you're done with your deep breathing beat down, ask yourself what are the credentials of someone encouraging you to quit your job and self destruct?
More often than not, the person encouraging you to forsake the working world has failed in their own ability to find a worthwhile job, and/or is in the business of selling you a product to quit your job and lead a location independent lifestyle. I absolutely LOVE the idea of living a location independent lifestyle and have done so in Hawaii, Mexico, and on a cruise ship in 2011. But, I'm telling you, making good money on your own is way harder than you think as you will read from four examples below.
There are millions of jobs in dozens of different sectors around the world. Are you saying that you can't find one that you enjoy? If so, you aren't looking hard enough. Nobody quits a job they love to do, period!
The past several years have been tough for people to find jobs, and lifestyle blogs everywhere have popped up to encourage readers to live on their own terms. These are the very same people great companies have rejected. They can't get into the Googles, Facebooks, Twitters, Wachtels, Morgans, and NBC's of the world. As a result, they have no choice but to bash the job market and tell everyone to quit and follow their dreams.
If you can't rise up to the challenge, an often used tactic is to try and bring everybody down with you. Don't let others bring you down!
Being A Successful Entrepreneur Is Brutally Difficult
It's irresponsible for people to encourage others not to get a job after four expensive years in college or quit their existing job altogether without a financial safety net. It is even more irresponsible if your parents paid for your college tuition. You owe them something, and living in their basement, taking out the trash twice a week doesn't count! That's a given, along with paying their utility bills, cleaning the entire house, doing your own laundry, and giving your mom a nightly back massage.
Someone can sell you a product to give you that motivation, but guess what happens after you've failed at going at it alone for 2 years? You have one big gaping hole in your resume and a lot less money. Meanwhile, the person who sold you the dream of quitting your job has your money and is relaxing on the beach, thank you very much!
Example One: A Millionaire
Erica from Erica.biz sold her web hosting business in 2007 for $1.1 million at the age of 26. Erica's timing couldn't be better as financial markets started crumbling in 2008. Selling for $1.1 million is her marketing tag-line, which is absolutely brilliant because $1.1 million sounds like a lot of money. Or is it?
Erica is an entertaining writer. My favorite post is "Dear California, I'm leaving you" discussing how horrible our state's tax system is for entrepreneurs. Assuming Erica owned 100% of her company, and has no debt, her net proceeds after taxes is around $750,000-$850,000. Still sounds like a lot of money right? If so, why did she decide to get a job in order to qualify for a $300,000 mortgage in Texas? She explains it's because of a lack of a W2 and the fact that perhaps there really isn't $750,000-$850,000 left from 4 years ago. Living in California is expensive!
You would think that with $1.1 million dollars, Erica would be rolling in dough, or at least have a bathtub full of one-dollar bills to soak in. However, after selling your business, there's no longer that hefty income stream. You've got your lump sum, and now you've got to figure out what to do with it. If you invested it all in the markets in 2007, you could have lost 30-50% of it in one year if you sold! I'm hoping that's not what happened.
If Erica needs to get a job after netting $850,000 and founding her second business that does SEO and has a rank tracker program for websites, what chance do you have of surviving online or doing whatever you want without a job and saving for your retirement? Your chances are slim to none. I hope you are enjoying your new job Erica, and not having to pay taxes in Texas!
Example Two: A Nomad Who Hates Debt
One of the reasons why I like Adam Baker is because he's one of the most transparent lifestyle bloggers around when it comes to his income. Adam sells info-products teaching you how to get rid of your stuff and reduce debt. He's also started a video course/seminar on debt reduction as well.
Adam writes how he made $104,550 in revenue in 2011, which is a handsome sum of money. But, Adam also highlights all his costs. At the end of the income statement, Adam's profits before tax is just $20,000. Pay a 15% effective tax rate and Adam and his entire family are left with $17,000, just enough to max out a company 401K if he worked for a company and have nothing left.
Do you know what the poverty level for a family of four is in America? The level is around $20,000. Practically every job in America pays at least $20,000 a year! However, not every job is as fun as Adam's.
I'm not worried about Adam and his family because Adam has invested for his future. You've got to investment money to make money. Given no other asset is more important than ourselves, I'll argue that Adam is making the best investment of all. Forget the stock market, bond market, real estate, gold, and beanie babies. Spend the money on yourself and your business!
Example Three: The Empire Builder
Mike from The Financial Blogger is one of my favorite bloggers because he's been buying up a lot of sites over the years and showing his readers how to build a blogging empire. I've followed Mike for the past three years and he is also a Yakezie Member. His blog has semi-frequent income reports which break down exactly where he is making money.
One of the most eye-popping things I've learned about Mike's reports is that he spends $35,000+ a year on virtual assistants! That's an amazing amount of money, letting Mike work just several hours a week on his sites. In 2010, Mike wrote that he generated $125,000 in revenue. However, he also had $66,700 in expenses, leaving him with a profit before tax of $58,300. I'm not sure how much Mike has to pay in Canadian taxes, but let's just assume 25%, leaving him with $43,725. Still not bad, but not as eye-popping as the original $125,000 headline. It looks like Mike's business has continued to grow in 2011 with pre-tax profits reaching around $85,000 or so, a 40% jump.
Here's the kick in the nuts or a punch in the boobies if you prefer. Mike shares with us that he has to split his profits 50/50 with his partner! So take $43,725 and divide it by 2 to equal $21,862 per person for 2010. Not bad, but again, not the initial big bucks we originally thought. The irony is that Mike wrote a book called "Escaping The Rat Race," and yet announced recently that he was excited to get a new job closer to home.
Given Mike has been so transparent with his income and reasoning for getting another job, I don't think it's hypocritical that he's working. It's just the way it is, and the way it should be. Work at a job you enjoy doing, and build the business on the side until it gets so huge you can't help but quit. Good luck Mike!
Example Four: The Network Creator
I've personally spent 20-30 hours a week without fail for the past 2.5 years building up Financial Samurai. With ~150,000 page views a month, the traffic is better than a sharp stick in the eye, but it's not nearly enough to live like Snoop Dogg. I need 10X that traffic to live like Snoop, and then maybe I could really live it up like a corrupt politician on the Hill.
I don't reveal my income, because I'm not in the business of teaching people how to make money online and I therefore would find it distasteful to do so. My focus is on my writing, but let's do the math. If I make $3 per thousand impressions and I have 150,000 impressions a month, I'll make $450/month for each ad. Whoo hoo I'm making it rain up in here!
Sell 5 spots and I'm "raking" in $2,200 a month, enough for me to live in a crappy one bedroom apartment in San Francisco and eat burritos every day. Of course if I raise my RPM from $3 to $6, well then, maybe I can eat the occasional burrito grande with extra guacamole. I'd rather just shoot to raise readership to 1 million page views a month and then dictate my terms.
OK, so maybe I can do some affiliate marketing, write a book, and create my own product like Adam, Erica, and Mike to increase my revenues. But shoot, who has the time working 50 hours a week at my day job and making sure the Yakezie Network continues to grow? I'd rather focus on the writing because that's the most fun, and seriously the main reason why I blog. I know that if viewership jumps to 500,000/month+, there's no doubt I can generate several hundred thousand in revenue a year. Notice how I write revenue, and not operating profit. My costs might balloon from $1,000 a month to $5,000 a month, who knows!
I'm not the brightest, nor the fastest person, and I'm sure I could utilize my time more efficiently. However, I do have a dedication that will never die until someone chops off my hands, and even then, I will find a way to continue. Average 70-80 hours a week working for 2.5 years and I promise your income will go up and you will create something of some significance!
A Better Way Of Launching
Don't be a donkey. Go through Sydney's checklist of things to ask BEFORE you quit your job so you don't self destruct. The better way to living life on your terms is by finding a job you like and creating something new on the side. 24 hours a day is enough time to work a day job and a side job as you build your savings, experience, and skills. That said, don't underestimate how many hours a day you will have to work on your side business. Things add up quickly.
Calculate your expenses and aim to save at least 24 months worth of monthly living expenses before you go on your own. Two years is enough time for you to realize you are a failure, or that your venture will be a success. If you are not making money after two years, you need to pull the plug unless you have an unlimited amount of money. Remember, real entrepreneurs are successful. Otherwise, you are just a hobbyist.
Two years is also about the maximum amount of time you can be out of the work force before recruiters start writing you off. Anybody can understand a one year break. Anybody can understand going out on your own and giving it a go for 2 years. However, beyond that, companies will start feeling you're just delusional and too stubborn to hire. Your skills will be out of date and there are tons more qualified candidates to choose from.
While working on your side business, set revenue and net profit targets. With financial targets, you'll be focused on maximizing revenue, thinking more strategically on costs, and keep delusions at bay. You should probably also set net profit targets as a percentage of your day job revenue so you have an idea of how much it takes before you are willing to quit your job and work on your endeavor full-time.
Next time someone tells you to quit your job, tries to make you feel bad for having a job, and attempts to sell you a product on why you should quit your job, ask them these questions:
* How much money do you make from your online endeavors? Do not confuse revenue with net profit. As you can see from my four examples above, making money by yourself is not easy.
* Do you live at home with mom and dad? Seriously, if they're not living independently, it's hard to take them seriously.
* What is your educational background? Not of supreme importance, but it's nice to know whether they went to Columbia University or Chico State to get a hint of their intelligence and work ethic.
* What is your work experience? If they have minimal work experience, then it's hard for them to gain perspective. Three years out of college and then teaching you how to be "epic" does not jive.
* Do you make money by telling people to quit their jobs with an info-product? If nobody bought their info-product or affiliate products, would they still be able to make money? This line of work is fine, but they just need to have the credibility.
* How many page views do you have a month? Important to get a sense of blog authority.
* Have you paid your taxes yet? Again, do not confuse revenue with net profit. Taxes are a huge expense!
* How much money are you saving? Nobody can work forever, no matter what the "do something you love, and it'll seem as you will never have worked a day in your life" crowd says. People who don't save for a rainy day will get dumped on.
If the person admits he only makes $20,000 a year in operating income before taxes, has a site that gets only several thousand page views a month, has never held a job for more than 2 years consecutive years, and lives at home with her parents, forget about it. There's no credibility and you need to move on.
Entertainment Value Is Worth Something
It's entertaining to watch others bash people like myself with day jobs. I just feel bad for them because they just haven't found a job they enjoy doing. Society rejects them, so they reject society. People are fooling themselves if they think any job or entrepreneurial activity is 100% fun, or even 80% fun. There is always crap to deal with, no matter what you do.
More power to people for trying to make something happen when they can't find their dream job. It's a competitive world out there, which is why staying in school to develop your skills is not such a bad thing. I just hate reading when they say we should all be like them and quit our jobs…. and buy their product in the meantime. It's bullshit and you need to know this before spending a penny.
Don't be irresponsible with your life just because someone tells you to. If things aren't going swell with your job, suck it up and figure out how to manage up and pursue new avenues. Consult with your friends and family thoroughly and do a cost benefit analysis. Calculate how long your savings will last if you go out on your own and make nothing. Are you willing to go back to the well and ask your parents for money and shelter?
Consequences
A massive hole in your resume to pursue your "dream life" can turn into a nightmare. You could become one of the long-term unemployed and lose your life savings. Because you are no longer employable, no man or woman will ever want to be with you if they didn't know you in the first place. Because nobody wants to be with you, you could lose your self-esteem and spiral down a dark hole of depression. Because you're depressed, your body fades away. You'll never have an option to start your own family, unless you adopt which would be so wonderful! And when you're "old and filled with regrets, waiting to die alone," you'll at least tell yourself that you gave it a go and decided to live life on your own terms.
Just make sure that having no regrets is worth everything and more.
Personal Story: I was able to negotiate a severance package equal to six years of living expenses. Learn how to negotiate a great severance for yourself in my new book How to Engineer Your Layoff. Never quit, always get laid off so you can collect a severance, health care insurance, deferred compensation, unused vacation days, and be eligible for unemployment.
Update 5/1/2014 – Two Years Later
A lot has happened in the last two years, both in my own life and the other entrepreneurs above. Get all the details in my extensive update here: Two Years After Quitting Your Job And Dying Alone.
Recommendations For Increasing Your Financial Freedom
* Manage Your Finances In One Place: Get a handle on your finances by signing up with Personal Capital. They are a free online platform which aggregates all your financial accounts in one place so you can see where you can optimize. Before Personal Capital, I had to log into eight different systems to track 25+ difference accounts (brokerage, multiple banks, 401K, etc) to manage my finances. Now, I can just log into Personal Capital to see how my stock accounts are doing and when my CDs are expiring. I can also see how much I'm spending every month. Let Personal Capital track your finances so you can gain more freedom to do your own thing. Personal Capital takes less than one minute to sign up!
* Break free! If you're burnt out of your day job, believe that you have options and can turn your career around for the better. I didn't believe I could escape the grind for the longest time, but fortunately I wised up before stress destroyed my life. I never would have thought I could negotiate a severance package and get paid to leave a job I grew to hate, but I did! Learn how you too could get paid to leave your job like I did and open your eyes to new opportunities.
* Start Your Own Profitable Website Today – Want to make more money and be more free? Work on building your brand by creating your own website the easy way with a WordPress site like mine through Bluehost for super cheap. You can register your domain for under $20/year and get hosting for only $2.95/month. Whatever your interests are, focus on building your skills and developing your own unique niche. Read more on how to start a blog.
I've been blogging since 2010 and it has allowed me to break free from the corporate grind to travel, work from home, consult for companies that I like, and do so many more things I've always wanted to do but couldn't. The income is relatively passive as posts I've written years ago are still being found through Google and generating income. What's better than making passive income and creating a valuable asset you can one day sell for a multiple of annual income?
Updated for 2019 and beyond
Photo: "Broke and Hilarious", Occupy San Francisco, SD.