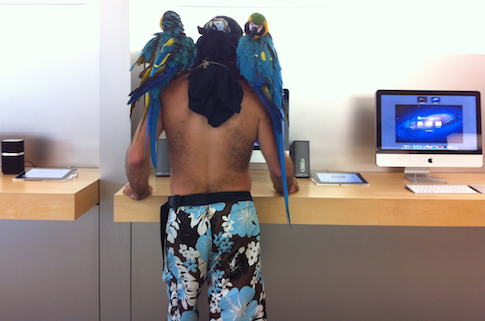 The older I get, the more and more crazy people I seem to come across. I'm telling you there're everywhere! Every day I pass by at least ten to fifteen crazy bums on my commute. They tend to congregate on public benches and along empty lots, or just wander around aimlessly on foot. But there are plenty of non-homeless crazy people too. And I happen to work with several of them! I'm sure you do too. So just why are there so many crazy people at work and in the world, and what can we do about it?
Nature vs Nurture
If you walk into the nursery at any hospital you'd never imagine that one of those babies could grow up to become a social pariah, terrible coworker, or homeless person. But it happens all the time. Babies come into the world innocent and sweet, yet all sorts of things can go wrong that turn them into bullies, weirdos, manic depressives, and bad communicators.
Whatever the true ratio of influence there is between nature vs nurture on our personalities and behaviors, scientists and psychologists will be arguing both sides of this debate for decades more to come. Sure there are studies that show separated twins have remarkable similarities in personality and interests, but there's no 100% clear cut explanation as to why. And it's impossible to measure if their upbringings and environments were too variant or similar to justify the accuracy of those studies.
Personally I think there is always going to be a bit of both, with more influence coming from nurture. Sure we inherit genes that determine our health and physical appearance, which certainly have an affect on our personality and disposition, and a lot of mental illnesses run in families. But I think the manner in which our parents or guardians teach, support, and discipline us have a much bigger impact on our mental wellbeing, attitude towards life, social skills, and willingness to learn and develop. Plus the environments in which we grow up also have psychological weight on our emotions and perspectives.
What Causes People To Go Crazy?
Although we have no control over our genes or who our families are, there are ways that we work towards reducing the amount of bullying, negativity, social disruption, and craziness out there. The first step is identifying the primary causes that lead to many of these problems in the first place. Here are just a few:
Abuse
Neglect
Brainwashing
Isolation
Ignorance
Extremism
Prejudice
Discrimination
Jealousy
Depression
Low self esteem
Anger
Grief
Peer pressure
No self control
Loneliness
Greed
Fear
Teasing
Trauma
Drug addiction
Mental illness
How Do We Stop Craziness From Spreading?
Even as incredible and advanced as technology has become, it doesn't have the ability to magically help us all get along better or improve our behaviors. A lot of people, myself included, believe that all this technology actually makes us worse at communicating because we're so attached to devices that we don't know how to interact or socialize with other people anymore. We're losing the abilities of patience and focus.
Feeling ignored or unimportant when someone is texting or emailing right in front of you may seem harmless, but it can do a lot of damage over time. Relationships need focused communication without constant distractions. I do my best to be present when I'm spending time with someone by putting down my phone and being a better listener. And even though it's not always easy, I'm constantly trying to improve communication at work and in my personal life. The way we interact with one another has a major impact on our emotions and motivations, so I really aim to be supportive and kind every day and encourage you to do the same.
If you're a parent, teacher, or coach I'm sure you spend a lot of time and energy teaching your kids manners and how to communicate and interact with others. Please keep up the hard work because your efforts do make a difference! The younger we can learn communication and behavioral skills, the better off we will be in life and at work down the road. I sure wish my parents spent more time ingraining those types of skills in me when I was a kid because it took a long time for me to come out of my shell and get comfortable in social situations. I wouldn't classify myself as crazy because of that, but I was definitely seen and treated as an outsider and awkward person because of that for many years.
How To Handle Crazy People At Work
Fortunately most of the people I've had to work closely with over the years have been supportive, hard working individuals that are easy to talk to. But I've had to deal with plenty of crazy coworkers and clients in my career with super short fuses, horrible communication skills, and awkward habits. It's really freaky how some people can completely change personalities from super manic to extremely apologetic within the same conversation. And it's intimidating having someone start yelling over the phone over the smallest thing and hang up on you. And then other people are hypocritical or super quirky that it feels like pulling teeth trying to talk to them.
Believe it or not I've had to deal with all of these crazy situations. And the best way I've learned to deal with people like this is patience. Additionally, empathy, kindness, and documenting their actions have also been really helpful. If you think they're crazy, chances are a lot of other people do too. And often times just having the right documentation is all that's needed to give those crazy coworkers and clients the boot.
But do keep in mind that sometimes craziness is just temporary and caused from a lot of stress or emotional personal issues. We all have had days when we just weren't ourselves, and just needed time to get back to normal. So showing support and asking if they need help up front can go a long way.
Spread Happiness And Support
No matter how technologically advanced our world becomes, we will never be able to eliminate the need for personal interaction, kindness, and support. It actually makes it more important that we continue improving our own methods of communication and teaching our youth these valuable skills.
Even the littlest random acts of kindness can turn someone's entire day around and prevent them from going postal or doing something crazy. So next time before you get angry or snippy with someone, try being more patient and nice instead. The more happiness and support we can spread, the less craziness there will be at work and in the world!
Untemplaters, are there are a lot of crazy people where you work and live? What are some of the worst things you've had to deal with from a crazy coworker, client, or random person before? What are your thoughts on why are there so many crazy people at work and in the world?