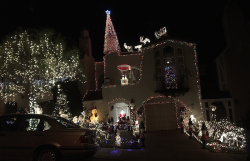 The year is quickly coming to a close – aah! I'm not ready for December to be over yet. It's hard to believe I used to have all my Christmas shopping done by mid November, ha. I get later and later each year. Anyway, here's a quick recap on my 2015 goals and highlights.
2015 Goals Recap
Successes
* Smoothly transition into a new career – It's been a whirlwind of a year. I left my job of 10 years at the beginning of the year and as fate would have it, I ended up back working for them as a consultant last month. I had a great time away during the months in between and was able to focus on building my freelancing portfolio. I could have hustled harder over the summer and fall, but overall I'm pleased with how things have turned out.
* See all of my immediate family – This has been a great year for seeing family. I live long distance from them, but fortunately had the flexibility to make several trips to see my parents and siblings several times.
* Complete 1 item on my bucket list – I made it Asia and also got a cat! I didn't expect to do either this year, so I'm really happy about both of these things. I'm not sure what I'll try to accomplish in 2016 yet though so I've got some thinking to do over the coming days.
* Save 25% of my income – I did decent with my savings goals this year. With irregular income patterns, it's harder to save than when I was getting a consistent paycheck every two weeks, but it's still a passion of mine to save and invest.
* Income Reports – I didn't have a goal to start income reports this year, but I'm proud that I started doing this every month. I wanted to make note of it so I can remember when I got started later on.
Partial And Mostly Misses
* Improve technical skills in editing, SEO, and tech – I learned a decent amount about editing such as AP stylebook quirks and got better about things like using footnotes in some of my freelance work. I learned a few things about SEO and technical stuff, but definitely not as much as I would have liked.
* Keep my files better organized and continue to declutter – I used to be a crazy organized person, but as each year passes I don't seem to be able to keep up with my old ways. I suppose it's good to let go of my perfectionist tendencies and find a more happy medium. I wanted to get all my photo libraries organized and do more decluttering at home, but didn't really get around to it.
* Exercise 1x week for health and stress reduction – I failed on this during the first half of the year, but did an okay job in the second half. I did get in more exercise this year than last year at least, which is a good thing. Happiness is progress. I started taking a weekly class to keep me motivated.
Fun Posts You Might Have Missed
It's always fun for me to look back at what I've written over the last twelve months as each year comes to a close. Here are a few fun and helpful posts you might have missed:
Untemplaters, how did you do on your 2015 goals? Are you ready for the holidays yet? What's at the top of your wish list?