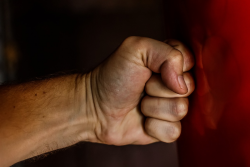 "No pain, no gain!" For those of you who grew up in the 80s like me, you probably remember Jane Fonda's impact on the exercise industry quite well. I remember working out to her videos in gym class. It's pretty funny to picture that now. Our gym teacher was basically slacking on the job. He'd roll one of those old tube TVs onto the gym floor and pop a VHS tape into the VCR and let Jane do his job (oh how old that makes me feel talking about VCRs). Our gym teacher was kinda mean so we didn't mind listening to Jane instead of him, but we sure were exhausted by the end of class trying to keep up.
No pain, no gain origins
Anyway, Jane Fonda emphasized an expression in her workouts that we are all well familiar with today, "No pain, no gain." I have a bad memory so I don't fully remember that being the case, but it sounds right in the foggy archives of my memory and it's true according to Google. 🙂
Although Jane Fonda may have brought the phrase, "no pain no gain," into popularity, especially amongst the exercise industry, it's origin is actually much, much older. Some of the earliest recorded appearances of this expression are below.
* In the beginning of the second century, Rabbi Ben Her Her wrote in The Ethics of the Fathers 5:21 (known in Hebrew as Pirkei Avot):
According to the pain is the gain.
* Poet Robert Herrick writes in his 1650 edition of "Hesperides":
NO PAINS, NO GAINS.

If little labour, little are our gains:

Man's fate is according to his pains.
* Benjamin Franklin wrote the below in 1758 in The Way to Wealth:
Industry need not wish, as Poor Richard says, and he that lives upon hope will die fasting. There are no gains, without pains…
No pain, no gain has been on my mind these last couple months. Even though we certainly don't look forward to experiencing pain in our lives, it teaches us so many things and allows us to grow.
Overcoming pain levels of 10
If you've ever been in the hospital, you've likely been asked to rate your level of pain from a scale of 1 to 10, 1 being very minor discomfort and 10 being unbearable pain. This scale is really hard to gauge without visuals or never having experienced severe and intense pain before. But there will probably come a time in your life when it will become clear.
It wasn't until I was hospitalized in early 2016 that I finally understood all the levels of pain from 1 to 10. Thankfully I wasn't at level 10 for longer than 15-20 minutes and was able to get treatment and medication. But it was something I'll never forget. That experience changed me.
Unfortunately, I had to endure two more trips to the hospital this year with pain levels of 10. Fortunately, both were resolved within 10-15 minutes with medication, but those were still some of the longest minutes of my life. Thank goodness for doctors and drugs.
Although my experiences with pain were intense and I wouldn't wish that level of pain on anyone, there's always a silver lining. I really try to see the positives in every situation: 1. I'm fine now and 2. I'm a stronger person because I got through them all. If any of you are dealing with pain now or in the future, here are some things to think about to help get you through to the bright side.
1. You will stop taking things for granted
Life can go from monotonous and repetitive to dramatic and urgent in an instant. I was completely blind sided by my hospitalization last year and that really taught me to stop taking things for granted. This is more and more true as I get older. Even though I've enjoyed my 30s more than my 20s, I miss the days when I was bouncing off the walls with caffeine-free energy and a hyperactive metabolism. I must say there's a big difference in the springs of our knees, reliability of our short-term memory, softness of our skin and strength of our joints as we shift from our early 20s to late 30s.
Pain has taught me to stop taking things for granted because we just don't know what could happen in the next year, month, or hour. We must enjoy our health while we have it, spend time with our loved ones while we can and fill our lives with happiness.
2. Lets you see what you're really capable of
I think I have more sensitive nerves in my body than the average person. If a medical condition says xyz symptoms affect 1-10% of patients, I'm usually in that bucket. But even though I generally have a low tolerance for pain, my experiences have taught me that I'm capable of enduring quite a lot and coming out okay on the other side.
Often times we give up on goals, fail to overcome bad habits and get stuck in ruts because we don't have enough faith in ourselves and are afraid of failure. Surviving pain teaches us that we can actually handle a lot more than we think. Believing in yourself is powerful "medicine" that we all need to stretch and grow.
3. Tests your limits
Whether you experience intense physical or mental pain, it will test your limits. Those limits are likely to stretch and expand as you work through pain. Getting through to the other side may take time, but you'll be surprised at how strong you really are and how much you can handle and heal. Our bodies and minds are truly capable of quite a lot. Believe that you will get better!
4. Makes everything else seem easier
One thing is for sure – surviving a painful experience will make everything else seem easier. For example, if you're a soccer player and experienced the pain of breaking your leg, the next time you get kicked in the shins it won't feel nearly as painful as before. My fear of needles, IVs and stitches has certainly declined. And getting a flu shot or a blood draw is a cake walk to me now in comparison to the other needles I've been poked with.
5. Puts things into perspective
Pain also helps put things into perspective. You'll look at yourself differently. You'll view your life differently. And you'll definitely look at your job and amount of time you spend away and with your family differently. My experiences put a lot of things into perspective – especially that we just don't know what can happen. Life can take unexpected turns so quickly.
6. Increased empathy
Going through painful experiences will increase the amount of empathy you feel towards others who have endured similar situations. Finding support groups or talking about your experiences with loved ones can really help in your own healing and in developing stronger relationships too. I've made great friends with people who I can empathize with and vise versa. Empathy can build strong lifetime bonds.
7. Memory imprints and fade-outs
Pain can do interesting things to your memory. It can leave scars and imprints on your memory that will last a lifetime. Yet it can also fade and disappear – intentionally or unintentionally. I will never forget the painful times in my life, but it's hard to recall the full intensity of the pain I went through now that I'm not right in the moment anymore.
8. You gain strength
Most of all, pain helps you gain strength. One phrase I used to repeat to myself growing up and still today is, "what doesn't kill you makes you stronger." This goes hand in hand with, "no pain, no gain." Although we don't want to go through painful experiences – mental or physical – they help us gain and grow in so many ways. Sometimes we gain directly and other times we gain indirectly when what we experience moves someone close to us and  helps themsee new perspectives.
Recommendations
Take the pain out of your finances. Personal Capital is a free online money management platform I use that organizes all of your money related accounts all in one place. It lets you safely and securely link your checking, savings, retirement, CD, mortgage, credit card, overdraft protection, and investment accounts together in the cloud. It's free to join and takes just a minute to sign up and start using all of their fantastic tools. A few of my favorite features of their website are being able to add offline assets into my account, monitoring cash flow, viewing my net worth, saving money with their 401k fee analyzer and checking if my savings and investments are on track with their retirement calculator. If you want to be free and have more flexibility in your lifestyle, take control of your finances now and start paying more attention to your money.
Is your boss a pain in the a$$? Break free! Are you a disciplined person who dreams about being your own boss and setting your own schedule? Or are you worried your employer is going under? Break free! If you're burnt out of your day job, believe that you have options and can turn your career around for the better. I didn't believe I could escape the grind for the longest time, but fortunately I wised up before stress destroyed my life. I never would have thought I could negotiate a severance package and get paid to leave a job I grew to hate, but I did! Learn how you too could get paid to leave your job like I did and open your eyes to new opportunities.
Untemplaters, do you like the expression, "no pain, no gain"? Have you experienced intense levels of pain in your life that you ultimately benefited from over time?