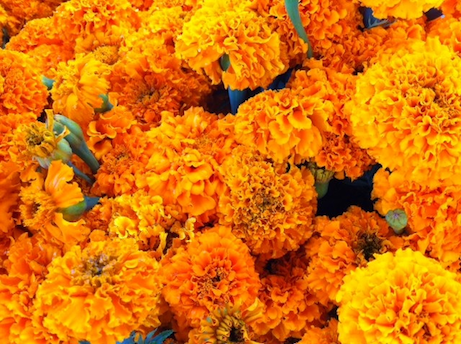 So often we get trapped by our own fears and prejudices that we hold ourselves back from moving forward, building relationships, and experiencing new things. Thinking about the unknown and the future can feel overwhelming, especially when you're going through a big life change like getting into college, finding your first job, becoming a parent, or transitioning into retirement.
But we can't let our fears keep us frozen in one spot no matter what age we are, which is what a what a group of characters come to realize in the incredibly moving film The Best Exotic Marigold Hotel. I almost didn't watch the movie because I hadn't heard anything about it, but I'm so glad I did! I loved every minute of it, and it made me feel alive and inspired. One of the characters, Sonny, is an energetic, entrepreneurial, yet highly inexperienced young hotel manager who helps transform the lives of seven main characters in the film. There's a line Sonny says early on in the movie that has really stuck with me and still makes me laugh, smile, and nod my head whenever I reflect on it. He says,
"Everything will be all right in the end…so if it is not all right, it is not yet the end."
What a positive and lighthearted way to look at things when you're in a tough spot! To tell you a little bit more about the movie, it's about seven British retirees who leave their old lives behind and relocate to India. They were all enticed to pack up and move because they each came across some extraordinary advertisements Sonny published.
The group of seven characters come from entirely different backgrounds, all hoping to enjoy the low cost, newly renovated and exotic Marigold Hotel as described in the brochures. But to their complete surprise upon arriving, things are totally not what they expected, and the movie follows along each of their incredible journeys in the days that follow.
Inspirational On So Many Levels: Life, Loss, Love, Hope, Adventure
Any movie that can make me laugh, cry, and inspire me at the same time is priceless. It can be hard to find movies that have all three of those aspects these days, and The Best Exotic Marigold Hotel is one of the best movies I've watched in a long time. I didn't know anything about the film before I saw it, so I couldn't help but say "Wow!" when the opening scenes kept introducing characters played by a truly incredible cast of actors.
The inspirational, brilliant cast consists of Judi Dench, Bill Nightly, Penelope Wilton, Maggie Smith, Tom Wilkinson, Ronald Pickup, Celia Imrie, and Dev Patel of Slumdog Millionaire. As a big fan of British actors and British humor, the casting and writing was spot on. I think the pace of the movie is just right, the emotions and stories are relatable, and the the sights and sounds of India bring the film to life.
Open Your Mind To Positive Energy, Change, And New Cultures
I strongly believe we can change our lives for the better just by having an open mind and thinking positively. This movie clearly shows how being closed minded results in a lot of suffering, unhappiness, and loss. Life is never going to go exactly according to plan, and the people who can learn to adapt and make the most of their situation are the ones who will thrive and flourish.
Be open to change, experiencing new cultures, and finding the positive in your life and the world around you. Set goals and don't be afraid to dream big. Stop procrastinating and create your own bucket list today using my 55 Bucket List Ideas And Tips. Remember, you don't need a fortune or a clear vision of the future to feel more alive. Everything will be all right in the end if you open your mind now and start taking action. Sonny didn't let his limited resources hold him back from achieving his dream. He got started on the wrong foot with deceptive advertising, but his dedication, drive, passion, and ability to outreach and build relationships changed his life and those around him.
You Can Have A Fresh Start At Any Age
If you think you're too old to change and try new things, you're fooling yourself! Sure, everyone has a different risk tolerance, and that's okay. Just don't get so stuck in a rut that you forget what it's like to experience new things and listen to other people's ideas. The characters in this movie range in age, although most of them are in their 60s, and they each took leaps of faith to start a new chapter.
They each had very different experiences, and you'll see in the movie how their mindsets had a direct impact on that. Our minds are powerful! And if you can learn to embrace the unknown and unexpected, you're going to come out smiling. Here are another set of quotes I liked from the movie:
Evelyn: Nothing here has worked out quite as I expected.
Muriel: Most things don't. But sometimes what happens instead is the good stuff.
Stream Or Purchase A Copy Of The Best Exotic Marigold Hotel HERE
If you enjoyed this post you will also like my article Making The Most Of What You Have In The Moment.
Update 2015: I recently watched the sequel The Second Best Exotic Marigold Hotel and loved it too! The writing and acting were as good as the first and it was a treat to see many of the same characters return.
Untemplaters, have you watched the film? Did you enjoy it as much as I did?! Do you think everything will be all right in the end if you keep an open mind?