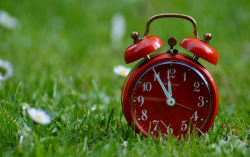 How many times have you found yourself wondering where all the time went over the last week, especially on the weekends? Seven days is a lot of time to get things done, but so often we're juggling a million things that time just seems to evaporate. The trouble is between all the things we juggle from commuting, studying/working, attending meetings, going through our inboxes, running errands, and spending time with family and friends, one week can quickly evaporate into four and then an entire month has disappeared into oblivion. Months can spiral into quarters and then years; crap and then we're old!
Even though we may not have the bad ass powers of X-Men's Quicksilver to move at super fast speeds and manipulate time to our advantage, we do have the ability to break time down into small increments. Think about it – there are 10,080 minutes in one week. Assuming eight hours of sleep each day (which is probably more than most of us get on average), that leaves 6,720 minutes or 112 hours to do all sorts of incredible things!
You do have more time than you think
There truly is a lot you can accomplish with all of those 112+ hours if you put your mind to it. Of course it's not easy to work multiple jobs, juggle family, squeeze in exercise, run errands, catch up with friends, and build a business all at the same time. We've all been overwhelmed with endless lists of to-dos many times. But we ultimately do have the ability to make our own choices and determine how our time is spent.
My first piece of advice is to be selfish with your schedule. There are a ridiculous number of distractions these days that will easily eat up your time if you're not careful. For example, one of the first things I gave up when I wanted more time for myself was social media. There's no need for me to share pictures and posts of everything I'm doing with the world and I don't need to know the day to day details of what my friends are doing either. I already actively share bits and pieces via Untemplater and save a lot of time by staying off of Facebook and Twitter.
Get used to saying thanks, but no thanks. I've also become used to politely decline social invitations when I have a lot on my agenda. It's hard to start saying no if you're the type who has always said yes to everything, but it gets easier and is definitely worth it for your own sanity. Same goes for work and doing favors for other people. You will get buried if you say yes to everything and possibly even treated as a push over. Know your own limits and get used to saying no. Start putting your to-do list first you'll start freeing up time to get more done each week.
Also, take full responsibility for all of your actions. You will only end up hurting yourself in the end if you waste time blaming others for how your time is spent each week. Sure, there will always be events and incidents that pop up which are entirely out of your control, but don't get hung up on them. Take responsibility for everything that is within your control. We are only as productive as we choose to be. Prioritize!
Make fewer decisions for increased efficiency and happiness. Having choices is great but it can also be super exhausting and time consuming. Use automation and repetition whenever you can to help reduce the number of decisions you have to make every day. You don't have to turn into a robot, but work on simplifying your routine so more parts of you life can function just fine on auto pilot. Decrease the amount of choices you have to make and you'll be surprised at how much more you get done each week.
If you care about something enough, you will make time to get it done!
Time slows down when you get more done
I'm sure you've had days that seem to just drag on forever, usually because you're bored or are coping with the agony of waiting for something out of your control. It's easy for time to move slowly during those types of frustrating scenarios, but I believe we can also learn how to appreciate and slow down when we do what we love and get more things done as a result.
One of my weaknesses is wasting time thinking about all the things I need to do without actually doing any of them. I've had this bad habit of overthinking things since I was a kid. It's part of my perfectionist streak that tries to sneak out when I'm not paying attention. The way I combat it is not letting the pressure of a giant to do list overwhelm me to the point that it zaps all my motivation. What helps me a lot is tackling things a little bit at a time. I'll pick a few things I want to do in five minute increments, start my timer and go.
Try it! Five minutes doesn't sound like a lot, but even just five minutes are so much better spent doing something versus just thinking about something. Do enough incremental tasks every week and you'll whittle down your to-dos in no time.
Celebrate your weekly highlights
Time will definitely escape you if you never keep track of your accomplishments and are lazy all of the time. That's why I strongly suggest you keep a written log, or at least a mental one, of all the things that you're happy about and proud of each week. Giving yourself recognition not only feels great, it will also help you improve your time management skills. Why? Accomplishments and success are extremely addictive! The more you celebrate your weekly highlights, the less and less you'll let time escape you because you'll continually want to make better and better use of your time. Are you ready to get more done each week now? I sure hope so!
Be your own boss and set your own schedule
Are you a disciplined person who dreams about being your own boss and setting your own schedule? Or are you worried your employer is going under? Break free! If you're burnt out of your day job, believe that you have options and can turn your career around for the better. I didn't believe I could escape the grind for the longest time, but fortunately I wised up before stress destroyed my life. I never would have thought I could negotiate a severance package and get paid to leave a job I grew to hate, but I did! Learn how you too could get paid to leave your job like I did and open your eyes to new opportunities.
Untemplaters, how are your time management skills? How do you get more done each week? What are some distractions you regularly struggle with?