Have you ever taken the time to literally count how many decisions you make every day? I sure haven't. I doubt you have either because our daily decision counts probably reach into the hundreds! It's pretty crazy how many decisions we can wind up facing on a day to day basis. And most of the time we aren't really paying attention that we're making decisions either. It actually takes a conscious effort to make fewer decisions.
Culprits of decision fatigue
I think the worst part about decision making is how incredibly time consuming it can get, which can lead to decision fatigue. Once we hit decision fatigue we tend to get grouchy, tired, overwhelmed and may even get so frustrated that we wind up not making any of the decisions we want to make at all. I've sure been there before, have you?
We are very fortunate to live in societies that provide endless opportunities and countless choices. Freedom, flexibility and having the power to choose are truly priceless. The downside is that flourishing, profitable economies and democracy can spur a lot of time consuming decision making on our part if we lose control. But the good news is that you don't have to suffer from decision fatigue.
The first step in avoiding decision fatigue is recognizing the most common culprits:
Facing too many decisions in a short time span.
Lacking knowledge and experience to make smart choices.
Trying to do too much on your own without asking for help.
Lacking opinions and being too wishy-washy.
Overwhelming fear of failure, regret and making bad decisions.
Poor time management skills, always running late.
Being disorganized and forgetful.
Poor stress management.
If any of those culprits sound super familiar, think about how you can work on those weaknesses in your own life. Your efforts are bound to result in increased happiness and less decision fatigue.
Tips on how to make fewer decisions
Even if you don't suffer from decision fatigue, you can still benefit a lot from the added efficiencies from making fewer decisions each day. Just because we can make a lot of decisions doesn't mean we should.
Here's a game plan we can follow to make fewer decisions. Care to join me?
1. Set whatever you can and forget it. One of the main reasons I got sucked into buying Ron Popeil's Ronco Rotisserie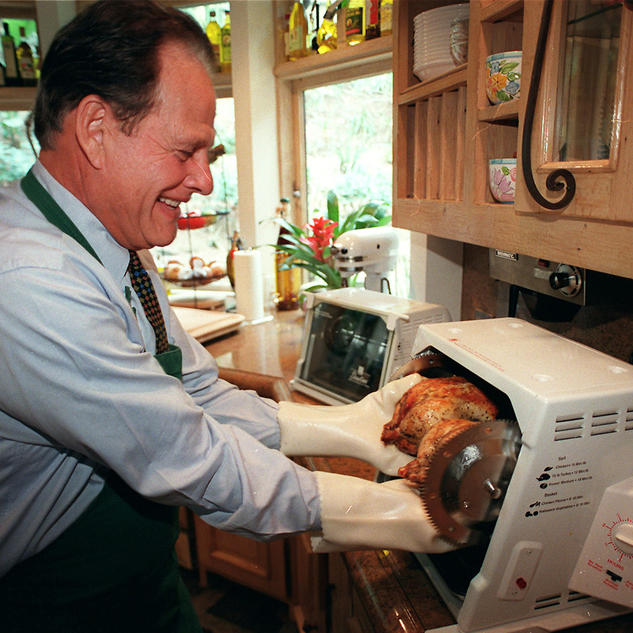 back in early 2000-something off of a TV informercial was that fabulous slogan, "set it and forget it." I probably only used that poor thing a total of 5 times before I finally donated it to GoodWill, but that slogan has stuck with me forever.
When it comes to decision making, take as many repeat tasks as you can and automate them. If you can't automate them, then schedule them. Getting into a rhythm is great for efficiency. For example, setup automatic bill pay, automate monthly retirement contributions, put your vitamins and toilet paper on Amazon Subscribe and Save, check and respond to emails when you first wake up, read/listen to the news on your commute, go grocery shopping every Saturday morning, have a go-to dish/bottle of wine you always bring to parties, etc.
2. Simplify your wardrobe and belongings. Do you really need 10 pairs of jeans, 40 tops, 20 pairs of shoes, 15 bags and 10 jackets? Certainly not. Don't waste precious minutes every day trying to figure out what in the heck to wear because you have too much to choose from or so much stuff shoved into your drawers you can't find anything. You already know which items you love and those you think are "meh." Same goes with everything else in your house. Keep what you love and actually use, then donate/toss the rest. The more you simplify and declutter, the more efficient and happy you'll become.
3. Seek advice and referrals. I'm a frequent user of Yelp anytime I'm looking for a new restaurant, plumber, doctor, specialty shop, etc. And when it comes to products I go straight to Amazon reviews before I buy something. The trouble is that reading reviews and comparing options can become incredibly time consuming in and of itself! So I much prefer to ask people I know and trust for their advice and referrals when I'm looking for a new product or service instead of doing tons of online research – it's much more efficient!
4. Learn from mistakes – both yours and other's. You can help avoid making bad decisions by learning from your own mistakes and those of other's. Why bother repeating someone else's mistakes if you don't have to? The more people you get to know and trust, the more knowledge you can accumulate and the easier it can become to make decisions.
5. Automate trivial decisions and focus on the important ones worthy of debate. Try not to get hung up on small decisions that don't really matter. Flip a coin if you need to. Spend time thinking about what matters most to you, if there are possible blindspots you need to watch out for and how your life could actually change as a result of your decision. A decision making framework can also help a lot with complex, life altering decisions. Make sure you are trying to answer the "right" question, then define your goals, generate creative options, create a results table and compare your best options.
Easy examples of how I make fewer decisions for greater happiness
I've found I'm much happier when I have fewer decisions to make. Plus, the faster I can come to a decision, the more confident and pleased I tend to feel because I have more free time to do whatever I want.
Meals. I keep breakfast super simple to get my day going off to a good start quickly. A banana or a granola bar will suffice. I don't need a plate full of eggs, bacon, sausage and sliced fruit because that takes too long. I eat light first thing in the morning and have big brunch/lunch after I've gotten a couple hours of work done in the morning. I don't like to cook so I keep the rest of my meal choices to a small group of restaurants that I rotate from. Otherwise I'll throw together something semi-homemade that I can whip up within 10-15 minutes or less.
Clothing. I stick with outfits that are comfortable and layered for versatility. I am not trying to win any kind of fashion show. I only tend to shop for new clothes when the ones I have become too worn out or no longer fit. And when that happens I always shop at Old Navy or Target first to see if they have what I want. Their prices are low and their inventory is pretty reliable. I only venture to Gap or Uniqlo if I can't find what I wanted in round one and rarely bother with any other stores.
Shopping. Besides clothing, the only other stores I'll usually frequent are Safeway for groceries, and Target or Amazon for everything else. I don't spend much time at the mall or browsing in other shops. I get decision fatigue quickly if I don't get my shopping done in less than an hour. When I find a brand I like, I stick with it so I don't waste time trying to decide between a dozen or more different options.
Activities. I'm not the best at scheduling activities in advance, but I have a short list of leisurely activities I fit into my schedule pretty often – nature walks, gardening, reading news articles, looking at open houses and watching Netflix. None of them really take any planning and they're all free or very reasonably priced in the case of Netflix. I don't waste time thinking about "what do I want to do?" in my free time –  I just pick one of these five things and I'm quickly and easily entertained.
Work. I try and get as much work done in the mornings as possible. That's when my efficiency is the highest and I can stay focused with minimal effort. I used to try and do most of my work at night but I always felt like I was behind schedule so I scrapped that. Now I stick with priorities and am not afraid to say no to avoid getting overwhelmed. I stick with projects that I'm good at and utilize as many routines and automations as possible to minimize decisions.
Finances. I have all my bills on auto-pay except my credit cards which I like to review closely before paying. I've established a monthly routine of investing and stick to growing my existing positions most of the time or picking from one or two structured notes my financial advisor has to offer. Sure, there are a million different ways to invest, but I don't get caught up in all of that. I stick with my simple investment strategy and don't overcomplicate things. I utilize automated investment reminders and stay focused on the long game so I don't get stressed out endlessly wondering, "when should I invest?" or "what should I buy?" If you need help with investing your money, consider using one of the best robo-advisors to save you time and help you grow your wealth.
Travel. For the last 5+ years I've refuse to pack a suitcase when I travel and I have no plans to change that. I'm all about traveling light and only take a backpack and maybe a small laptop back when I hit the road. I also tend to pack the same outfits so I don't waste time thinking about what to pack – I can throw my bag together within 15 minutes tops.
Faster & fewer decisions = Greater happiness and efficiency
Think about how many decisions you've had to make so far today and which ones you can eliminate going forward. We're lucky we have the power and flexibility to make so many decisions every day, but don't let your multitude of options slow you down!
Recommendations
Invest Your Money Efficiently: Betterment, the leading digital wealth advisor, is an excellent choice for those who want the lowest fees and can't be bothered with actively managing their money themselves once they've gone through the discovery process. All you'll be responsible for is methodically contributing to your investment account over time to build wealth. In the long run, it is very hard to outperform any index, therefore, the key is to pay the lowest fees possible while being invested in the market. Let Betterment build a customized portfolio for you based on your risk tolerance.
Track Your Net Worth For Free – Utilize fancy, free technology to track your own finances and net worth with Personal Capital. Quickly and securely link all of your accounts in one place so you can see where all your money is at once. The best features are their Portfolio Fee Analyzer tool and Retirement Planner. They also offer low-cost wealth management services if you want help with a passive investment strategy. Be sure to take advantage of Personal Capital's free financial tools to maximize your net worth today.
Break free! If you're burnt out of your day job, believe that you too have options and can turn your career around for the better. I didn't believe I could escape the grind for the longest time, but fortunately I wised up before stress destroyed my relationships with family and my health. I never would have thought I could negotiate a severance package and get paid to leave a job I grew to hate, but I did! Learn how you too could get paid to leave your job like I did and open your eyes to new opportunities.
Untemplaters, how would you describe your current decision making skills? When was the last time you suffered from decision fatigue and what caused it? Are you making a conscious effort to make fewer decisions for greater happiness?