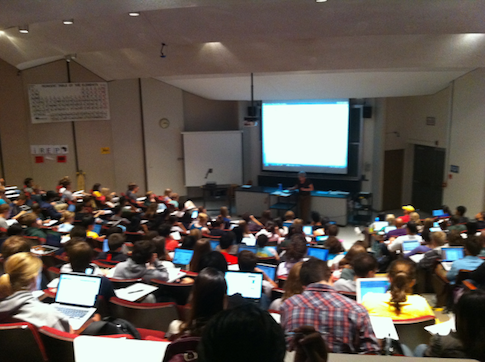 The desired progression in any career path is to advance and move upwards. But things don't always work out that way. Sometimes we move sideways, often we get stuck, and occasionally we even get pushed backwards. Nobody's perfect and sometimes we get hit with expected career curveballs. Other times we may willingly choose to accept a junior role in order to switch industries and start on a new path. Whether sooner or later than expected, there will come a time when you need to learn how to gain authority at work and get more respect.
Opportunities will arise at work when people will start reporting to you, and you want to be prepared. This isn't applicable just for the 9 to 5'ers in the mainstream corporate world. Entrepreneurs who are used to doing everything themselves must also be prepared because they will eventually have people reporting to them too once their business starts to take off and expand. Whether you have one or 100 people reporting to you, the same rules apply.
Jitters, Awkwardness, And Acknowledgement
It's an exciting and also intimidating mix of emotions, expectations, and a big change of responsibilities when you have people reporting to you for the first time. Perhaps you recently earned the title of Supervisor, Manager, or Project Lead. If so, congrats on your promotion! Now it's time to make sure you don't screw it up. 🙂
Leadership skills don't come naturally to many people and they take time and experience to develop. So don't panic if you feel out of sorts right now. If you're patient, diligent, and motivated, you'll be able to build all the skills you need to attain control and respect. Learning how to be an effective and authoritative leader is essential if you want to be able to successfully lead a team. Being recognized as an authority figure is part of that.
So why do many people struggle with authority and delegation when they take on their first managerial role? Well a lot of times it can feel strange and awkward when your peers are suddenly your subordinates. People may be jealous or resentful of your promotion. And as a result, sometimes these folks may not treat you as their senior even if it now says they should on paper.
What's important is that you don't freak out or get discouraged if you feel uncomfortable, out of sorts, or if people aren't taking you seriously right now. There are ways to ease into these types of transitions without crunching any toes. And it is totally possible to repair relationship structures that are shaky or seem invisible. You'll learn 15 helpful tips on how to gain authority at work below, but I want to give you a little background on myself first.
My Experience Becoming A Leader
First of all for those of you who don't know me that well, I'm an introvert. There's no question about it and it doesn't bother me one bit. But even though I'm an introvert, I'm also a people leader at work. Sounds a bit contradictory right? Well I can tell you from my own experience it's totally possible for introverts to be authoritative and develop into strong leaders, who are just as successful as extroverts.
But I'm not the type of person to say new skills come easy and are a piece of cake to pick up. Commanding authority was hard for me in the beginning when I first had people reporting to me. I felt out really of place asking people to do things period, let alone asking them to do things a specific way.
I had a hard time letting go of my old responsibilities and passing them on to the people below me. I resisted training others on things I could do faster myself, and I really struggled to let go of control. Part of that was from the perfectionist in me. But another large part of it was that I was worried people wouldn't like me anymore if I gave them work to do!
Fortunately though I started to realize how stupid it was fearing what other people would think of me and trying to hold on to too much. I came to see that I was hurting myself and my team's development by thinking and acting that way. Over time I took small steps to build my confidence, motivate and direct others, and gain recognition as an authority figure.
So the great news is that even nerdy introverts like me can grow into leadership roles comfortably and develop into effective leaders. I still remember the first time I got a high "authoritative" rating on my managerial skills in my annual review. It was totally unexpected, especially coming from my super extroverted boss, and that gave me a nice confidence boost. And also reassured me that I was doing something right!
15 Tips On How To Gain Authority At Work And Get More Respect
Here are 15 tips that I've picked up in my career for garnering respect and authority in the workplace. Please feel free to ask me any questions you have in any of these areas because I love to help!
Build Trust – This is SO important. Not only do you need to build trust in others, you must learn to trust yourself too. Go with your instincts, and be honest with people. If you say you're going to do something, you better mean it and execute, otherwise people will definitely stop listening to you.
Be Confident – People want to look up to leaders who are confident and knowledgeable. Speak with conviction. Avoid using weak phrases all the time like "I'm not sure" and "I think so." Incorporate stronger phrases when giving answers like "Yes that's correct" and "I know abc happens if you do xyz."
Respect others across all levels – To get respect, you have to give respect. Regardless of what someone's level is, treat everyone well. I'm just as courteous to the cleaning staff at my office as I am to the CEO.
Speak up already – To gain authority, you have to be willing and able to speak up and get your voice heard. You need to be opinionated and speak your mind. Practice in small settings if you're really uncomfortable with this at first.
Never take credit away from someone else – Part of getting respect is giving credit where it's do. Don't take other people's ideas and claim they're your own. It's sleazy and you'll really tick people off. Leaders who openly acknowledge other people's contributions gain authority at work faster.
Seriously, just admit your mistakes – Everyone makes mistakes, and I mean everyone. It's best to come forward with them immediately and work towards a solution than trying to cover them up and risk making things worse later on. People look up to leaders who admit they are human.
Make time to help others – Even if you're a genius, you won't get much respect from people under you if you never make an effort to help them yourself. We are all busy. But leaders must make time to answer questions, be on site, and check in with their staff regularly.
Show appreciation – Two words that go a long way are "thank you," which many managers don't say often enough to their teams. Everyone wants to be recognized for their efforts, so make sure you show appreciation to those working for you. Use "please" if you're requesting something over email, and be nice to people!
Know your audience – If you're giving a presentation or dialing into a conference call, make sure you know your audience. You may need to tailor your topics and level of detail accordingly. Just don't ever talk down to people. Condescending managers are quick to get the boot.
Contribute and share – Just because you're a leader, doesn't mean you're no longer part of the group anymore. Stay involved with your team, share conversations, grab coffees together, and make sure to maintain a sense of unity.
Listen carefully – Really listen to what's going on around you. If someone asks for help, pay attention and stay focused. When you're in meetings, don't zone off when other people are talking even if they're from another department. Use eye contact as well as professional body language to show you're engaged.
Know people's names and pronounce them right – How annoying is it when someone repeatedly gets your name wrong or can't even spell it right? If you're unsure, just ask! People will think you're an arse' if you keep goofing things up.
Don't let power go to your head – Power can become addicting. I admit it myself. But don't let it go to your head or you'll end up turning into a jerk. Treat people well and you'll be treated well in return.
Give recognition and rewards – Everyone wants good performance to be rewarded, otherwise why would we bother showing up at work every day? If your team or certain individuals are doing a great job, reward them! It doesn't have to be a big public announcement or something tangible. People just like to feel appreciated and recognized for their efforts and will look up to you if you offer them that.
Build clear career development plans – Helping people develop new and existing skills is a rewarding part of being a leader. And it's also an important skillset if you want to gain authority at work. Show your team you care about their career development and their future at the company. Help them grow and keep them motivated. Not only does it help them, it helps you too.
Untemplaters, are you currently in a leadership role at work or school right now? What challenges have you faced so far? What advice can you share on how to gain authority at work and get more respect?
Copyright 2013. Original content and photography authorized only to appear on Untemplater.com. Thank you for reading!