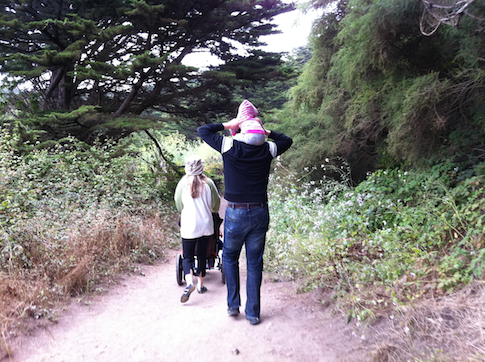 I had the chance to visit my parents this past Spring for the first time time in the last couple years. I am the only one in my family on the West Coast, and with my hectic work and travel schedule I haven't been able to see them as often as I should. My mom finally guilted me to the point I had to drop everything and commit to a visit, and I'm glad she did.
Since there are no direct flights to their two small towns (they are divorced and live about 3 hours apart), it makes it quite a trek for me to get out there. It ends taking about 12-16 hours of travel time due to stopovers and inevitable flight delays. Although my parents are both retired, I don't proactively ask them to come visit me in SF because the trip is hard enough for me at my age. I can't imagine how hard it would be for them in their late 60s, so I feel bad asking them to come out.
Letting Go Of The Negatives
Overall I've had a pretty good relationship with my parents. But I admit my highly independent nature made me a bit too distant in our relationships over the years, which I'm trying to correct. If you've read the Untemplater Manifesto, you're familiar with my story of relocating across the country after college, far away from my family.
I was never really scared to leave the nest and go away from my parents. It just felt right moving West. It was something I was meant to do even though I was scared of so many other things at the time. I'm thankful for my independent streak that let me follow my heart, but the downside is I don't see my parents that much. Many people I know live within 20-30 minutes of their parents and see them a few times a month. So I'm definitely on the opposite end of the spectrum averaging a visit every 1.5-2 years.
I used to dread the trips because I was always focusing on the negatives: super long travel time, hectic days trying to cram visiting my mom and dad separately within a week, not being able to relax on my "vacation", and getting too easily annoyed with their flaws. So many negatives clouded my better judgement.
Nobody's Perfect
But seeing them this spring was a good face slap to myself serving as a reminder that I was focusing on the wrong things too much in the past. They were both so happy to see me on my recent visit, and that felt great. We laughed about past memories, had great meals together, and got caught up. The best part was that even though it had been a while since I'd been back to see them, it felt like I was just there and we hadn't lost any time.
So I really started to let go of those negative thoughts in order to focus on the good. Sure my parents have their own physical, mental, and financial challenges, but who doesn't? I certainly am not perfect either. So it felt foolish to think that going to see them was like a chore, which is the mindset I used to have. Let go of the negatives, and focus on the good. Besides, I was the one who chose to move far away from them and they never gave me grief about it, so it's on me to travel back to see them.
Reconnecting With My Parents Is Refreshing
I've done a better job keeping in touch with my parents since my trip. Instead of calling them once every couple months, now I call them once every couple weeks. I've found that talking to them more frequently, also makes it easier to talk to them.
It's nice looking forward to checking in and seeing how there week was and letting them know what I'm working on too. And even if I can only talk for 5-10 minutes, I don't feel as bad anymore because the gaps of time between our phone calls aren't as long.
Thanks Mom & Dad!
I want to take a few moments to say thanks to both of my parents for everything they've done for me over the years. I don't do this often enough! And I'm actually looking forward to the next time I see them for a change. Even though it's a trek to get there, it's totally worth it. Life is too short to take our parents for granted.
Here are 5 things I learned from my mom:
Being nice to people goes such a long way.
There's no need to get angry when things don't work out. You can always try again.
Silence can teach us a lot of things.
Grades matter and working hard gives you more options.
Try hard to manage stress and stay healthy
And here are 5 things I learned from my dad:
Girls can do anything that boys can.
You can build anything if you follow the directions.
We can do a lot with two hands and determination.
Never underestimate the importance of reading, writing, and studying hard.
Travel as much as you can when you have the chance.
Untemplaters, did you do anything special for Father's Day? How far away do you live from your parents? Do you see your parents often? Have you reconnected with your parents lately?
Copyright 2014. Original content and photography authorized only to appear on Untemplater.com. Thank you for reading!