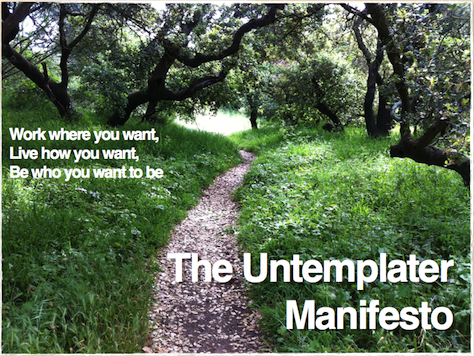 Take a deep breath, look around you, and ask yourself this question, "Am I doing the same thing as everyone around me?"
If you are, then it's likely you've found the path to the comfortable, stable "American dream."
You'll spend most of your life in a small cubicle grinding away long hours to impress your boss, slowly climbing the corporate ladder, with far off dreams of retiring.
You're probably wondering do lifestyle and financial freedom only start after retiring at 65?
What if we told you it doesn't have to be that way?
Download the Untemplater Manifesto and read inspirational stories of people just like you who embraced an untemplated lifestyle in their 20s and 30s.
You don't have to be old and gray to be able enjoy life's riches: time with family, travel, and the opportunity to pursue your true interests as a full time gig.
Best of all The Untemplater Manifesto is free! So download a copy today and get inspired to start on your own untemplate journey today.
Testimonials
"This manifesto is brilliantly put together – beautifully laid out, inspirational and an absolutely rock solid way to kick start Untemplater!"
– Sid Savara, Analysis-Driven Personal Development at SidSavara.com
"The people are stellar and the subject matter of untemplating the different major life crossroads is timely."
– Robert Granholm, TheLifeDesignProject.com
"Honestly, when I hear e-book, I usually want to just fall asleep. I find so many of them low on things I can learn. I checked out yours and it's really interesting – easy reading and inspiring!!"
– Jaclyn Schiff, Gen Y Reporter
"…this is fresh. Read it top to bottom and the pattern you're reinforcing is clear. 'F*** convention, do your own thing, make it rain without letting your income own you, control what's worth controlling, and don't stress about the things that aren't or can't be controlled.'"
– David Walsh, MuseLife.com
Don't wait for anyone to give you permission to live the life you want. Download the Untemplater Manifesto today and learn how to take back control!