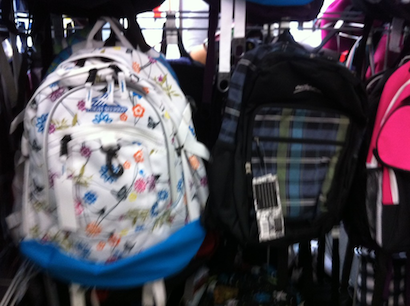 My parents have never been good with money.  They were constantly borrowing from their own parents to get bills paid.  It wasn't something they were proud of and they always emphasized they never wanted me to end up in their situation and have to rely on money from friends or family to survive.  They said money would drive a wedge between our relationships and create a tremendous amount of tension.  For this reason, I've never borrowed money from anybody, even when I was broke, or so I thought.
After my freshman year of high school, I wanted out.  I was bullied by a couple kids and just couldn't stand it.  On top of the teasing and tormenting, there were constantly cat-fights and knife fights in the hallways and in the courtyard at lunch.  Our principal put up metal detectors, but the weapons still kept coming.  I wanted to go as far away as possible where kids didn't walk around school hating the world and where I didn't have to fear for my own safety walking to my next class.
My Single Mother
My mother is a clerical worker who was making about $26,000 a year at that time.  It wasn't much, but it was enough for us to live a decent life in our area.  When I told her about my fears walking through the halls and my dream to go to a different school, she was so shocked at what I was dealing with that she immediately started searching for the best private schools I could go to.  My grades were good enough to transfer, and she found an all girls school that looked promising.  The campus was gorgeous, and the students were actually smiling and normal!  The only (and rather huge) problem was that it cost $20,000 a year, which was an inconceivable amount of money to my mom.
The only chance I had to be able to go there was for me to apply for a need based scholarship.  A couple months and a lot of prayers later, I found out that I had been awarded a sizable scholarship for three years if I participated in extra curriculars and kept my grades up!  It was an amazing feeling, but it still meant my parents had to come up with roughly $24,000 that they weren't prepared for.  My mother talked to my dad, who lived a few states away, and decided that even if they ended up in bankruptcy, it would be worth it for my safety and my future.
What I didn't realize then was that I was violating the very principal that my parents taught me.  I was essentially doing what they advised me not to do by borrowing money from them because I wanted out of the public school system!  Even though I was a teenager, I didn't know any of the details of either of my parent's financial situation because they never wanted to talk about money.  I knew private school was expensive, but I had no idea how much that kind of tuition money was asking of them given their situation.
When you make only $26,000 a year, it's not easy to set aside more than one (let alone two) hundred dollars a month especially since my mother had a mortgage, credit card debt, stacks of medical bills, food, clothing and other basic necessities to pay.  After taxes and health insurance, her take home pay was probably only around $1,500 a month, maybe even less.  I had no idea at the time because she refused to reveal her income range to me until well after I graduated from college.
Thankful Then And More So Now

I don't know where I'd be now if I had stayed back in my local high school.  What I do know is that those few years I spent at private school changed me completely.  My confidence started to go up, I actually looked forward to going to school, I could actually leave my backpack out in the halls with 100% certainty it wouldn't get stepped on or stolen (it wouldn't have lasted 30 seconds at my old school!), and the quality of the teachers and the curriculum was mind boggling in comparison to my old school.
I had all the help in the world from the guidance counselor for my college applications, and it paid off.  I studied like mad for scholarships, got into the state school I wanted, learned how to network, and used those connections and the knowledge I gained to launch my career.  It was also where I found my best friend, who is like a sister to me.
For these reasons, I'm so thankful for my mother's sacrifice, and that she believed that school was what I needed.  Both she and my dad even managed to help pay for half of my college education together through government loans, and I worked part-time during college while I paid for the other half on my own.  Now that I know how difficult it was for them to scrape by all those years to pay for my education, I'm working even harder to give back to them, little by little.
Refinance Your Student Loan With SoFi
SoFi is a fantastic social lending company that provides rates as low as 1.9% variable with auto pay and 3.5% fixed with auto pay. The reason why they can offer lower rates than the rest is because they analyze you based on merit, quality of employment, and education besides just a credit score and financials. There is zero origination and prepayment fees. Offer terms are from 5, 10, 15, 20 years in both fixed and variable. Both private and public student loans can be refinanced.
Besides low rates, one of their best features is their unemployment benefits. If you lose your job while repaying your loans, you don't have to pay your loan for up to 12 months while you look for a new job! Interest will still accrue, but having this cash flow break is a huge benefit. They also provide job assistance guidance as well.
You can apply to refinance or apply for a new student loan here.
Updated for 2018 and beyond