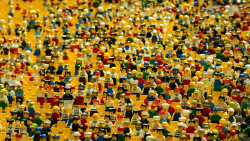 If I asked you which personality type – extrovert or introvert – is more successful, you would probably guess extrovert. We've often been led to believe in schools, social settings and work environments that being introverted is a disadvantage. If introversion remains criticized in so many settings, there could be long lasting impacts on introverts' career trajectories and lifestyles. I'm hoping we can all do a better job supporting multiple types of personalities in the workplace. With so many  biases nowadays, what do you think – do introverts or extroverts make more money?
First, let's go over the differences between introverts, ambiverts and extroverts to help clear up any confusion.
Introverts
Feel drained spending time with people
Recharge by spending time alone
Like to listen and encourage others in conversations
Feel that small talk with strangers is difficult and awkward
Tend to internalize thoughts and ponder before speaking
Trust their own judgment and values
More focused on oneself
Crave solitude and quiet
Are good at tasks like organization and file management
Are effective communicators over email and text
Build strong bonds with important people
Don't like to promote themselves
Extroverts
Feel energized when spending time with people
Like to engage and initiate conversations
Are comfortable talking to strangers about anything under the sun
Tend to verbalize thoughts and brainstorm out loud
Trust the judgment and values of others
More focused on others
Crave stimulation
Are great at negotiating and impressing new clients
Thrive at giving presentations and leading discussions
Are comfortable communicating over the phone and face to face
Like to focus on the big picture more than smaller details
Know how to sell and promote their brand
Ambiverts
Have traits of both introverts and extroverts
Enjoy moderate sociability
Like to take charge some of the time
Are somewhat trusting of others
Feel they fall somewhere in the middle
Tend to be flexible and emotionally stable
Are intuitive and influential
So how do all of these traits affect wealth? A study on just how outgoing we are, presented by The Wall Street Journal, showed that amongst the general population, 50 percent of people are below average in terms of being outgoing. Thirty-four percent of Americans are above average and only 16 percent are considered very outgoing. What's fascinating is that as people progress in their careers and climb the corporate ladder, the percentage of managers who are very outgoing, i.e. extroverted, increases dramatically.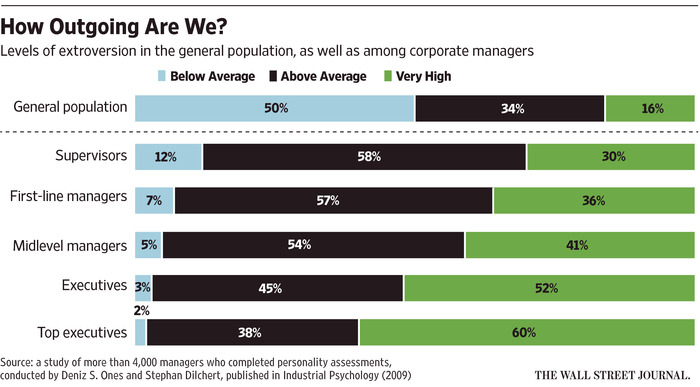 While it's totally possible for introverts to succeed as leaders, it can be a lot harder. Studies on average salaries also show that extroverts tend to earn more than introverts. So from both a compensation and career perspective, introverts can have a harder time getting promoted and earning raises. As an introvert myself, I've certainly faced challenges, but succeeding and filling leadership positions can be done! Don't let anyone trick you into thinking you can't do great things.
A study by Truity Psychometrics found that extroverts are more likely to land managerial roles with higher pay. Managerial extroverts also supervise 4.5 people on average versus only 2.8 for introverts. So based on the law of averages, the answer to the question –Do introverts or extroverts make more money? – is clearly extroverts when looking at managerial compensation.
There are always exceptions however. As Untemplaters, we strive to be better than average, right?! So, don't be discouraged if you are an introvert – you can earn plenty of money and growth your wealth too. Some fun examples of famous introverts and extroverts for inspiration are listed below. Believe it or not, I found it a lot harder to find examples of famous extroverts versus introverts on the web. If you know of any I missed, please share in the comments section below!
Famous Introverts – Bill Gates, Warren Buffett, J.K. Rowling, Michael Jordan, Gwyneth Paltrow, Harrison Ford, Charles Darwin, David Letterman, Susan Cain, Abraham Lincoln, Mahatma Gandhi, Christina Aguilera, Eleanor Roosevelt, Courteney Cox, Albert Einstein, Rosa Parks, Audrey Hepburn
Famous Extroverts – Bill Clinton, Oprah Winfrey, Muhammad Ali, Margaret Thatcher, Ronald Regan, Steve Martin, Mark Twain, George W. Bush, Boris Yeltsin
Can Your Personality Impact Your Wealth?
Introverts have some fantastic innate traits that can help them grow wealth. First of all, we tend to be disciplined. Being less impulsive can make a big difference when it comes to avoiding unnecessary spending. Having the patience to delay rewards instead of seeking immediate gratification is a great way to save money. Being less impulsive can also make introverts good at making investment decisions. Taking the time to perform thorough research and avoid excessively risky investments can help introverts grow their portfolios over time.
Personally, I have a bunch of things on my wish list and even though I have the money to afford them all, I choose not to go out and buy them on a whim. I like to set goals before I make purchases so that the rewards are sweeter and more meaningful. It's also a great way to maintain a minimalist lifestyle and avoid clutter. For example, I have a current goal to sell some things on craigslist before I can buy a new pair of pants.
Introverts also tend to be careful decision makers. Having a clear idea of what you want to accomplish before taking action can come in handy with building wealth over time. Being rich isn't just about how much money you make after all, it's got a lot to do with how much money you keep.
Did you know that extroverts more commonly have shopping addictions than introverts? Perhaps the allure to spend a lot of time with others in social settings can turn some extroverts into overspenders looking to constantly impress the Joneses. Extroverts are great go-getters, however, so they are good at networking, marketing and business development – hence they can be fantastic entrepreneurs. Extroverts are also more likely to take risks, which can pay off nicely if they're good at investing.
Whether you're an introvert, ambivert or extrovert, think about your strongest personality traits and how they affect your decisions. Look for ways to improve your career, earn the compensation you deserve, and make smarter choices with your money. Whatever personality traits you have, it's never too early to start growing your wealth and building a lifestyle of your dreams.
Recommendations
Get A Free Personalized Investment Plan – Wealthfront is an excellent choice for personal wealth management for those who want the lowest fees and can't be bothered with actively managing their money themselves. In the long run, it is very hard to outperform any index, therefore, the key is to pay the lowest fees possible while investing your money in the market. Get a free personalized investment plan from Wealthfront in just a couple minutes by answering a free six step questionnaire. You don't have to transfer a single penny to see Wealthfront's recommendations for your investments, but it's easy to fund an account if you choose to do so.
Start Your Own Website – Want to make more money? Work on building your brand by creating your own website the easy way with Bluehost for super cheap. You get a free domain name when you sign up. Whatever your interests are, focus on building your skills and developing your own unique niche! I've been blogging since 2010 and it has allowed me to break free from the corporate grind to travel, work from home, and do so many more things I've always wanted to do but couldn't. There's not a week that goes by where I'm not thankful for starting this site!
Negotiate A Severance – If you're burnt out from your day job, it's best to negotiate a severance instead of quit. If you quit, you don't get unemployment benefits, health care benefits, good letters of reference, or severance. A severance provides a fantastic financial cushion that buys you time to find your calling. I didn't believe I could escape for the longest time, but fortunately I wised up before I destroyed my relationships with family and my health. I never would have thought I could negotiate a severance package and get paid to leave a job I grew to hate, but I did! Learn how you too can get paid to leave your job like I did and open your eyes to new opportunities.
Untemplaters, do you consider yourself an introvert, extrovert, or ambivert? What personality traits have helped or hurt your career and money habits?