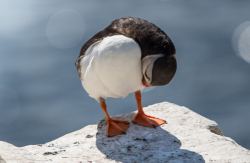 Do you ever get a sinking feeling that something's about to go wrong or that the start of something bad is already under way? That's a bit how I feel lately. Fortunately, I'm not talking about my health or my loved ones. I'm talking about the economy. I'm no longer wondering if we're going to have a recession in the U.S.; I'm wondering when. Are you prepared for when the good times end?
Take off those rose colored glasses
You might think I'm crazy since the stock market is at all time highs. It's hard to imagine things turning ugly when everything appears rosy and booming at the surface, right? Well, I'm skeptical. There's a lot going on both within our borders and beyond. Brexit has people all over Europe freaked out, the upcoming U.S. election feels like a disaster waiting to happen and people are fleeing countries like Syria and Venezuela for their survival.
In addition, do you remember the financial crisis? If you were at least a teenager or in your 20s back in 2008, I sure hope you do. It was a scary time I sure won't forget. Things seemed to going fantastic leading up to the recession. I got the biggest bonus of my career in 2007, my friends' jobs were going great and the stock market was at all time highs. We had no idea how bad things would get in 2007, but now we know how quickly the economy can turn on a dime and plummet into recession.

Hints of an imminent recession?
Here are some other reasons I'm feeling cautious:
A decent number of economists are wary about the state of the economy in the short-term. Roughly 20 percent of economists predict we could go into recession as quickly as next summer.
U.S. GDP is expected to be down 0.6% this year compared to last year.
Since World War II, the average expansion cycle has been less than 5 years long but our economy has been growing for the last 7 years.
Startup funding has been on the decline and companies continue to delay IPOs in favor of staying private.
The G20 believes the global economy continues to face challenges and increasing pressure of downside risks due to fluctuating commodity prices, geopolitical conflicts, terrorism, refugee flows, financial market volatility and low inflation in many economies.
Interest rates are still negative in multiple countries such as Japan, Germany, France, the Netherlands and Italy.
Companies continue to downsize and go through rounds of layoffs. I wrote about how layoffs are coming in March, and indeed they have. These companies have gone through or announced layoffs in Q2 2016: LendingClub, Sony, General Mills, Goldman Sachs, Bank of America, DuPont, Merck, Seagate, MetLife, Dow Chemical, John Deere, ConocoPhillips, Cyanogen, BufferApp, Lockheed Martin and more.
The good news is if a recession does occur in the next few years, it's probably not going to be quite as destructive as the financial crisis. But who knows for sure. At least now we know how tough things can get with the financial crisis behind us and we can start preparing now for another downturn in the future so we aren't caught so off guard.
I could go on with more economic figures because I find this stuff fascinating, but I don't want to bore you. Hopefully you're still reading. 🙂 If your head starts spinning at the mere thought of economic data, just be aware that many experts are worried a slowdown is imminent.
Prepare now and thank yourself later
Although we may not be able to prevent the economy from going into another dip, we can do our best to prepare ourselves mentally and finacially. Here are some steps to consider.
Save, save, save. This is pretty straight forward. Don't go spending all your money on things you don't really need. If you do spend money, try to delay purchases so you can at least avoid impulse buying. If you invest, be careful not to get emotional or buy high and sell low.
Calculate your net worth. It's important to know how much money you have across all your accounts as well as your assets and outstanding debts. Don't just ballpark your number – get the specifics. You can use Personal Capital's free online software to calculate your current net worth.
Then set specific net worth targets for the next 1, 5 and 10 year marks. Saving money and building wealth is a lot more motivating with specific goals. I set a goal to reach a $1 million net worth and managed to get there recently thanks to a lot of hard work and saving. Set your own goals, no matter how large or small, and see how far you can go.
Diversify your income. It's not easy to diversify your income streams, but it's worth the effort. Try out some side gigs to earn some extra cash and work towards building passive income streams. If you lose your full-time job, it's really helpful to have other income streams to fall back on.
Clean house and sell some things. Everyone's got clutter, but the great thing about it is even the silliest things are worth something to someone else. Walk through your house and poke through your drawers and see if there are some things you can part with for some extra cash. You'll likely get more interested buyers and higher prices now than if you wait to sell when the economy's in the dumps.
Make the most of your job. It's easy to get stuck in a rut at work. I've been there many times. But imagine for a second how you'd feel if you lost your job and couldn't find another one. Jobs are hard to come by in a recession. If you're unhappy now, however, and want to find a new job, don't quit before you've found one. Better yet, work on engineering your own layoff.
Improve your brand. Whether you own a business, want to get a new job or would like to better showcase your skills, having your own website is a great way to strengthen your brand. Learn how to start a blog here and start improving your brand by building your own website with Bluehost for just a few dollars a month. Check out this thorough Bluehost review to learn more.
Count your blessings. When times are good, it's easy to forget how good we really have it. Take a minute today and count your blessings. Think about what you've been able to accomplish, who you have to thank for getting to where you are today, how little you really need to be happy and how you can improve and help others. Even though we all go through rough patches sometimes, we have a lot to be thankful for.
Untemplaters, do you think the economy is headed for a recession? What did you learn from the financial crisis? Are you prepared for when the good times end?
Copyright. Original content and photography authorized only to appear on Untemplater.com. Thank you for reading!