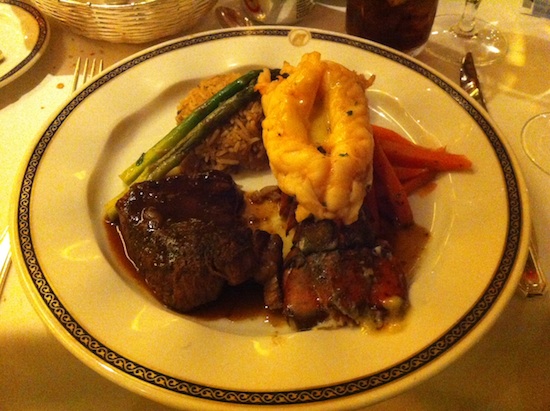 After two years of eating five plates each and tipping poorly, a couple of 20-something fellas were booted from Gobi, a Mongolian Barbecue restaurant in Brighton, after the manager labeled the duo "a couple of pigs," according to the British press.
At first, I thought this was unfair because getting kicked out for eating too much at an all-you-can-eat restaurant is like getting kicked off the math team for getting every question right, or having too much fun at a rock concert. Kicking these two blokes out but letting others continue to eat is pure discrimination.
But, as I kept reading about their poor dining etiquette, I began to sympathize with the restaurant owner who says their presence hurt the dining experience of others. If there's a plate of sashimi, and some fella grabs everything and leaves none for you, that sucks! At $19 a head, I can't believe Gobi Restaurant is losing money even after a person eats five plates each. However, a business is a business, and a restaurant or service company can refuse service to anybody for whatever veritable reason.
THE POOR AND HUNGRY NEED LOVE TOO
As a bootstrapping entrepreneur now, I've taken to eating at my local Indian all-you-can-eat buffet restaurant for lunch once a week. The cost is only $11 after taxes and tip. Eating Indian buffet helps save money on dinner given I end up eating two plates of food vs. one normally. I'm never going to eat five plates, but even if  I did, I don't think the owners would mind given I'm a respectful customer.
I'm constantly thinking of ways to reduce expenses now that my income has been slashed. I've refinanced a couple mortgages, cut web server costs, stopped buying anything unnecessary, and eat out much less. Of course, there's only so much in costs one can cut, which is why I'm spending the vast majority of my time trying to increase income.
Still, if I knew that my local Indian buffet restaurant had kicked out customers for overeating, I don't think I could eat there in peace. Every plate I take, I'll start looking up at the staff wondering if they are watching me. If I want to eat dessert, I'll second guess myself whether it's OK.
SUE OR THANK?
It's no surprise that the Brighton fellas are quite large. I spent 12 days on a cruise the other month with all-you-can-eat meals everyday and I gained 10 pounds (join my challenge if you want)! When food is plentiful, it's practically impossible NOT to over eat. We all want to get more than our money's worth. However, in the long run, eating such hefty amounts of food is unhealthy and will likely result in an earlier death.
Given this logic, should the Brighton fellas thank the owner for helping them eat less? Eating too much is a disease which left untreated leads to obesity. Or would you sue the hell out of the restaurant for discrimination? If you won, you could use your proceeds to eat at only the finest restaurants going forward!
Regards,
Sam