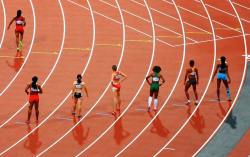 We've just passed the half way mark of the Rio Olympics and it sure has been an exciting one. I didn't watch the opening ceremonies but have been watching a lot of diving, swimming, track and gymnastics.
The summer olympics are definitely my favorite and it seems like the events get more and more exciting as each four years passes, doesn't it? Maybe it's also the fact that I'm aging and appreciate ever more the incredible, mind boggling things these athletes are able to accomplish with their bodies. It's also crazy impressive to see so many veteran olympians.
There have been so many remarkable moments in the Rio games so far – Michael Phelps, Katie Ledecky, Simone Biles, wow! It's unbelievable how great they are at their sport. In addition to their incredible feats, here's a recap of my three favorite Rio Olympics highlights so far.
Oksana Chusovitina. Holy canole. This woman defies all odds when it comes to gymnastics. She is 41-years old (41 gymnast OMG!) and Rio is her seventh olympics. Seventh olympics?! 41?! She is a super legend and holy smokes I totally remember watching her compete when I was a kid!!!! It's hard to believe she has a 16-year-old son, the age of some of her competitors, who is a leukemia survivor. Oksana relocated to Germany and temporarily joined their olympic team in order to afford his treatments. In a sport where age 20 is considered over the hill, Oksana's love for gymnastics and drive to do better is inspirational to us all.
Dana Vollmer. Another mom on a mission, Dana Vollmer won 3 medals in Rio after becoming a first time mom and returning to swimming just 15 months ago. She's another phenomenal example of perseverance. Vollmer has beaten a lot of obstacles in her career including a heart condition and injuries to her knee, shoulder and back. On top of that she failed to qualify for the 2008 games in Beijing. But she didn't let any of that stop her.
Mo Farah. I don't know much about track and field, but I do know that Mo Farah's gold medal 10,000 meter race was mind boggling. Farah is lean and crazy fast at 5'9″ and 128 pounds. What struck me most about Mo Farah's resilience is he fell in the middle of the race! A tumble like that would put most athletes out of medal contention, but not Mo. He didn't panic. He got up, stayed loose and pulled out in front to win the race. After the race Farah said, "When I fell down I was just thinking, 'Try to get up, try to get up. Don't panic, don't panic, don't panic.' And then I got up, and I tried to just get through it. As soon as I got up, I was hoping the guys didn't see me fall down. They did make a bit of a surge. I thought, it's O.K., it's O.K., I still have quite a long way to go."
New Here? Welcome! Be sure to check out my about page and read how I got paid to break free from a grueling desk job. I publish monthly income reports to track my progress and push myself forward.
2016 Goals Update
I have a couple main career goals for 2016 that I'm actively hustling to meet or beat this year. In each of my income reports, I provide a quick update on my progress:
1) Goal: Invest At Least $5,000 Every Month
I took a break from investing in July after making a sizable $20,000 investment in DVY during June. It's pretty crazy that the markets recovered so quickly from Brexit and rallied through July.
It feels too good to be true and even though it's great to have a strong stock market, I still find myself wondering when are the good times going to end?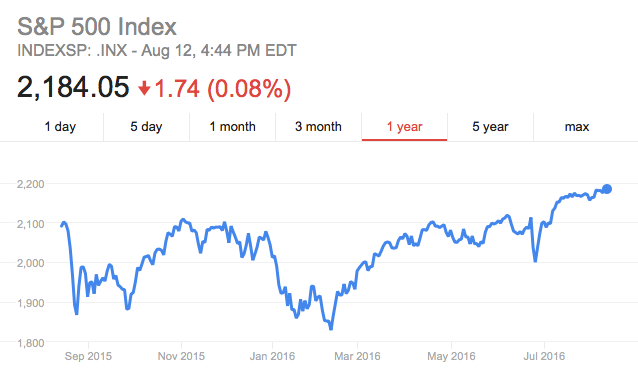 I want to pay down more mortgage debt and wait a little bit longer before legging back into the markets again.
2) Goal: Grow My Net Worth By $75,000
I'm on a quest to become a multi-millionaire! It's a long journey, but an exciting and fulfilling one. I recently ran my mid-year net worth figures and was happily surprised that I hit my goal and passed the $1 million mark for the first time ever. I think I can stay above $1 million if I continue to save and the markets don't tank significantly in the next few years. But it wouldn't surprise me if we go into another recession next year or in 2018.
I plan to continue freelancing, limiting my spending, paying down debt and legging into more investments in order to hit more financial goals before I turn 40. I've been a little under the weather in the last couple weeks and have had to slow down my work pace a bit to give myself more time to rest. It's frustrating when there's so much I want to get done but my body puts on the brakes. I'm trying not to get discouraged by setting and sticking to priorities and celebrating the things I do accomplish each day even if I didn't get through everything I wanted to.
Income Report July 2016
Onwards to my July Income report…
Total Revenue Streams = $19,973
FREELANCING: $16,425
Project management $11,880
Editorial, writing, marketing $4,500
Teaching music, pet sitting, misc. $45
INVESTMENTS: $67
Dividends & interest income $67
Rental income $
ADVERTISING & AFFILIATE: $3,481
Affiliate Partnerships: $2,450
Contextual Advertising (Adsense): $166
Other advertising $650
Bluehost: $90
Amazon Associates: $13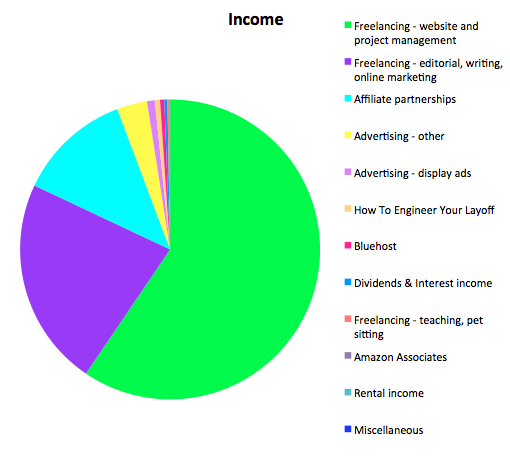 Expenses = $(6,005)
BUSINESS: $(1,005)
Travel – business: $(400)
Aweber, Marketing, Subscriptions, Fees: $(355)
Meals & Entertainment – business: $(300)
Supplies, fees & misc: $(75)
PERSONAL: $(5,000)
Living expenses: $(3,980)
Meals & entertainment – personal: $(420)
Travel – personal: $(350)
Shopping & misc expenses – personal $(250)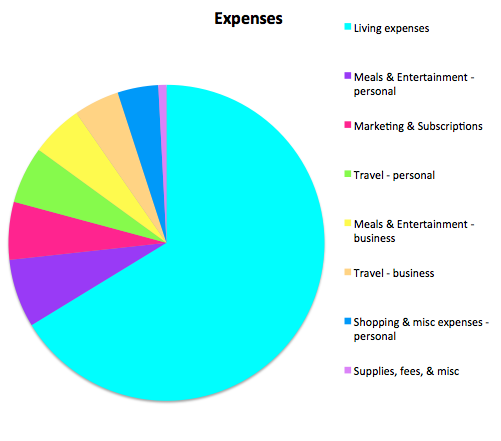 $19,973 (Income) – $6,005 (Expenses) = 

$13,968 PROFITS
July Takeaways
Summertime sure accelerates once July hits. My July was a good balance of hard work and leisure although Karl the Fog came back and hung around quite a bit. Unlike most of the U.S., we tend to wear pants and jackets during most of our summer days here.
July was also a good reminder that the year is now more than half over! We have to enjoy the rest of the long summer nights while they still last. It's also a good time to review the goals you set at the start of the year and think about the steps you can take to complete them before year end.
The olympics are a great source of inspiration we can all tap into even if we aren't hoping to be super athletes ourselves. There are so many come back stories and true tales of character, tenacity, ambition and endurance. Olympians are a good reminder that we are capable of incredible things that defy the odds of gravity, strength, speed, flexibility and mental toughness.
Recommendations
Start Your Own Website – Want to make more money? Work on building your brand by creating your own website the easy way with Bluehost for super cheap. You can register your domain for under $20/year and get hosting for only $3.49/month. Whatever your interests are, focus on building your skills and developing your own unique niche! I've been blogging since 2010 and it has allowed me to break free from the corporate grind to travel, work from home and do so many more fulfilling things with my life. There's not a week that goes by when I'm not thankful for starting this site! Check out my step by step guide on how to start your own blog.
Break free! If you're burnt out of your day job, believe that you too have options and can turn your career around. I didn't believe I could escape for the longest time, but fortunately I wised up before stress destroyed my relationships with family and my health. I never would have thought I could negotiate a severance package and get paid to leave a job I grew to hate, but I did! Learn how you too can get paid to leave your job like I did and open your eyes to new opportunities.
Untemplaters, are you watching the Rio Olympics? What's your favorite sport? Which athletes have inspired you in these summer games? Are you on track with your goals?
Copyright 2016. Original content and photography authorized to appear solely on Untemplater.com. Thank you for reading!