While most of you were probably cranking up the AC during August's sweltering heat, I was blasting the heat as I nearly froze in "Fogust." SF was foggy and cold almost every day of August and I really started to miss seeing blue skies and sun. It's almost mid September and they still haven't arrived. Arg! Hopefully we'll get our classic autumn heatwave later this month and into October.
What's neat, despite the cold weather, is the succulents I planted earlier in the summer managed to thrive and grow even without a lot of direct sun. Some of them actually tripled in size! I remember checking on them after coming back from vacation and beaming with pride at how well they'd been growing.

It's pretty apparent which of the above halves is the before versus after. 🙂 The little plant at the top left is barely even visible in the after shot. I've got to re-pot him somewhere else because he literally has no more space! I'll probably wind up rearranging the entire container since these plants grew much faster than I anticipated.
Reap what you sow, for real!
Gardening is not only a great way to clear your head and reap the rewards of what you sow, it's a great motivator for so many other things in life. With the right conditions and care, the "plants" in your life can blossom and grow. And even imperfect conditions can work quite well too – like how my plants thrived on their own even without warm sunny days. The key is to have the courage and initiative to try new things and take risks in hopes for greatness.
Think about how you can plant seeds for tomorrow in your own life. What small steps can you take today that will take root and thrive over time to help you achieve a better and brighter future? Here are a few suggestions to help you get started.
Open an investment account and add to your positions every month .
Start saving an extra $100 for retirement each week.
Stop accumulating debt and start paying it down aggressively instead.
Sign up for a class to learn new skills and expand your resume.
Put down the TV remote and pick up a non-fiction book instead.
Take the initiative to start a side hustle on the weekends.
Don't just take my word for it…
Those of you who've been long-time Untemplater readers know how much I love quotes. Since it's been a while since I've published a quotes post, here are some neat ones I found along this post's theme of planting seeds for tomorrow.
Don't judge each day by the harvest you reap but by the seeds that you plant. -Robert Louis Stevenson
A garden requires patient labor and attention. Plants do not grow merely to satisfy ambitions or to fulfill good intentions. They thrive because someone expended effort on them. -Liberty Hyde Bailey
Consider a tree for a moment. As beautiful as trees are to look at, we don't see what goes on underground – as they grow roots. Trees must develop deep roots in order to grow strong and produce their beauty. But we don't see the roots. We just see and enjoy the beauty. In much the same way, what goes on inside of us is like the roots of a tree. -Joyce Meyer
It's been proven by quite a few studies that plants are good for our psychological development. If you green an area, the rate of crime goes down. -Jane Goodall
A tree is known by its fruit; a man by his deeds. A good deed is never lost; he who sows courtesy reaps friendship, and he who plants kindness gathers love. -Saint Basil
New Here? Welcome! Be sure to check out my about page and read how I got paid to break free from a grueling desk job. I publish monthly income reports to track my progress and push myself forward.
2016 Goals Update
I have a couple main career goals for 2016 that I'm actively hustling to meet or beat this year. In each of my income reports, I provide a quick update on my progress:
1) Goal: Invest At Least $5,000 Every Month
In August, I decided to pay down $3,000 of my mortgage. That felt good and I remembered to wait until after my monthly mortgage auto-pay had cleared to avoid the mishap that happened a couple months ago when I paid down extra principal too early in the month and the bank almost lost my money.
I also invested $5,000 in another structured note product, a 5.5 year market linked note on the Dow, Euro STOXX 50 and AGG. It wasn't the most appealing, but has 100% principal protection at maturity and a small semi-annual dividend. In retrospect, I probably could have waited and found something better, but at $5,000 it's one of my smaller investments so I feel okay about it. I plan to do a better job reading through prospectus' and looking at note fees going forward because they are a lot more variable  on the fee-side than I realized.
2) Goal: Grow My Net Worth By $75,000
I'm on a quest to become a multi-millionaire! It's a long journey, but an exciting and fulfilling one. I ran my mid-year net worth figures and was happily surprised that I hit my goal and passed the $1 million mark over the summer. I think I can stay above $1 million if I continue to save and the markets don't tank significantly in the next few years.
I think the market will soften over the next couple years, so I am staying conservative with my cash and hope to use any downturn opportunities to invest more in the stock market. I didn't sell my holdings during the financial crisis, but I also didn't take advantage of market lows to buy. It sure would have been nice if I had bought back then with the run up we've had, so maybe I can make up for it in the future.
Income Report August 2016
Onwards to my August Income report…
Total Revenue Streams = $12,540
FREELANCING: $8,920
Project management $7,040
Editorial, writing, marketing $1,790
Teaching music, pet sitting, misc. $90
INVESTMENTS: $1,009
Dividends & interest income $514
Rental income $495
ADVERTISING & AFFILIATE: $2,611
Affiliate Partnerships: $2,284
Contextual Advertising (Adsense): $147
Bluehost: $90
Amazon Associates: $16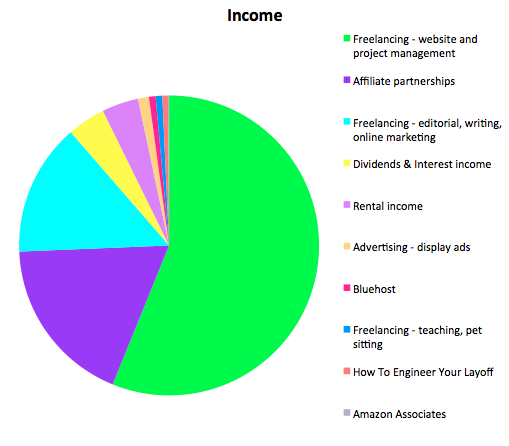 Expenses = $(5,953)
BUSINESS: $(1,093)
Travel – business: $(120)
Aweber, Marketing, Subscriptions, Fees: $(355)
Meals & Entertainment – business: $(280)
Other work related: $(338)
PERSONAL: $(4,860)
Living expenses: $(4,010)
Meals & entertainment – personal: $(390)
Travel – personal: $(160)
Shopping & misc expenses – personal $(300)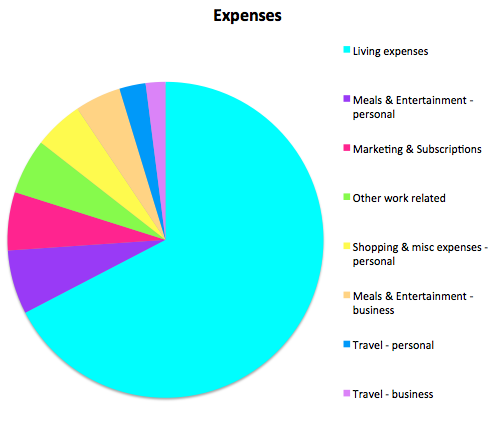 $12,540 (Income) – $5,953 (Expenses) = 

$6,588 PROFITS
August Takeaways
I slowed down my overall pace in August and my drop in freelancing income reflects that. Although it would have been nice to have made more, my body told me to take it easy so I put on the brakes a bit. Having the flexibility to work fewer hours when I feel the need to is a luxury I'm grateful to have. It also makes me glad I worked as hard as I did in months like April and I believe that I can easily crank things up again when I'm at full capacity.
Recommendations
Start Your Own Website – Want to brand yourself and make more money? Work on becoming a branding rockstar by creating your own website the easy way with Bluehost for super cheap. You can register your domain for under $20/year and get hosting for only $3.49/month.
Whatever your interests are, focus on building your skills and developing your own unique niche! I've been blogging since 2010 and it has allowed me to break free from the corporate grind to travel, work from home and do so many more fulfilling things with my life. There's not a week that goes by when I'm not thankful for starting this site. Be sure to check out my step by step guide on how to start your own blog.
Break free! If you're burnt out of your day job, believe that you too have options and can turn your career around for the better. I didn't believe I could escape the grind for the longest time, but fortunately I wised up before stress destroyed my relationships with family and my health. I never would have thought I could negotiate a severance package and get paid to leave a job I grew to hate, but I did! Learn how you too could get paid to leave your job like I did and open your eyes to new opportunities.
Untemplaters, do you have a green thumb? Have you ever planted something and been thrilled at how it grew over time? What are some long-term goals you're actively working on today? Are you planting seeds for tomorrow?
Copyright 2016. Original content and photography authorized to appear solely on Untemplater.com. Thank you for reading!