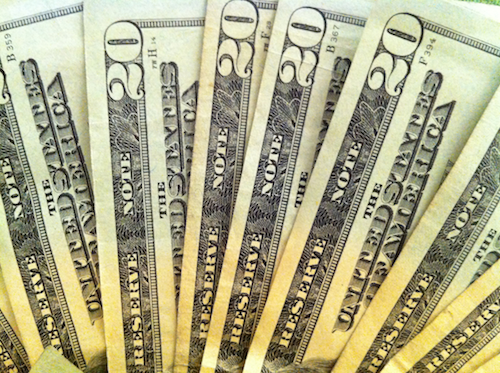 I recently had lunch with one of my friends and we got to talking about money and how it can change and even corrupt people. She told me a fascinating story about her cousin Trent, who grew up rather poor and had to work part time jobs throughout school to help his family. Despite his underprivileged upbringing, he loved school, studied really hard, participated in all sorts of student organizations and managed to get into UC Berkeley on a full scholarship.
Even though his college education was paid for, Trent still chose to work while he was in school because he didn't like feeling idle and wanted to be able to start his own company after graduation. He took lots of business classes, often met with his professors for advice and guidance, and spent all his free time researching and planning for his future. After finishing college was able to take the money he'd saved up and start his own marketing and design company.
He kept his costs low and used his networking skills and alumni contacts to win a few big clients. Over time his business really took off. People liked his work and his positive, can-do attitude. He enjoyed being able to help his clients and prided himself in his customer service. As his business and profits grew, Trent wasn't able to continue doing everything on his own so he hired a few employees to help with the growing demand.
Everything was going great until one of the employees, Eric, liked Trent's business model and designs so much that he decided to quit and start his own competing company, copying pretty much everything Trent's business was doing (note – names have been changed for privacy). Eric was making a decent salary working for Trent, but that wasn't enough for him. Instead of talking to Trent about getting a promotion or building a partnership together, Eric left and took a lot of intellectual property knowledge and client information with him.
The Lure Of Money
Trent was really disappointed that Eric left like that, but chose not to take any legal action nor try to stop Eric from being successful as a competitor. Trent chose to continue focusing on his own clients and doing what he loves. If I was in Trent's shoes I'd probably have done the same thing and just moved on, unless my business took such a huge hit from Eric stealing away business that I couldn't operate anymore. Perhaps if Trent had paid Eric a higher salary he wouldn't have left like he did, but it probably would have just delayed Eric's departure not eradicated it.
I think it's selfish the way Eric left, because he took the opportunity to make more money on his own by copying all of Trent's ideas, but it was quite a profitable move for him.  My friend did tell me that Eric ended up making triple his previous salary by starting a competing business, and lured away many of Trent's clients. Ouch. I'd be furious if I was Trent. I mean it's nice that Eric was able to make so much more money, but the way he went about it was pretty foul. If it wasn't for Trent, Eric wouldn't have had the knowledge and the contacts to be successful.
Competition is inevitable in any business though and people copy and steal ideas and information all the time in order to make a profit for themselves. Especially as fluid as data and info is online these days, it's becoming quite hard preventing others from pillaging and stealing your own ideas, content, products, contacts, and designs.
Be Careful And Protect Yourself
Why do you think money corrupts people and leads them to steal from others? I don't think it's solely based on poverty versus wealth anymore, I think laziness and greed play a big part too. Perhaps some of you think what Eric did was smart and completely within his rights.
Imagine for a moment you had the opportunity to triple your current salary right now. Would you undermine someone in order to do so? And do you think your answer be different if you made significantly more or less than you do right now?
Personally I don't think I could sleep at night if pulled a move like Eric's. But money makes people do crazy things. It can make our heads spin, over inflate our egos, and consume us with stinginess, and an endless appetite for material things. After all, greed and ignorance are two of the main reasons why lottery winners and professional athletes often go broke. They just don't know how to handle their sudden influx of income and assume that it will never run out.
The lesson learned here is that if you have anything valuable, there will always be someone who wants to copy or take it away from you for his or her own benefit. For example, if you have a brilliant idea for a new invention, don't go blabbing about it on Facebook as soon as it pops into your head, keep it to yourself until you've acted on it and protected your intellectual property and prototypes.
Untemplaters, what are your thoughts on Eric's actions? How would you have responded if you were Trent? Why does money corrupt people in your opinion?