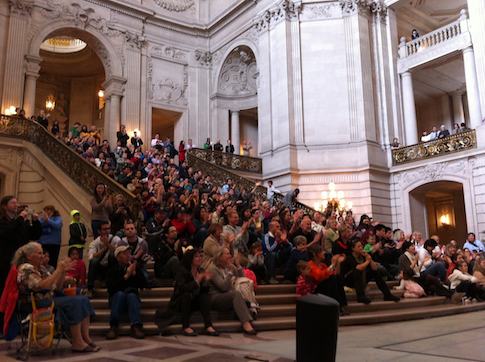 Most people dread public speaking or even the thought of it. It's tough putting yourself out there. Even speaking up in a classroom setting to answer questions can be unnerving. I've been there! But a lot of people never give themselves enough credit. How do you know you're bad at giving business presentations if you've never tried? How do you really know you'll never be as good as your boss at public speaking if you don't practice? Give yourself a fair shot with the below tips for public speaking and giving business presentations.
From Wallflower To Confident Presenter
After all, almost nobody is born a natural public speaker. Presentation skills need to be learned, rehearsed, and will develop over time. Take me for example. I was probably the shiest person in my class growing up. I couldn't hold a conversation with anyone at a party, and even though I found work meetings fascinating I was too timid to speak up. But I've evolved over the years and you can too.
Now I can teach a class, voice my opinions with CEOs and senior management, and speak solo in front of large audiences. How did I manage this transformation? By going through all of the tips for public speaking and giving business presentations below, over and over again. If you give yourself a chance to do the same, you'll be surprised at what you can achieve!
Know your topic
First and foremost, figure out what you need to talk about. You don't have to be an expert on the topic, but you need to be comfortable with the material. Do your research and allot enough time in advance of the presentation date to compile all of your data points.
Draft an outline or agenda
If you're giving a speech, you'll need to start out by drafting an outline of your introduction, key points, and conclusion. I strongly suggest writing out your entire speech to organize your thoughts. You don't have to read it word for word when you're in front of an audience, but it is a good way to practice, help yourself relax, and know that the words are there in front of you if you need them. Highlight in bold key words and phrases that you want to emphasize.
If you're giving a business presentation, put together an agenda of all the topics you want to cover. I usually start off with a basic agenda a week before I need to present, and continue adding several more points each day as they pop up in my head. Even though putting an agenda together may seem like a pain, trust me they help a lot.
Write a list of potential questions
One of the biggest fears people having with public speaking is not being able to answer questions from the audience. So to get yourself comfortable, brainstorm a list of questions you think they may ask. Talk to your coworkers or friends and ask for their input too. Even if someone asks you a question you don't know the answer to, that's perfectly ok! Take down their name and follow up with a response in a day or two. You're not expected to know everything.
Time yourself
It's important to time yourself in advance of giving your speech or presentation. What may feel like 30 minutes may only be 10 or vise versa. Determine how long you want to speak, and adjust your material until you get within a few minutes of that target. You don't have to be spot on, but you want to be close. Use a stop watch when you're rehearsing.
Practice in the venue
If possible, try and arrange time to practice at the actual venue where you'll be speaking. Get comfortable with the equipment, the height of the podium (if there is one), what it feels like to walk into the space, and scan the audience. Get used to moving your focus around the room – you don't want to stare at one spot the whole time you're speaking live.
Observe your body language
Record yourself walking into the room, standing, and speaking. Are you slouching, walking too fast, looking down at the floor, or forgetting to look around? Observe how it feels to have proper posture, normal pace, eye contact, and control your hands and arms. Sometimes we don't realize our habits until we actually watch a recording of ourselves. Pinpoint the areas you want to work on, and keep recording until you get the results you want.
Visualize
Before the big day arrives, visualize yourself going through all the motions. Picture yourself backstage or approaching the conference room, walking with confidence, standing up, speaking in a calm and confident manner, smiling, and looking out to the audience. All these little mental steps will help keep your nerves calm.
Engage your audience
When you're preparing what you're going to say in advance, you should already know the demographic of your audience. Keep your material relevant to their needs and interests. While you're speaking, keep them engaged by looking at them, speaking loud enough so they can comfortably hear you, and put energy into your voice. If you're enthusiastic about what you're saying, they will be too.
Trust yourself
Give yourself a pat on the back for coming this far. You've prepared, practiced speaking, adjusted your material to a proper length, analyzed your body language, and visualized yourself succeeding. Trust yourself! You'll do great. And remember, nobody in the audience wants you to fail. They are there to support and learn from you. Think positively.
Smile before you begin speaking
Unless you're presenting something very serious or sad, go out there and smile! People smile themselves when they see other people smiling! It may sound cheesy, but a smile goes a long way. It'll help you feel better and warm up your audience too.
Pace yourself
A common mistake when people first start public speaking is talking too fast. You should have already practiced the timing and rhythm of your material by now. So, take slow breaths and speak at a normal pace. If you lose your place on your agenda or speech, don't panic. Pause, scan through your document, find your place, and continue. Silence or pauses in between sections is perfectly fine. It may just perk up your audience too.
Don't apologize
Resist the urge to apologize during your presentation. Nobody needs to hear you say you're nervous or can't remember what you wanted to say. Pause if you need to, and then keep going. Chances are your audience won't even notice if you skip something or be able to tell if you're feeling jittery. Be confident in your abilities, you have nothing to apologize about.
Keep it up
Once you finish speaking, congratulate yourself for going out there and doing it! Even if you felt you messed up or could have done things better, don't beat yourself up. You just accomplished what a lot of people don't even have the courage to think about. If there was a recording of your live presentation, take some time later to review it and note what you did well and what you want to improve upon. Then, think about your next opportunity to practice. Keep it up! Believe me, it gets easier!
Untemplaters, have you ever given a speech or presentation? What was the hardest part for you? Do you have any other tips for public speaking and giving business presentations?

Copyright 2013. Original content and photography authorized only to appear on Untemplater.com. Thank you for reading!