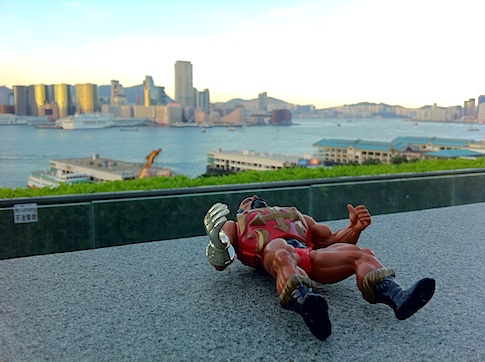 My friend's wife decided to get into the super competitive online retail business. Her idea is to source local products in Asia, and sell the unique items through her website to consumers all over the world. Boutique items include nicely designed handkerchiefs, teapots, and all sorts of random things that you might not necessarily need, but you might want once you see it!
Her business idea is fine, since she's a stay at home mom who lives out in Asia. She bought a website, set up her shop through shopify instead of Steve Chou's online store, hired a partner for operations and logistics and told her Facebook friends about the business. Easy!
There's just one thing. After all us 300 friends liked her store, very few of us actually went to buy anything from the online store. I have no need for mini gongs and terracotta horses for my house, and neither do many of her friends. Perhaps our individual network of friends will see our "Likes" in their news feed and click through, but the chances are quite slim. Facebook advertising is not very effective in my opinion.
Within six months of launch, she admitted that sales were light and she was thinking of moving on to do something different. I had reached out to her in the beginning of her launch to see if she'd like to do a buzz marketing campaign with myself or the Yakezie Network, but she never bothered to even respond to my e-mail after first asking me to Like her page! No matter as I was trying to do them a favor with a discounted rate. Goodness knows I have more than enough on my plate.
I asked her partner just the other week whether they'd like to give some online marketing a try with me. He responded, but she didn't, again. Seriously, at least have the courtesy to respond with a "not interested"!
I'm going to guess both of them probably spent a combined $20,000 or so to launch their business. If you add in their one year's worth of time, the costs would be astronomical since both were making more than six figures a year. Unfortunately, it is clear to me their business will fail after all their work because nobody can find them, nor does anybody care.
MAIN REASONS WHY BUSINESSES FAIL
1) You do not invest in marketing. I don't care if you invented a machine that gives people six-pack abs in a touch of a button, nobody will buy your product if they don't know about your product! If you have an online business, you better have an online presence. When people type in the words "mini gong," your company's e-commerce site better show up. When someone types in your company's name or the founder's name, a nice 15 question interview better appear on the front page so the customer knows you are a legit person with a real company and some great products. If you do not invest in marketing because you want to save money, or think you can create the buzz on your own, you will likely be very disappointed.
Action: Market with authority figures online. If you sell diapers, reach out to parent blogs to share your story or advertise with them through content marketing or advertisements. If you sell financial products, or provide advisory services for business accounting online, taxation, etc. consider working with the Yakezie Network, the largest personal finance blog network on the web to highlight your product. It's a blogger's business to generate traffic, trust, and authority on their respective sites. It's not easy, and goodness knows it takes years to a brand. But, that is exactly what you are paying bloggers for, to associate your product with their authority.
2) You aren't willing to iterate. We have a tendency to think our ideas are the best ideas. We are blinded by our genius, or lack thereof, and as a result we fail to adjust according to constructive feedback. If you want to sell a product, you must listen to your customers. Their complaints may be petty and you might get offended, but put your personal feelings aside because chances are, if one person has a complain, many other people have the same complaint.
Action: Be flexible to change. After launching my book in the summer of 2012, I purposely kept Financial Samurai as the only sales channel. I wanted to write as much relevant content to draw as many potential clients in to listen to their feedback. Over the next six months, I made sure to get feedback from a good sample of readers to hear how I can improve the book. I then implemented their suggestions into my book to make it better. I'm now confident that the product is as best as it can be in its existing state, so I am now opening up my book to fellow bloggers who have career, entrepreneurship, and lifestyle content on their sites.
3) You aren't willing to stick things through. Launching a plane off the ground requires a long runaway and a tremendous amount of energy. Enough momentum is needed to take flight, with sustained energy to continue. Too many people either give up during the development process, or stop as soon as they see sales falter. These are what every entrepreneur calls "dips."
Action: Persevere until you are absolutely sure. It's important to push through the dips in order to build your momentum. There will be a lot of self doubt in the beginning for an unproven and untested product. You've got to believe in your product, otherwise nobody else will. Keep on spreading the word through your own channels and through professional means. Ask as many outlets as possible whether you can write a guest post or do an interview. And when you've spent all your energy, only then should you consider changing direction. Those who stick with things long enough are those who succeed.
SAY NO TO ALLIGATOR ARMS WHEN MARKETING YOUR PRODUCT
It makes absolutely no sense to spend $200,000 on building your product when you can't even spend 10% of the build cost in marketing and advertising. If you don't get the word out, you are absolutely wasting your time. Sure, try marketing yourself first for a bit, but recognize quickly that your competitors, small and large are spending big bucks to get first to market and dominate.
Do you remember when Groupon was such a big craze in 2010? Their ads on Google Adsense were everywhere, forever it seemed. As a result, they were able to capture a large market share and go public for billions of dollars. They now are sucking wind, but at least their founders made hundreds of millions of dollars.
Spend, listen, and push on through if you want to make your business a success. Otherwise, don't bother even starting!
Readers, why do you think businesses fail? We can't business owners realize the need for marketing?
Related: You'll Never Get Rich Working For Someone Else!
Regards,
Sam