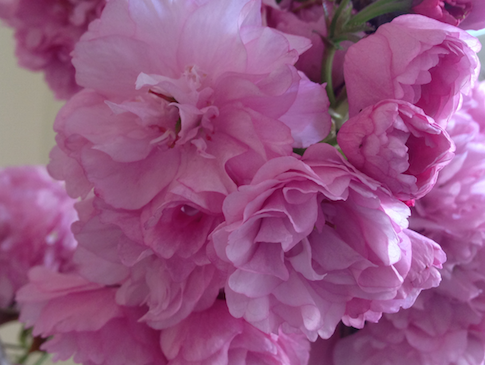 April was a great month. The weather warmed up, I stayed rather busy, got to try some new restaurants, and had some great times with family and friends. San Francisco is such a great home base! The days in April went by really fast, but that's nothing new. I have noticed that I have a harder time keeping track of which day of the week it is now that I do all my work from home though. Thank goodness for calendar reminders and to-do list apps that sync across devices. I'd be a mess without them.
Even though I usually work seven days a week, it doesn't feel overwhelming at all now. Not having to commute to downtown San Francisco is huge and every day I'm so thankful I can choose when and where I do my work. Working on the road is a lot of fun and the freedom to take breaks on my own schedule is priceless.
2015 Goals Update
1) Goal: Grow More Traffic
April was an exciting month for traffic! I thought things would come out about flat again based on what happened in March, but my total traffic was up! Untemplater's total pageviews were up over 4% and if I look at the average pageviews per day to account for the difference in the number of days in March versus April, the site was up over 7%. That comes as an unexpected and very happy surprise!
There are two factors that contributed to the increase. One was an awesome mention by Lifehacker on my post One Thing Done Is One Thing Less To Do. That referral came totally out of the blue and was really exciting for me especially since I'm a huge fan of Lifehacker. Second, I published a post about my recent experience, How I Negotiated A Severance Package And Got Paid To Quit My Job that was quite a popular hit and was also extremely fun to write.
Mentally I'm trying not to get too excited about the rise in traffic because I know with seasonality things tend to slow way down in May through mid/late summer. But believing good things can happen is half the battle and maybe things won't be as slow this summer as I imagine. I like the mantra "anything is possible," so I'm putting my focus on the possibilities of continuing an upward trend. April's stats have me feeling pumped and I have no intentions to slow down my efforts. So bring it on summer!
April vs March:

Year over Year:

2) Goal: Land More Freelancing Gigs
Freelancing kept me busy throughout April. Some other good news is it seems one of my larger freelancing gigs that I thought would be going kaput by now is still continuing. The company is still under pressure on cash burn, but I think I'm safe for a few more months and potentially longer. We'll see. I got some really positive feedback from them recently, so that was encouraging.
I'm in quite a sweet spot now with work-life balance so I've slowed down my search for new freelancing gigs. I still check around here and there though as you just never know what may spring up. I'm just really grateful for what I have. Feeling less pressure to find extra projects has also helped me stay more focused on my existing work while also giving me more breathing room to do other things like run errands, exercise, cook more meals at home, and see friends without feeling overwhelmed.
3) Goal: Build More Affiliate Income 
A big thank you to everyone who made a purchase or signed up for a service using an Untemplater link! Affiliate income continues to do well and April was another solid month. I spent a good amount of time locating and removing broken links last month too and continue to research and add new programs.
Income Report April 2015
Onwards to the April Income report…
Total Revenue Streams = $11,298
FREELANCING: $5,350
Editorial, writing, online marketing $4,850
Website management $500
Freelancing income has come down after the bump up in March, but is still doing well. I'm working a comfortable number of hours and have a nice variety of projects at the moment. While I could take on more work, I'm at a happy balance that I would like to maintain. I don't want to take on too much too soon because I don't want my performance quality to suffer.
INVESTMENTS: $1,027
Rental income $700
Dividends & Interest income $302
Prosper P2P investment income $25
My investment income for April was down again slightly but I'm not worried. I've actively been investing in my P2P Prosper account and now have a diversified mix of AA, A, B, C, and D loans in my portfolio. And since I turned on a lot of automated notifications in my account preferences, it's super easy for me to know when to login and select new investments when a pending loan falls through.
ADVERTISING & AFFILIATE: $4,921
Affiliate Advertising: $3,820
Direct Advertising: $400
Contextual Advertising (Adsense): $290
Profitable Online Store: $264
Bluehost: $90
Thesis Theme: $29
Amazon Associates: $8
Miscellaneous: $0
Affiliate and advertising had a nice 10% increase over March, due to higher traffic, some ad renewals, a bump in Adsense, and Profitable Online Store. I had a few hits out of the blue from Amazon that added up to $8 – certainly nothing to shout about, but hey $8 can buy a tasty lunch or a free Uber pool ride.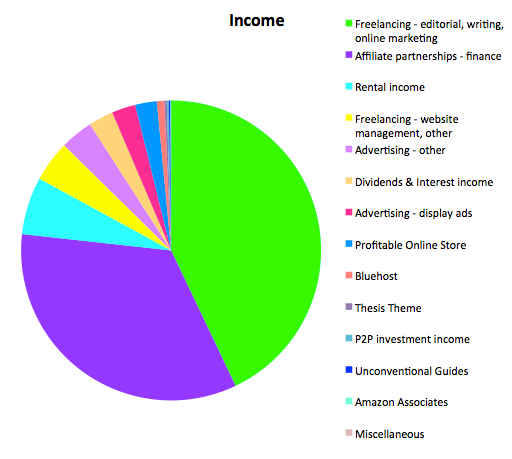 Expenses = $4,927
BUSINESS: $1,035
Meals & Entertainment – business: $(260)
Supplies & misc: $(260)
Aweber, Marketing, Subscriptions, Fees: $(245)
Hosting, web related: $(190)
Quickbooks: $(50)
Travel – business: $(30)
Outsourcing: $(0)
Business expenses came in higher than last month but not by too much. I purchased some office equipment as a one-off but saved on outsourcing. Now that I have more time on my hands, it's nice to be able to do more things myself. I'm still contemplating creating another site on Bluehost, but I've kept that on the back burner.
PERSONAL: $3,892
Living expenses: $(3,460)
Meals & Entertainment – personal: $(382)
Travel – personal: $(50)
Travel is on my radar for the summer. I'll most likely take at least two trips if not three or four. Thankfully I've gotten over my travel burn out and am excited about going on some new adventures over the next several months. As long as I can be near an internet connection I can stay on top of my work while seeing the world. I anticipate much higher expenses in the upcoming months as a result, but I've been looking forward to traveling abroad for a while.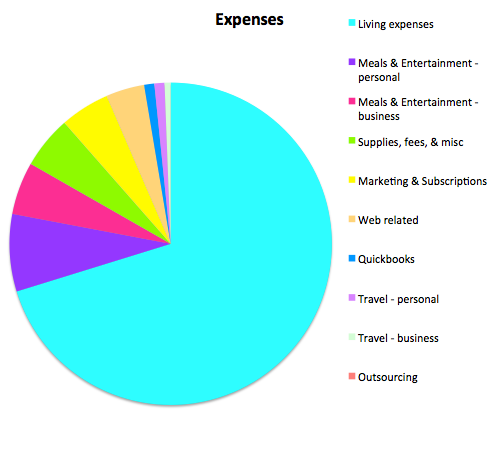 PROFITS: $11,298 (Income) – $4,927 (Expenses) =

$6,371
April Takeaways
Overall, April was down compared to March but I'm still happy with the results. The bump in traffic was a really nice surprise and definitely motivates me to keep working hard every day. Even though there are always more things that I want to accomplish each day than I can actually work on, I'm happy staying busy doing the things I love.
One of my goals now that I'm self-employed full-time is to live a healthier and more balanced untemplate lifestyle. And I think I'm doing well so far. Although I've been going to sleep too late at night recently, I'm getting more rest overall, I've been more active outside, I've been able to take advantage of more things that are free, and I've been able to make better food choices. I started eating a more Paleo themed diet in April and I've already noticed an improvement in how I feel. Sometimes I crave carbs and legumes like a mad woman but cutting them out of my meals has been a nice change of pace and my stomach is happier too. 
Recommendations
Personal Finance – If you're interested in tracking your own finances, sign up for a free account with Personal Capital. Link your credit cards, checking accounts, mortgage, student loan debt, savings accounts, investment accounts, etc. all in one place. Their reports and analytical tools really make it easy to monitor your financial health and helps you set goals. I've had an account with them for several years and love how easy and intuitive the platform is. Bloggers – want to become an affiliate? Sign up for the Personal Capital affiliate program here.
Become A Freelancer – Motivated to become a freelancer? The possibilities are endless! If you're a creative, learn how to sell your products and create your own online store. Like to write as much as I do? Find out how to get published, earn money as a writer, and have fun working on the road. Whatever your interests are, focus on building up your skills and developing your own unique niche.
And if you're burnt out of your day job, believe in yourself that you have options and can turn your career around. I didn't believe I could escape for the longest time but fortunately I wised up and negotiated a severance package and got paid to leave a job I grew to hate. Learn how you too can get paid to leave your job like I did and open your eyes to new opportunities.
Untemplaters, how did you perform in April? Take any fun trips or accomplish any exciting goals? Where are you headed this summer?