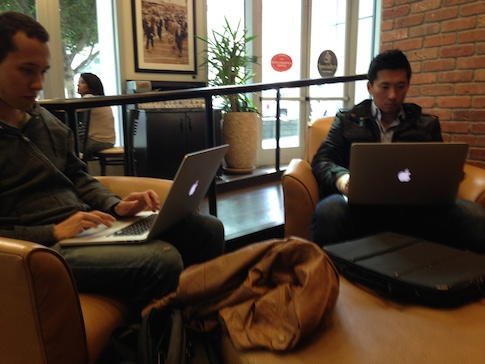 One of my major goals for 2016 and beyond is taking my career in a new direction. It's a little bit scary, sometimes a lot scary, and incredibly exciting. Last year I decided I needed to get out of a job I held several years too many because my stress was continually increasing, my compensation had plateaued, and my health, happiness, and family needed to come first. I had just dealt with it and sucked it up for a long, long time, but after many months of deliberating, I knew that the time had finally come for me to walk away. And I did!!
I am officially free of the chains of my old day job, and am now working on turning my side gigs into bigger gigs while also creating new gigs too. I'm still searching for full time work, but I would love to be able to make enough as a freelancer and independent contractor and go that route from now on. Assuming I can make enough money of course to maintain my lifestyle and still be able to build my savings each year. All of these changes have my gears constantly turning as I dive deeper into the world of blogging, freelance writing, content marketing, and other freelancing opportunities.
The Rising Wave Of Freelancers
I was reminded recently of a Forbes article I read a little while ago about the shift towards more people working part time because there is a rise in the number of freelancers and independent contractors. And hey, now I'm one of them! Maybe I'll go back to a full time corporate job if I find the right fit someday, but time will tell. For right now, I'm gonna do my best to try and make it as a freelancer.
Several studies are sited in the Forbes article that have some impressive stats. For example, 83% of executives say their companies are using more contingent workers these days. And it's estimated that in just five years from now, 40% of the U.S. workforce will be comprised of freelancers. 40%!! Another study reported that there are already roughly 30 million independent contractors and that in just four years, there could be an additional ten million added to this rising wave of freelancers.
The Pros Of Working As An Independent Contractor
So you may be wondering, what are the pros and cons of freelancing and leaving the full time corporate world of cubicle life? Let's start with the pros. These are based on my own experiences so far as well as few of my close friends who have been working independently for several years.
Flexible Hours: One of the biggest perks of being a freelancer, as you can imagine, is being able to set your own hours. There may still be times when you have to work onsite somewhere, but usually you can have a good amount of control over which days and times you work. I'm actually looking forward to being able to utilize weekends to work a bit more so that I can use weekdays to run errands and travel. I don't like crowds, so being able to do those things when the majority of people are at work is something I'm looking forward to.
Working Remotely: There's a mixture of part time work out there that's done remotely versus onsite. Some companies actually prefer freelancers to work remotely because they simply don't have enough space in their office to fit everybody, especially if they have a lot of active independent contractors. Like a lot of people, I love being able to work from home primarily because it avoids commuting. The longest commute I ever had in my career was about 45 minutes door to door, which wasn't that bad, but I sure don't miss it! I like being able to wake up, and just start working right off the bat.
Less Boredom And Monotony: When you work for the same company for a decade like I did, things can get really boring, and you can start to feel like you're just running in place even after making so much progress. So the nice thing about freelancing and taking on various independent contracting gigs is that you can mix things up. Being able to take on different projects keeps things fresh and it's much harder to get bored.
Autonomy And Control Over Your Workload: The one thing I loved about the longer I worked in corporate, was the more power and autonomy I had. As a freelancer, you don't have to wait as long as I did to get the luxury of autonomy. Plus, you can control your workload, something very few people get to do working at full time jobs. Stress really broke me down in my career, so I'm really grateful to be able to have full control of my workload now.
Tax Deductions: You may not know that as a freelancer you get to deduct a lot of expenses on your taxes that employees can't. Examples of business expenses that contractors can deduct from their income include office supplies, software, subscriptions, conferences, and travel expenses.
The Cons Of Being A Freelancer
While there are a lot of benefits of being an independent contractor, there are definitely some downsides to consider too. It's certainly not for everybody. And there's a lot to think about and prepare before deciding to just quit your job and freelance. It's easier said than done as I'm already discovering. But it can be done well with the right talent, hard work, and persistence as my friends have proven to me.
Unpredictability: If you're uncomfortable with uncertainty and not having a regular paycheck, stick with your day job. When things get rough, independent contractors are usually the first to get cut. And as you can imagine, with the ever increasing number of freelancers out there, things are competitive, especially when you're first starting out.
Treated As An Outsider: I've had several of my freelancer friends tell me that one thing they don't like about independent contracting gigs, is they often feel they aren't treated the same as employees. Even though they may be working just as hard, if not harder, than employees, people can have a tendency to view contractors as outsiders, and not as important or special as the full member of the team. It's not a good feeling to feel excluded.
Invoicing: Another pain point that comes with independent contracting is having to create and track all of your invoices. Believe it or not there are a lot of companies out there who are horrible at paying their bills. Even large companies with plenty of money in the bank! They have some great templates to help keep your business flowing like it should. It takes a lot of organization and persistence to keep track of your invoices and follow up on getting paid when you're an independent contractor. If you can find way to automate things fantastic, but chances are you'll have to bug people to pay you and that can be frustrating and stressful, especially if you're tight on money some months.
Lack Of Benefits And Labor Law Protections: Legally, employers aren't able to offer independent contractors health insurance benefits. Additionally you can't get many other benefits that employees enjoy such as 401(k)s, paid sick leave, paid vacation days, profit sharing, and bonuses. Having to setup your own health insurance and retirement plans can be a PITA, especially when you have to fork over the costs, figure out everything on your own, and lose out of benefits like employer match on 401(k)s.
Supply Your Own Equipment: Some companies have really strict IT security rules and corporate policies that don't allow contractors to use any company equipment or have access to certain files. So you have to be prepared to have all of your own equipment to do the work involved. That can be expensive and mean a lot of electronics and supplies, depending on your line of work.
Further Reading:
Here are some additional freelancing articles on Untemplater that may interest you.
Personal Finance Goals For Freelancers
How To At Least Triple Your Money As A Freelancer
Top 20 Wish List For Entrepreneurs And Freelancers
Recommendation
Start Your Profitable Website Today – Want to make more money and be more free? Work on building your brand by creating your own website the easy way with a WordPress site like mine through Bluehost for super cheap. You can register your domain for under $20/year and get hosting for only $3.49/month. Whatever your interests are, focus on building your skills and developing your own unique niche.
I've been blogging since 2010 and it has allowed me to break free from the corporate grind to travel, work from home, consult for companies that I like, and do so many more things I've always wanted to do but couldn't. The income is relatively passive as posts I've written years ago are still being found through Google and generating income. What's better than making passive income and creating a valuable asset you can one day sell for a multiple of annual income? There's not a week that goes by where I'm not thankful for starting this site!