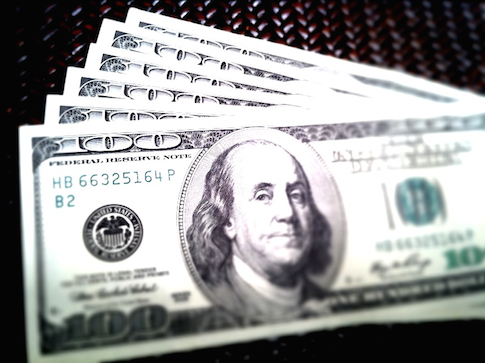 When I worked on Wall Street, there would always be a large investment bank that had two strategists. One was bullish, and one was bearish. The idea was that the firm could always put one of their strategists in front of clients no matter what the market did. Competitors who did not deploy this strategy poked fun at the ridiculousness of the situation. But the reality is that such large firms were able to stay in front of clients longer, gain more mind share, and profit more often as a result.
Freelance writing is a quick and easy way to make immediate money in the online world. The quality of freelance writers runs the gamut, but I'm pleased to say that with the clear fact that meatier posts are ranking better online, freelance writers from all over have been forced to step up their game. No more shitty 500 word posts that is a regurgitation of something that tells you nothing. I'm seeing more 1,000+ word posts that truly share some good insights. Hooray for all of us on the internet!
I couldn't help but notice a truly fascinating phenomenon that is occurring for individual stock freelance writers. Let me share with you an example that I think is truly a brilliant way to make at least triple your money on the internet writing the same thing. Who says freelance writing isn't scalable?
HOW TO AT LEAST TRIPLE YOUR MONEY AS A FREELANCER
I own a Chinese internet stock called Sina in my punt portfolio. The stock has been a turd in 2014, but I think there are catalysts due to the upcoming IPO of its Weibo asset, which is very much like Twitter. With crazy valuations for WhatsApp, Twitter, and Facebook, Sina trading at a $4 billion market cap seems too cheap given Weibo alone could be worth as much as $8 billion. Sina currently owns about 82% of Sina with Alibaba and Sina director's owning the rest.
As a shareholder, I've set up my Google Alerts for everything SINA related. Take a look at these four alerts that happened in a span of three weeks by one author:
First Alert on March 8, 2014: An article on Motley Fool entitled, "Sina: What Is Weibo Really Worth to The Market?" The author claims a $130 target price based on its sum-of-the-parts-valuation over Twitter. Sina is at $72.50 a share and I'm happy the stock is receiving some support.
Second Alert on March 19, 2014: Another article on Motley Fool by the same author entitled, "Yahoo! and Sina: Which Has The Most IPO-Related Upside?" Yet another bullish article about Sina. Sina is down to $67 a share. Guess nobody is listening.
Third Alert on March 28, 2014: A third article by the same author, but this time on The Street, "Why Sina Has Lower Days Ahead". Wait, what the heck Brian. You were just bullish a week ago! The author has now changed his bullish tune as SINA stock collapsed to $58.75 (19% in just 3 weeks since his recommendation). No worries, at least the author is able to write an article basically saying, "Because the stock market is going down, Sina is going down." Brilliant.
Fourth Alert on April 1, 2014: A fourth article by the same author, but this time on Wall St. Cheat Sheet, "Sina: $7 Billion Can Buy A Lot". Now the author is back to being bullish because three research houses (Pacific Crest, JB Capital, and UBS) upgraded the stock and SINA is now at $61.50 at the time of the writing.
Let's forget the fact that the author has never worked at an investment bank and maybe has never even been to China or speaks Mandarin. We all know that faking it until we make it is the way to go on the internet because nobody really cares about credibility. What Brian has done is absolutely GENIUS and very educational for those who want to make more money freelancing.
CREATING THE RIGHT STRATEGY
Here's what I've learned from simply paying attention to my Google Alerts:
1) Pick stocks you are interested in writing about. It's important to at least have an interest in the name even if you have no credibility. This way you'll spend more time trying to understand the stock fundamentals, management, politics and macroeconomic conditions affecting the stock.
2) Take a bullish stance and freelance for one publication. The Motley Fool is a shareholder of SINA in one of its funds, so this is an easy angle to pitch writing a bullish article about SINA.
3) Take a bearish stance on the same stock for another publication to hedge. The Street, Seek Alpha, Wall St. Cheat Sheet, Business Insider etc are all great alternatives. Your new publication probably won't have time to check that you wrote a bullish article for another site because they are dealing with dozens, if not hundreds of writers.
4) Wait and see what happens to the stock then write more. If the stock goes down, write another bearish article for the same publication that published your bearish article to show you are right, or choose another publication to publish your bearish article.
5) Continue to wait and see what happens and then write. If the stock rebounds and starts making money, then focus on writing a bullish article and highlighting the bullish articles you wrote on the first publication. Because the bearish articles are on another publication, and can't be referenced by your bullish article host publication, you're good.
By the time you are done, you've spun the article multiple times which results in multiple payouts. Sites like Seeking Alpha will pay based on impressions, and I'm sure many others will as well. What you want is a very volatile stock full of panicking shareholders who search for articles on the name. It doesn't matter if the stock goes up or down because you are making money both ways.
WE ARE THE CHOSEN ONES
In 2012, I was bullish enough about the online content business enough to leave my healthy paying job of 11 years. I said I was bullish on blogging in 2012 at Fincon in Denver, and after realizing how one can make 2-5X their money spinning one article, I am even more bullish than ever!
We can't blame the author of those SINA articles for riding the wave. That's what CNBC does all the time (which is why I don't watch). When the markets are going up, they gather all the bullish pundits to say the markets are going higher or pound their chest on why they are so right. When the markets are crashing, CNBC gathers all the bearish pundits to say how they were right, or how the markets are going lower.
The beauty of the stock market is that there's always a buyer or seller. Hence, we should utilize this reality as freelance writers by writing whichever way the wind blows. With enough bullish and bearish articles, we'll always be right. How brilliant is that?
START YOUR PROFITABLE WEBSITE TODAY
Want to make more money and be more free? Work on building your brand by creating your own website the easy way with a WordPress site like mine through Bluehost for super cheap. You can register your domain for under $20/year and get hosting for only $3.49/month. Whatever your interests are, focus on building your skills and developing your own unique niche. It's all about OWNING your domain instead of only being a freelance writer who writes for others.
I've been blogging since 2010 and it has allowed me to break free from the corporate grind to travel, work from home, consult for companies that I like, and do so many more things I've always wanted to do but couldn't. The income is relatively passive as posts I've written years ago are still being found through Google and generating income. What's better than making passive income and creating a valuable asset you can one day sell for a multiple of annual income?
I've conquered my biggest fears by going off on my own thanks to this website and it feels wonderful. Not a week goes by where I'm not thankful for starting this website to live the life I want to live!
Updated for 2016 and beyond