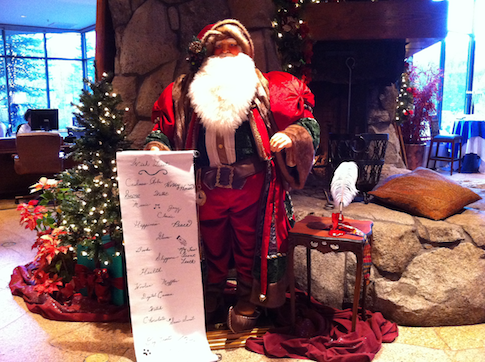 Phew. December snuck up fast and the crazy holiday shopping season is now in full swing. It can be exhausting! But it doesn't have to be all stress and no fun. It's exciting to think about what you want for yourself too after all. 🙂 Who says you can't drop hints to your main squeeze and closest family members, or just buy yourself something and take a tax write-off! Here's my handy top 20 wish list for entrepreneurs and freelancers to make pursuing your dreams that much more fun!
Business trip to paradise
Who says business travel has to be blah and exhausting? Plan a company retreat to somewhere awesome and brainstorm new ideas with a fresh perspective on life. Experience a new culture on a trip abroad and figure out how expand your customer base while you're at it.
DSLR Camera
Smartphones take great pics but the zoom and manual controls still can't compete with a DSLR camera. Take stunning pictures and video for your business and website with the popular and reasonably priced Canon EOS Rebel T3i. I have an older model Canon Rebel XS and have been very happy with it and have taken some pretty incredible shots if I do say so myself.
Business Guides
Chris Guillebeau's brainchild Unconventional Guides has just came out with a brand new product perfect for freelancers and entrepreneurs, the Unconventional Guide to Law and Order. Learn how to make the law work for your business in plain English without having to pay a fortune in attorney fees. You'll learn how to protect your valuable intellectual property, how to create contracts, calculate risks, and when to call in a pro versus handle legal business on your own. Another great buy is their Freelancer's Survival Guide that helps you do more of what you love and get paid more to do it.
Ergonomic & Adjustable Desk Chair
Having a properly fitting ergonomic chair will do wonders for your posture and productivity when you're working. I was using a desk chair that was about three sizes too big for the longest time and I wasted so much time fighting the furniture instead of focusing on my work. We are all different sizes and shapes and buying a nice chair is often overlooked because of the high price points. If you have the budget, this is worth the splurge! Herman Miller's Aeron chair is highly adjustable and comes in multiple sizes.
iPad keyboard case
If you're lucky enough to have an iPad, there are awesome keyboard cases that are perfect for when you're on the go and don't want to lug around your laptop. It's pretty silly that Apple hasn't come up with their own yet, but there's no need to wait. Kensington's KeyFolio Pro 2 case comes with a removable keyboard and built in stand.
Profitable Online Store Course
Every business and freelancer needs an online presence. And that often involves setting up and maintaining an online store. Learn everything you need to know from my friend Steve Chou's nationally recognized platform Create A Profitable Online Store Course. The six day mini course is totally free too.
Wide screen monitor
If you are a desktop user who has multiple apps open at once it can get frustrating switching back and forth on a small screen. Enjoy more space and less eye strain with a wide screen monitor like the Dell E-series 24 inch LED lit monitor.
Leadership Books
Most of us are not natural born leaders, but they are skills we can definitely acquire with the right resources and practice. Become a better leader for your business reading some of the best books such as:
Leadership Is an Art
The Diary of a West Point Cadet: Captivating and Hilarious Stories for Developing the Leader Within You
The Leadership Moment: Nine True Stories of Triumph and Disaster and Their Lessons for Us All
Sharp suit
Perhaps it's hard to be excited about getting a new suit, but I think you will when you realize how good you can look. A well made, modern-cut suit is a staple for every entrepreneur's wardrobe. You may not have to wear it very often, but it's one of the easiest things you can do to make a solid first impression with prospective clients, investors, and business partners.
All in one laser printer/scanner/copier/fax
I have a crappy ink-jet printer from 5 years ago that is starting to croak. A super fast multi-function machine would be oh so nice, especially with WiFi! Canon makes a sweet Laser imageCLASS Wireless Monochrome Printer with Scanner, Copier and Fax that's quiet and prints double sided too.
Laptop sleeve
It's time to consider donating your old bulky laptop bag that weighs more than your MacbookPro and travel lighter with a new laptop sleeve or a slim line bag. Case Logic is a popular choice for sleeves and Belkin makes a slender laptop bag if you want something sleek with a strap.
Massage package 
Working around the clock can leave your muscles in knots. Get pampered with a massage package at a local spa and relieve tension in your neck, shoulders, and back. Loosen up your arms and wrists and say goodbye to carpal tunnel and tendinitis. If you're on a budget, the Thera Cane is an affordable alternative you can use every day to massage those hard to reach spots in your back or anywhere that's sore.
Lap desk
I love my MacbookPro, but it is a portable furnace! If you're a regular laptop user like me, save your skin, protect your family jewels, and stay cool with a cushioned lap desk. There are lots of different kinds. Some come with lights, pockets, and storage compartments.
Hot & cold thermos
When you're constantly on the go, you don't have time to deal with spills and lukewarm coffee. Keep your cup of joe or herbal tea piping hot all day in the Thermos Nissan 16-Ounce Backpack Bottle. I got one a few years ago and love this thing! I fill it up in the morning with tea and it literally stays hot all day. Drinks stay hot for 8 hours or cold for 12, it's easy to carry, and it doesn't leak ever!
Polycarbonate suitcase
If you're a smart traveler, you know never to check bags when you're flying. Travel light and get to your final destination faster with a polycarbonate carry-on suitcase like the Delsey Helium Aero Spinner Trolley. They're effortless to roll, crazy lightweight, and a breeze to fit in the overhead compartments.
Label maker
I love to organize and I can't believe I don't have my own label maker yet. I've used them in prior jobs and they are so handy around an office, and addictive! Keep all your important corporate files and supplies organized and easy to find. The Epson LabelWorks LW-300 can print in 14 fonts, 10 styles, and has hundreds of symbols, images, and frames built in.
Computer gloves
I got a pair of IMAK computer gloves last year and absolutely love them. They work perfectly with my laptop and keep my hands and wrists from getting fatigued even on 12-14 hour work days. They only come in one size though, so I don't recommend this particular style if you have large hands or they'll probably be too tight.
Smart TV or Chromecast
I used to think paying up for Smart TVs was dumb until I actually tried using one! Liven up your break room or office with a Smart TV and show off your company videos, e-learning modules, website, pictures, and catch up on the latest news and trends. Samsung makes a 32-Inch 1080p 60 Hz Smart LED HDTV that comes with its own stand. If you don't want to splurge on a Smart TV, the Google Chromecast HDMI Streaming Media Player is a super affordable alternative if your TV has an HDMI port.
Iphone card holder case
Who needs a wallet anymore when you can have a smartphone case that holds your frequently used cards and IDs while it protects your phone at the same time. Speck makes a good looking SmartFlex case that has a built in slot for your most important items.
Noise cancelling headphones
When you just need to concentrate or want to enjoy your favorite tunes in public places, Bose QuietComfort 15 headphones can't be beat. I own a pair of these and never travel without them. Beats Studio by Dr Dre are another popular line if you want a more hip look and multiple colors to choose from.
Untemplaters, what are your top picks from my wish list for entrepreneurs and freelancers? What must haves are you after this holiday season?
Copyright 2013. Updated 2017. Original content and photography authorized only to appear on Untemplater.com. Thank you for reading!