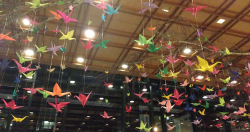 Phew, what a wild week and a half it's been for me. Thank you so much to those of you who sent me get well wishes and support. I had no idea I'd wind up in the hospital, and thankfully I am feeling a lot better and my recovery has been going really well so far.
I feel very lucky for having access to great doctors, the donors who helped make UCSF Mission Bay hospital possible, having incredible family and friends who got me through the shock/aches/pains, and for the blessing to be alive and on the mend!
I hope all of you had a great weekend and some fun watching the Super Bowl. It's pretty darn cool it was in "San Francisco" – I have that in quotes because the stadium is so far south from SF. 🙂 I haven't had a chance to visit the new stadium so I was really impressed with how it looked. I loved the halftime show too! I'm a big Coldplay fan (how cool were his shoes?!) and also liked watching Bruno and Beyonce. I thought the commercials were okay this year. Not a whole lot of funny ones but I liked the Doritos dogs at the grocery store, the Heinz dachshunds, the Subaru dog tested car, and the Advil do amazing things commercials. Amongst the cars – can't beat the Acura NSX!
New Here? Welcome! Be sure to check out my about page and read how I got paid to break free from a grueling desk job earlier this year. I publish monthly income reports to track my progress and push myself forward.
2016 Goals: Let's Go!
Ok, here we go! I've set some career and income goals for 2016 and plan to hustle hard to meet or beat them this year. I'll update my progress each month in these income reports.
1) Goal: Invest At Least $5,000 Every Month
I want to get better at investing more frequently and am going to take a monthly approach. The markets are ugly so far this year and I don't think they are going to get a whole lot better. I plan to use a bit of a dollar cost averaging approach by legging in every month although I'll probably switch up what I'm buying depending on how things are performing and what opportunities come up in the structured notes department.
In January, I beat my $5,000 monthly goal of investing and bought $10,079 of SDY. I had some extra cash I wanted to deploy and felt motivated to build my existing SDY position because I received a large capital gains distribution in December. Passive income through dividends and distributions feels fantastic, so I feel pretty good about my trade.
2) Goal: Grow My Net Worth By $75,000
I am on a quest to become a multi-millionaire! It's a long journey, but an exciting and fulfilling one. If I can grow my net worth by $75,000 this year I'll pass a net worth of $1 million and will be in good shape to hit some financial goals I want to reach before I turn 40. How do I plan to accomplish this goal? I plan to save a lot of money of course and continue doing as much as I can freelancing. Hopefully the ugly stock market won't derail my goal. I think it's going to be a bumpy ride in the economy this year.
My recent health scare was a true reminder that when you are self-employed, not having sick pay can make a big impact. I didn't take very many sick days when I was working full-time over the past years and now I wish I took more days! I missed over a week of work in February, which is unfortunate, but I definitely needed it off and I'm glad I was able to rest in peace.
3) Goal: Grow More Traffic
Growing traffic is easier said than done, but it possible as I've witnessed by many other sites. I really do enjoy writing for Untemplater so I plan to keep up my regular posting schedule. I also hope to do more comment rounds this year. It's a great way to build relationships with other bloggers and a lot of fun to see what other people are up to.
As far as January traffic went, I had a great spike at the start of the month when I published my net worth post. It was way more popular than I had anticipated.
January vs December:
Looking at year over year numbers, I was bummed I didn't get the big type of ramp up that I did last year. Nevertheless, my traffic is still on an upward trajectory even if it is small so I can't complain. I plan to keep on trucking and hope Google will be kind to me once the next Penguin algo updates are released.
Year over Year:

Income Report January 2016
Onwards to my January Income report…
Total Revenue Streams = $18,970
FREELANCING: $13,925
Project consulting $10,100
Editorial, writing, online marketing $3,780
Teaching music $45
INVESTMENTS: $716
Rental income $525
Dividends & Interest income $179
Prosper P2P investment income $12
ADVERTISING & AFFILIATE: $4,329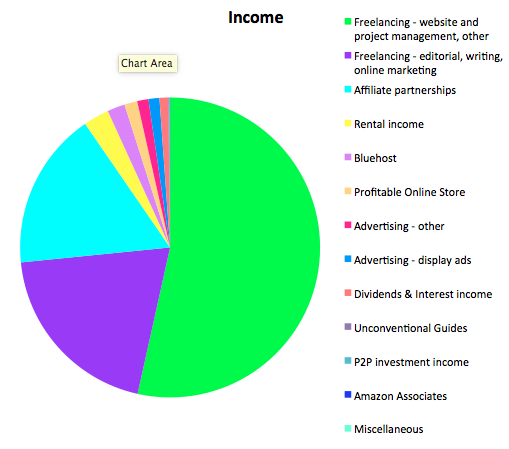 Expenses = $(4,705)
BUSINESS: $(740)
Aweber, Marketing, Subscriptions, Fees: $(295)
Meals & Entertainment – business: $(280)
Travel – business: $(50)
Quickbooks: $(50)
Hosting, web related: $(30)
Supplies & misc: $(30)
Outsourcing: $(0)
PERSONAL: $(3,965)
Living expenses: $(3,550)
Meals & Entertainment – personal: $(270)
Shopping & misc expenses – personal $(120)
Travel – personal: $(30)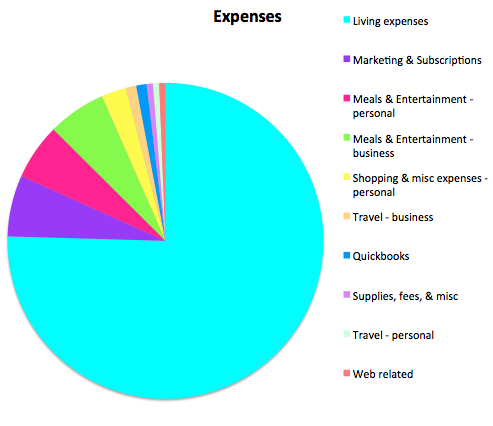 $18,970 (Income) – $4,705 (Expenses) =

$14,265 PROFITS
January Takeaways
The big lesson I learned in January is how important it is to be happy and make the most of every day. We just don't know what could happen to us tomorrow or even this evening. Life is short and it's incredibly precious.
Sadly I know there will come a day when my body isn't able to do a lot of the things that it can now and working could be too difficult. So I'm glad that I have opportunities to work right now and I won't ever take them for granted again.
Recommendations
Start Your Own Website – Want to make more money? Work on building your brand by creating your own website the easy way with Bluehost for super cheap. You can register your domain for under $20/year and get hosting for only $3.49/month. Whatever your interests are, focus on building your skills and developing your own unique niche! I've been blogging since 2010 and it has allowed me to break free from the corporate grind to travel, work from home, and do so many more things I've always wanted to do but couldn't. There's not a week that goes by where I'm not thankful for starting this site!
Track Your Net Worth For Free – Utilize free technology to track your own finances and net worth with Personal Capital. You can quickly link all of your accounts in one place. The best features are their Portfolio Fee Analyzer tool and their Retirement Planner. I was able to save over $1,000 a year in fees by using their free tools. The Retirement Planner is also great because it uses your own inputs to calculate your future cash flows. Take advantage of Personal Capital's free financial tools to maximize your net worth today.
Get A Free Personalized Investment Plan – Wealthfront is an excellent choice for personal wealth management for those who want the lowest fees and can't be bothered with actively managing their money themselves. In the long run, it is very hard to outperform any index, therefore, the key is to pay the lowest fees possible while investing your money in the market. Get a free personalized investment plan from Wealthfront in just a couple minutes by answering a free six step questionnaire. You don't have to transfer a single penny to see Wealthfront's recommendations for your investments, but it's easy to fund an account if you choose to do so.
Break free! If you're burnt out of your day job, believe that you have options and can turn your career around. I didn't believe I could escape for the longest time, but fortunately I wised up before I destroyed my relationships with family and my health. I never would have thought I could negotiate a severance package and get paid to leave a job I grew to hate, but I did! Learn how you too can get paid to leave your job like I did and open your eyes to new opportunities.
Untemplaters, did you enjoy the Super Bowl? What was your favorite commercial? Did any significant events happen to you in January?
Copyright 2016. Original content and photography authorized to appear solely on Untemplater.com. Thank you for reading!