Some people are naturally gifted with entrepreneurial talents, while others like me have to work hard at getting out of our comfort zones and pushing past our perceived limits. There are many benefits of being your own boss like having the freedom to set your own hours and not having to report to anyone. But there's no sugar coating the stress, fear of failure, high likelihood of failure, sacrificing and grit it takes to commit to a full-time entrepreneurial career path.
Small Business Survival Rates
When you live near Silicon Valley like I do, there's constant talk about startups, incubators, venture capital, private equity and who the next ringer is predicted to be. I recently watched the first season of Silicon Valley and was laughing hysterically by the last episode because so much of the show captures the characteristics of the startup and techie culture out here. The character named Erlich will probably drive you nuts in the first couple episodes, but by the end of the first season you'll end up loving him. If you're interested in the tech and startup world, you gotta check it out – the show is hilarious!
Anyway, while it can seem like over 90 percent of entrepreneurs are bound to fail, you have to take into consideration the industry, time horizon and interpretation of failure. The U.S. Bureau of Labor Statistics said,
"About half of all new establishments survive five years or more and about one-third survive 10 years or more. As one would expect, the probability of survival increases with a firm's age. Survival rates have changed little over time."
The Small Business Administration (SBA) reported that about two-thirds of small businesses survive their first two years – that's higher than I would have thought. The third that do shut down in the first two years typically claim lack of experience as their biggest downfall.
If you look at four-year survival rates, the percentage only drops down from around 66 percent to roughly 55-60 percent. Those still aren't spectacular numbers, but they are a lot better than the perceived 10 percent or less survival rate.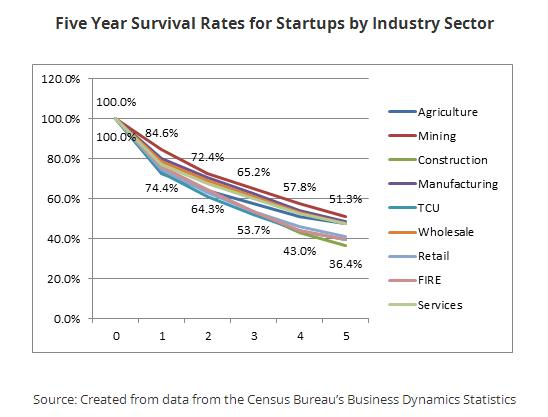 If you're determined to make a name for yourself and tackle the challenges of being an entrepreneur, don't let statistics stop you. Just realize it won't be easy. Here's a look at some of the top reasons why startups fail: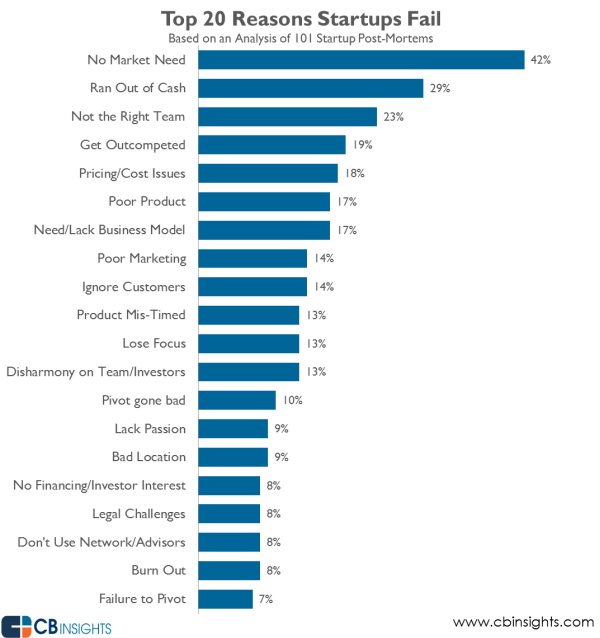 You'll notice poor cash management and pricing issues are both up there. So it's important to give your business a fighting chance by keeping costs low from the get-go.
The Low Price Advantage
As a new entrepreneur, you've probably read a lot of business books and articles on sites like Inc.com. Reading can teach you effective ways to manage and motivate people, how to hire a strong team to ensure your business model and process both work, and plenty of other things about how to run a business. There's no single action that can ensure your business will survive, but bootstrapping as long as possible and keeping costs down is undeniably important.
One book you should check out is Charles Fisher's The Wal-Mart Effect. It shows you just how much of an advantage low prices can give a business when everything is done with a sense of frugality. Wal-mart was able to explode by keeping their shelves stocked with low-cost products and refining every business process to minimize expenses.
Affordable Business Solutions To Keep Your Costs Down
At the heart of a successful business is the ability to keep costs down. In the startup world, so many companies try to grow too quickly and lose sight of this core survival skill. Many get so excited when investors start coming in that they begin to overspend uncontrollably, communication breaks down, and they eventually run out of cash.
When you're stating out, focus on using cost-efficient technologies that help you get work done without draining your capital dry. Here are some tools that can help you build and grow your business from the ground up for free or pretty affordably:
1. Google Drive & Google Apps: Saving on expenses means holding off on buying for things like private cloud storage. If you need a place to put all your files in one place for safekeeping, go with free services like Google Drive. It's secure and super convenient if you're already using gmail. Apple's iCloud Drive is another solution that's pretty cheap. I have a 50 GB plan that's only $0.99 a month and I like being able to easily access my files from my iPhone. Google Apps like Sheets and Docs are also fantastic for creating and sharing files. Why pay for Microsoft Office when you can get plenty of features for free with Google Apps?
2. Google Calendar: Google has so many free features and functionalities that you're probably already using in your personal life that work great in a business environment too. I would be totally lost without my Google Calendar. I use it for tons of recurring reminders like when to file forms and pay my estimated taxes. And it also helps me keep track of client meetings and events. Get yourself organized and start managing your time wisely. You can also use apps like World Time Buddy. If you work with clients or remote teams across the globe, this makes it easy to give out assignations and agree on deadlines.
3. Blue Jeans Video Conferencing: Blue Jeans conferencing video solutions provide you with a ton of ways to save on funds if you need to stay connected with clients or people in other locations. Video conferencing helps you keep travel costs low and communicate with affordable international talent. It can even help you attract and stay in touch with employees who want flexible work from home arrangements.
4. Skype Calls & Messaging: As I'm sure you already know, Skype is super easy to use to keep in touch with people and many features are free. Video calls are available, but the quality isn't as sharp as the HD technology offered by sites like Blue Jeans. It's good enough though for connecting with your team, interviewing candidates, and potentially holding client meetings too. There can be latency at times, but how can you complain when it's free!
5. Adobe eSign: Who uses a fax machine anymore? I certainly don't! But when you run a business, you're probably going to have many contracts to distribute and sign. Using a service like Adobe eSign helps you handle legalities and signatures without a fax. This service is great for sending and receiving signatures in just a few clicks and having digital copies at your fingertips. It's easy to integrate across departments, is trusted and reliable (99.99% system availability), and is legally valid in industrialized countries around the world. They offer plans starting at $30 a month and you can give it a spin for free for 30 days. If your volume is low and you don't need multiple logins, consider Docusign instead which has plans as low as $10 a month.
6. Quickbooks Online: I've used Quickbooks Online (QBO) for years per my accountant's suggestion and have been happy with the interface, pricing, reports, and customer support. It's super easy to setup and process payroll, e-file tax forms, monitor performance and integrate with your bank accounts. Zenpayroll is another affordable alternative that has gained popularity, but I'm happy with QBO and have no plans on switching. I recommend using a service like QBO to help with your bookkeeping records and payroll. Trying to do all that on your own in spreadsheets and manually filing tax forms and such is not worth the hassle.
7. Bluehost: Starting a website for your business doesn't have to be complicated. It's actually super easy now with Bluehost, a one stop shop to purchase domain names (URLs) and sign up for affordable, easy to use web hosting. For only $3.95 a month, you can even get your very own domain name for free! Bluehost also offers free instant setup, free site builder with templates, unlimited email accounts/file transfers/hosting space/domain hosting, and different web hosting plans to meet your needs. Learn more about how to start a website here.
8. Aweber: If you want to setup email lists, send newsletters or RSS feeds, Aweber is great. They offer a lot of customizable features, helpful analytics, and also have great customer support. I've used them for many years now and their interface is easy to use. Here's my review of Aweber if you want to learn more. You can try it out for free and check out their many tutorials that make it easy to setup even if you don't have any prior experience.
START YOUR PROFITABLE WEBSITE TODAY
Want to make more money and be more free? Work on building your brand by creating your own website the easy way with a WordPress site like mine through Bluehost for super cheap. You can register your domain for under $20/year and get hosting for only $3.49/month. Whatever your interests are, focus on building your skills and developing your own unique niche.
I've been blogging since 2010 and it has allowed me to break free from the corporate grind to travel, work from home, and do so many more things I've always wanted to do but couldn't. The income is relatively passive as posts I've written years ago are still being found through Google and generating income. What's better than making passive income and creating a valuable asset you can one day sell for a multiple of annual income? There's not a week that goes by where I'm not thankful for starting this site!