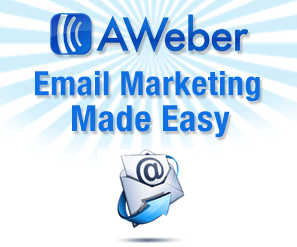 When you're starting your own business, there are so many things to do that it can be easy losing track. You prioritize the development of your product or service above all else for so long that it feels like a distraction even thinking about how you're going to advertise and market your business. But overlooking the benefits of email marketing for your business is a mistake you can't afford to make.
If people have no idea who you are, what you do, or what you've been working on, how can you expect to get more sales and a growing customer base? I'll go over the multiple benefits of email marketing and also explain why Aweber is my preferred platform of choice.
So What Exactly Is Email Marketing?
First of all, what exactly is email marketing? It's a means of your business communicating over email to a list of subscribers for the purpose of relaying information about your business. While the primary goal is generally to increase sales, email marketing also helps with branding, building trust, keeping your customers informed, and earning more loyal and repeat clientele.
Benefits Of Email Marketing To Note
In addition to the benefits I already described above, there are many other perks to consider. Compared to mailing out physical postcards, paper newsletters, and posting flyers, email marketing is much more affordable and efficient. Postage can get expensive really fast and so can card stock and printer ink. Email marketing lets you avoid the pain of physically assembling everything, gathering addresses and printing labels, and going to the post office.
Customers these days also like businesses that are environmentally friendly and aren't clogging up their physical mailboxes, doorways, and car windshields with marketing material. It drives me crazy when people attach stuff to my door! I know they think they're being clever by using rubber bands to attach their various papers to my door knob, but it just makes me rip the darn things off to shreds and gets them on my blacklist.
Focus, Speed, Analyze, Automate
Email marketing is also beneficial because it's focused on the people who are already interested in your niche and are therefore more likely to pay attention to what you have to say and take action. Email is also instantaneous and you can include graphics, live links to your website, special coupon codes, and much more. Entrepreneurship is competitive and speed is the name of the game.
Additionally, email marketing is fabulous because you can automate it! You can easily schedule regular updates as well as one off announcements with just a few clicks. If you live a mobile lifestyle and are always on the road or work odd hours, it's really convenient being able to automate email messages and keep your subscribers updated even when you're asleep or away traveling.
Another great benefit of email marketing is the ability to analyze how effective your campaigns and outreach are going. You can track if your emails are getting opened, what people are clicking on, monitor the size of your subscribers, study where they're coming from, and more.
Reasons You Should Use Aweber For Your Business
Founded in 1998, Aweber has about 90 employees and growing, and was voted one of the best places to work in Pennsylvania. I've been using Aweber for over two years now and I love them. I had pretty much zero technical experience when I first started blogging but I was able to quickly learn how to use their site and services. So I know you can too! A lot of my friends in the blogosphere also use Aweber, as do over 120,000 other bloggers, non profits, businesses, and entrepreneurs around the world.
Aweber is an industry leader and is known for their high delivery rates exceeding 99%. What does that mean? That means that the emails you're sending are landing in people's inboxes, not in their spam folders. Aweber has a no tolerance policy for spammers, and has strict policies that comply with the CAN-SPAM Act. While this may seem a bit annoying from your point of view as an Aweber customer, it's actually fantastic for your subscribers and thus great for you too.
Their customer service is fast and helpful, and your account information and subscriber lists are safe and secure with Aweber.
Aweber Features You'll Love
Messaging Features
Create all types of broadcasts from newsletters to time-sensitive news
Control the scheduling of your broadcasts
Select from over 150 templates, easily change colors, text, fields
Set up interval-based emails known as autoresponders
Customize confirmation and welcome emails
Publish archives of sent broadcasts to a web page
Utilize personalization features for email subjects and messages
SpamAssassin Spam Score Check analysis
Integration Features
Host subscribe forms on your own site or through Aweber
Share links to your messages on Facebook and Twitter
Use Facebook Forms on your Facebook page and gain subscribers
Use Aweber for RSS email delivery of your blog feed (learn how here)
SignUp forms easily integrate with WordPress and comments
Lots of apps such as WordPress, Facebook, Unbounce, Clickbank, Drupal, Paypal, Google Checkout, Rapportive, Etsy, Eventbrite, Salesforce, Shopify, Zendesk and more
Analytics Features
Analyze who did/didn't open messages
View which links were clicked and how many times
Find out if subscribers used a download link on your web page
Monitor where customers are clicking on your website
Calculate revenue per email
Analyze what time of day your emails are getting read
See graphs of daily, weekly and monthly subscriber growth
Split test and compare two or more versions of your forms or broadcasts
How Much Does Aweber Cost?
The only thing that I don't really like about Aweber is that it costs money, but for the services, features, and benefits of email marketing that you get, it's totally worth it. They don't require contracts or setup fees so you can cancel at any time. Plus you can try it out free for your first month.
You get unlimited emails and up to 500 subscribers for $19/month. The cost goes up the more subscribers you get, which is actually a good thing because your business is growing. And I actually just found out Aweber offers discounted pricing at quarterly and annual rates, so I'm totally psyched about switching my payments from monthly to yearly and saving more money!
Sign Up For Aweber And Get Your Email Marketing Started Today
Ready to start using Aweber and increasing your subscriber base and sales? Click here or on the banner below and try it out for just $1. As a happy Aweber user myself, I think you'll love their services and the results it will bring to your business.


Untemplaters, are you currently doing any email marketing for your business? What do you like the most about Aweber? What other benefits of email marketing can you share?
Copyright 2013. Original content and photography authorized only to appear on Untemplater.com. Thank you for reading!