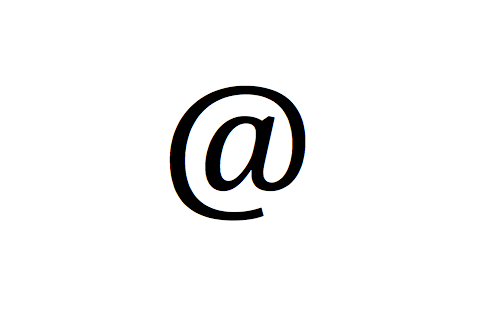 I will never forget the day I was in our computer lab in high school (I'd rather not say how many years ago that was now haha) when I said to my best friend, "Hey do I really need to create an email account? I don't know why I'd need one." Ah how funny it is to reminisce on my youthful days of innocence, so long before my smartphone and laptop practically became permanently attached to my body. I had no idea back then how reliant I'd become on email later on and the importance of learning email etiquette tips to protect my career and save me from embarrassment.
Nowadays we can't function in business without email, and same goes for our personal lives. I check my primary work email gosh probably every 3-5 minutes, maybe even more, as soon as I see that envelope icon pop up in my task bar. It's actually incredibly distracting to have email popping up all the time, but it's part of my job to actively monitor and send communications.
20 Easy Email Etiquette Tips
As a result of all my years on the job, I've had my share of goofs, panic moments, confusion, and surprises when it comes to email. While there's a ton of things that can go wrong over email, fortunately a lot of things can go right as well. Let's take a look at some easy email etiquette tips we should all make a solid effort to follow.
1. Don't Mix Topics – We all get a LOT of email. I easily get 1,000 every couple days, but fortunately I use email rules and filters to focus on the most relevant ones. With so many emails going back and forth, avoid mixing topics in the same chain. You don't want your recipients to lose focus, forget to address the original topic, get confused, or have trouble finding the email chain later.
2. Pick email subjects carefully and never leave them blank – I can't stand it when people send me emails with blank subject lines. One of my clients does this incessantly and it drives me crazy. Always pick a subject that is relevant, and fairly short. Imo two to four words is usually the most appropriate length.
3. Keep SMS slang to your texts and go easy on acronyms – Any email that's client facing needs to stay professional. It is way too weird and inappropriate if you try and make client emails too casual. For ex. I had a ~45 year old insurance broker write "lol" several times in an email to me and I immediately lost respect for him, especially since I barely new him. Only use an acronym if it's business appropriate and you're 100% certain your recipient knows what it stands for.
4. Seriously, please turn off your caps lock – This sounds like a super obvious one right? Well you'd be surprised that not everyone has common sense. I knew a client who used to send all his emails in all caps. It felt like he was shouting at me, and he probably was some of the time. It's no surprise to me that he got fired by his boss shortly thereafter!
5. Compress large files and alert your recipient – If you can't avoid sending large files over email versus via ftp or a cloud, be sure to compress them first. It's also good practice to ask your recipients to confirm back to you that they successfully got the files. Sometimes I'll send a separate email to alert them I sent files just in case my email with the actual attachments doesn't go through due to a size limitation on their side.
6. Respond within 24 hours or less – Even if you can't resolve all the issues and questions in an email, it's best email etiquette to send a reply back the same day you receive an email. Let the sender know you got their message and are looking into the issue. Then flag the message or remark it as unread so you'll remember to follow up.
7. Be precise and organized – A lot of us aren't very good at reading emails because we get way too many and only skim through when we're in a rush. Keep your message concise and easy to read. Use bullet points and small paragraphs in a logical order.
8. Stay professional in your language and formatting – Avoid getting too casual in work emails and go easy on the formatting. Skip the clipart, background images, and too many exclamation points. Remember emails are legal documents. Would you be comfortable putting your email on company letterhead? If not, reword things before you hit send.
9. Always check for typos, grammar, and punctuation before sending – This is basic email etiquette, but so many people forget to proof read their emails before sending. Utilize technology to catch your errors.
10. Double check attachments, names, recipients – I've had to put out way too many fires with my employees attaching the wrong documents, misspelling people's names, and sending emails to the wrong people by accident. It is SO worth it to take an extra 30 seconds to double check everything's right before sending.
11. Don't get emotional – Avoid writing emails when you're upset. Nuances can get lost in emails and it can be hard for your recipient to understand you. Plus you don't want to write something you'll regret later.
12. Use Bcc sparingly – If you're emailing a large group of people, using Bcc is useful to keep people's email addresses private. But be careful about using Bcc if you're trying to hide someone from the recipient. I've seen someone bcc'd accidentally reply all and things got awkward.
13. Keep work and personal in separate accounts – You never know what your company can and can't see. I always assume they can see everything on my work PC. It's their property after all. Keep your personal emails on your own smartphone or tablet.
14. Use a signature and say thanks – It's good practice to use a signature in work emails that includes your contact information. I also try to sign off with "thanks" in pretty much every business email I send.
15. Be careful with how you express humor – It can be hard to interpret tone in emails a lot of time, especially sarcasm and irony. I don't think I'm that funny so I don't try to make jokes in email.
16. Think twice before forwarding a message – The tricky part about forwarding messages is the email subject stays the same and they can inadvertently end up in the wrong hands. Or you can end up cluttering up someone else's inbox who doesn't really need the message you forwarded.
17. Pay close attention to "Reply" vs "Reply All" – I can't count the number of times I've seen someone goof on this in my office. Fortunately I saw someone make this mistake early in my career so I became paranoid about checking before hitting send.
18. Don't rush – The best way I've found to avoid forgetting to include something and not make mistakes in my emails is to take my time.
19. Remember you still have a phone – It's so easy to get addicted to email that we forget to pick up the phone. Email is convenient, but phone calls can be a lot more efficient with complex issues and expressing emotions.
20. Limit use of auto-responders and read receipts – I don't know about you, but I find these super annoying. Out of office messages are ok; I use those myself. But I don't use any other ones.
Hope you feel more comfortable with what to watch now when you have to send emails. A few extra seconds to glance everything over is really worth it. I've saved myself from a lot of bad goofs just by double checking the recipients, contents of the email, attachments, and spelling.
Another helpful tip for business email is to use an email marketing platform. I've used Aweber for years and highly recommend them. Check out my review post and learn more about Aweber here.
Untemplaters, what's the biggest email mistake you've made? What email etiquette tips do you follow?
Copyright 2014. Original content and photography authorized only to appear on Untemplater.com. Thank you for reading!