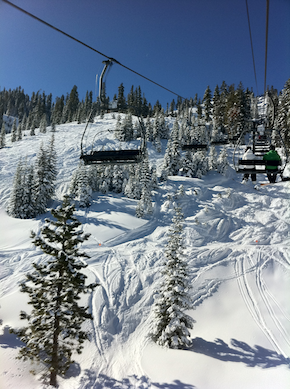 We've talked about the best places for online lifestyle entrepreneurs and traditional entrepreneurs to live and work on Untemplater before. I've traveled to many countries and places all over the US, and have no doubt that living in San Francisco Bay Area is one of the best places out there. I feel really lucky to live here where the weather is mild, the air is clear, the food is fabulous, tech companies and start-ups are thriving, and the people are diverse.  I certainly don't miss the East Coast humidity and pollen counts!
But besides the San Francisco Bay Area, another fantastic place to live is in Lake Tahoe, California/Nevada! Lake Tahoe is roughly a 3.5 hour drive away from SF and has one of the most beautiful fresh water lakes for swimming, fishing, and water sports during the summer.  The lake actually sits across two states so it's common for people to cross back and forth over the border on vacation trips there.
During the winter, you can go skiing at some of the best ski resorts in North America and there's lots to mountains to choose from: Squaw Valley, Alpine Meadows, North Star, Heavenly, and Kirkwood.  All are within one hour of each other, and if you drive across the state line into Nevada you can go gambling, eat some great food, and watch some fun shows.  During the summer, there's also a dozen golf courses bunched together, enjoyable water sports on the lake, and some of the best hikes you'll ever trek!
Escape the 9 to 5
One of my friends moved to the US from Australia about 3 years ago for a change of pace and a new adventure.  He worked as a valet at the PlumpJack Squaw Valley Inn for about a year and spent all of his free time on the slopes or at the lake.  To put it simply, he absolutely loved it.  He made decent money on tips and loved racing around the cars, especially the fancier ones.  But more than that, he was happy not to be stuck in an office for a change and got in all the skiing and outdoors he wanted.  After his year up at Lake Tahoe, he was full recharged and ready to go back to full time work and landed a nice gig working at a finance department for a non profit down in San Jose.
I love going up to Lake Tahoe on long weekends and short vacations to escape city life and take a breather from my workaholic life.  It's so peaceful up there year round and I always feel refreshed during my trips there.  There's nothing like sitting on top of a snowy mountain listening to the wind with not another sound except the swishing of skis disturbing the quiet.  Whenever my legs are burning from braking too much while I'm snowboarding, I love to pull off to the side and lay in the snow and just absorb the nature all around.  And then after I make it down the mountain for the last run of the day, all I can think about is jumping in the hot tub and roasting smores by the firepit.
A Perfect Getaway
Squaw Valley USA is hands down the best mountain in Lake Tahoe.  It is massive and never crowded, even on major holidays.  Squaw has the steepest terrains, such as double black diamond KT-22, and the longest runs such as the 3 mile long Blue Diamond Gold Coast run.  Home of the 1960 Winter Olympics, Squaw Valley is a world-class mountain and my favorite terrain in the area.
KSL Capital Partners, LLC recently purchased Squaw Valley USA and is pumping in tens of millions of dollars to upgrade the user experience.  New high speed lifts, restaurants, and playgrounds are all on the agenda.  After Squaw, I would rank North Star and then Heavenly as the second and third best mountains in Lake Tahoe.
The Resort At Squaw Creek is my favorite resort up at Tahoe, which also happens to be at the foot of my favorite mountain.  It has three pools, three hot tubs, four restaurants, luxury suites, free wi-fi, conference real estate, a golf course, and best of all, ski-in/ski-out to the Squaw Creek Blue Diamond run. The Resort also has condominiums that can be purchased and used as full or part time residences and vacation properties. It's quite the perfect getaway!
Here are some pictures from my trips to Lake Tahoe:
The main post image above is a view of the ski lift on the Squaw Creek run at Squaw Valley USA
View of Lake Tahoe in winter and summer: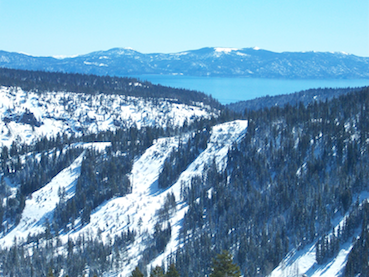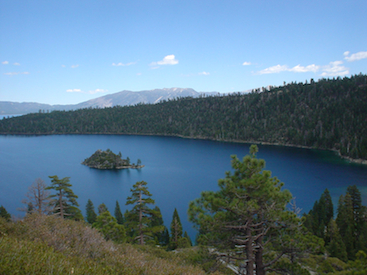 The Resort At Squaw Creek and it's giant pool: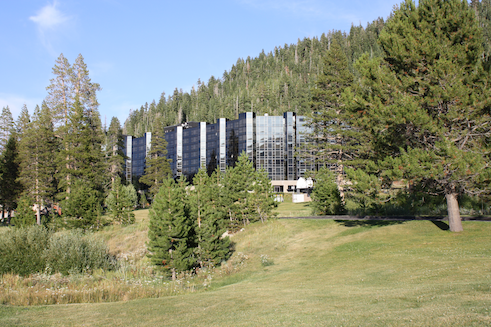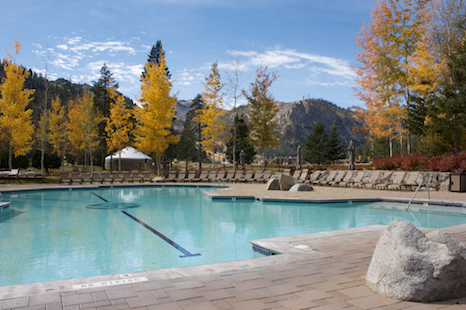 Check out this review of the Resort At Squaw Creek to learn more.
Untemplaters, have you ever thought about escaping the 9 to 5 corporate world and becoming a ski bum for a year?  Have you ever been to Lake Tahoe? Any hardcore skiers/boarders out there?