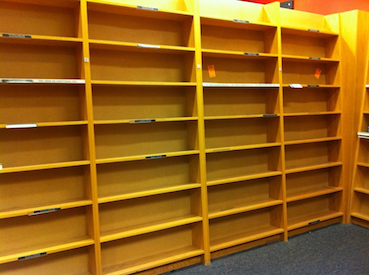 I can't count the number of times my parents and grandparents used to say to me as a kid "well when I was growing up we didn't have xyz."  That really used to annoy me in my teenage years and I used to love to roll my eyes when they said that.  Now that I'm older though, it really amazes me how many things can change in our lifetimes.  It's no wonder parents say the things they do.
Just the other day I was writing about how the publishing industry is changing and how literary agents like David Fugate believe "In the entire history of the written word, there has never been a better time to be a writer."  It's exciting to see how the influence of technology is directly impacting such a vast industry.  With the explosion of tablets like the iPad, smartphones, and travel friendly laptops, we are getting more and more hooked on digital books and ditching paper ones.
The Backpack Burden
Technology is everywhere and I for one am totally addicted to my gadgets.  Even though I love reading paper bound books and magazines, my obsessive minimalism habits are driving my purchasing habits away from traditional books because they are a pain to lug around.  Plus I think I've given away roughly 50-60 books in the last twelve months in favor of more empty space on my shelves.  The world of books that we've known since we were kids is going to be entirely different in the next few decades and I think that's cool!
The expanding area of digital publishing that I'm the most pumped about is eTextbooks.  I never had a car during high school or college and I had to lug my super heavy backpack everywhere.  It sucked.  I was a total nerd and took a lot of classes, which meant I had tons of 2 lb textbooks weighing me down and even though I sold almost all of my books, it was almost insulting how little money I got back.
Laptops And Tablets Are The New Norm
I was fortunate enough to have a laptop during college but I didn't take it with me to class.  For one, the battery wouldn't have lasted more than one class, and electrical outlets in the lecture halls were few and far between.  My old laptop was also a lot heavier than my textbooks so it was easier to take notes in class on loose leaf paper or in thin spirals notebooks.
Fortunately more and more colleges and universities are device friendly now and have classrooms equipped with wifi and electrical outlets for each seat, and thus can accommodate a class full of laptops and tablets.  It's no longer weird to bring a laptop to class (it was really rare when I was in college), and with tons of textbooks available for purchase in electronic format, it's also much more convenient to take notes digitally instead of on paper now.
Where Can You Get eTextbooks?

One website that offers a wide assortment of eTextbooks is eCampus.com.  You can find books on calculus, physics, business, health, entrepreneurship, engineering etc. etc.  And if the ones you need for your classes aren't available in eTextbook format, you can always purchase a new print version or search for used copies too.  You can even sell your old textbooks through their website and get some cash back.
Or if you already know you don't want to keep your textbooks after you're done with the semester and want to avoid the selling process, you can sign up for their textbook rental service and have the books delivered to you with free return shipping for when you're done.
 What Are Some Features of eTextbooks?
They don't weigh a thing!
The pages and content are the exact same as the print version
You can search for text or phrases (boy do I wish I had this feature when I was in school!)
Copy and paste text functionality
Highlight text just like you can in emails and Word docs
Take legible digital notes without sloppy handwriting (another big one I wish I had)
Print pages if needed
You can read them on mobile devices
Saves trees!!
Are eTextbooks Cheaper Than Printed Ones?
One thing to be aware of with eTextbooks is they are generally available for a limited subscription period after you buy them.  So unlike printed textbooks, you won't have access to the content for years down the road.  But honestly, you're probably never going to reopen your textbooks after your final exams so don't let the time limit worry you!  I know I didn't miss my textbooks one bit after exams.  🙂
Here's an example of eCampus's pricing based on format for N. Gregory Mankiw's Principles of Macroeconomics textbook at the time of writing this post:
New Textbook $194.35
Used Textbook $129.56
eTextbook $121.19 (180 day subscription)
Rent Textbook $62.26 (1 semester, due back June 1)
As you can see, renting is the cheapest way to go, but it also means you have to lug around the physical book when you want to study at the library or go to class.  Plus you have to take the time to mail it back when you're done and can't scribble all over the margins with pen or highlighter.  Buying New is totally ridiculous IMO and definitely not worth the money.  If you're still buying new textbooks, please go smack some sense into yourself.  Lastly, the eTextbook falls in the mid range and is definitely the way I'd go if I needed this book for class.
Untemplaters, have you ever purchased eTextbooks?  For those of you like me who didn't have that luxury, would you happily go digital if you went back to school now?  Any of you actually prefer print over eTextbooks?