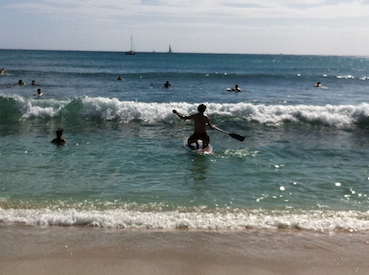 After over a decade of working at my same job, I've been toying with the idea of taking a sabbatical, especially after having a conversation with my good friend Paul who plans to quit his job after saving a million bucks. My firm offers a 3 month sabbatical for every 5 years of work. The first month off is 100% paid, the second month is 80% paid, and the third month of sabbatical is 60% paid. Not too shabby right? Too bad working 10 years doesn't mean getting double the sabbatical time. It's use it or lose it and I no longer want to miss out.
It's quite a change for any young person who is used to 3 month summer vacations and 3 week winter vacations to graduate and work at a company that only offers 2 weeks off a year. I remember feeling a little shocked when I first graduated, especially since people frowned if I took the entire 10 days off! Til this day, I still feel guilty taking all my vacations, but I took 6 weeks off in 2011 anyway.
Eight weeks off a year, or two weeks off per quarter sounds like the ideal amount of vacation time.  Any more and I feel like I'll tip towards being an unproductive member of society. But, it doesn't really matter because I will never be able to take 8 weeks off a year so long as I keep working, hence the idea of a sabbatical.
In this post, I want to address the fears and benefits of taking a sabbatical to help both of us come to a decision on whether taking one is the right move.
Fears Of Taking A Sabbatical
* What if you no longer have a job when you return? If the company does fine without you for 3 months, maybe they really don't need you! The fear of losing your job when you return is the biggest concern.
* What if they demote you or dock your pay? If you take 3 months off, your year-end bonus could by reduced by 25% logically. Although some companies say your bonus won't be affected, you know that it will be rationed down.
* You miss out on big projects that could boost your career. Part of success is being at the right place at the right time. If a position you desire opens up due to another's early retirement, you likely won't be considered.
* You might lose touch with your clients, who are really your most important assets.  In a competitive environment where your competitors are always jockying for time with your clients, you will inevitably lose touch with your clients.
How To Prepare For A Sabbatical
* Make sure you give your managers at least 3 months heads up. By providing as much heads up as possible, you will allow for your manager to find a suitable back-up or contingency coverage plan for you. They will appreciate your long lead-time.
* Make sure you can afford it. Calculate how much savings you have by the number of months you can cover without making any money. I recommend saving up at least 12 months worth of expenses for every 3 months worth of sabbatical you are to take. The more the better.
* Talk to all your clients about their thoughts on a sabbatical and gain their support.  I'm sure your clients would love to take sabbatical as well. Don't make them envious, instead, seek their counsel. Invite them in on your journey so they feel they have a vested interest in your sabbatical as well. Inform them of your back-up coverage.
* Set up auto pay for all your bills. Make your rent, mortgage, electricity, car payments, student loan, and every other bill automatic. You don't want to miss a payment on sabbatical because your credit will get dinged. One late payment can sink credit scores by as much as 60-100 points!
* Ensure your company or someone pays for healthcare. Companies generally will cover your healthcare costs while you are on sabbatical, as you are treated as a regular employee. If not, get private healthcare if you can't be placed on your spouse's health care plan.
* Start a blog to let people keep in touch. If you have time, start a simple blog on wordpress.com or blogger.com and let everybody know about it before you leave. Try and provide an update once a week or two so that your employers and clients can keep in touch. This way, you won't be completely out of sight and mind, thereby increasing your chances of employment when you return, and a more normal bonus.
Why You Should Take A Sabbatical
* Recharge your batteries! Anybody doing anything for 5-10 years will get tired and want to try something new. If the typical career lasts 40 years and you burn out after 15 and never return, that could do some serious financial damage.
* Discover what else you'd like to do. There's more to life than just doing one thing. We may have unwittingly entered our current occupation out of necessity, forsaking what we really want to do. I wanted to be an entrepreneur, but got a job offer out of school I couldn't refuse.
* Expand your mind. Did you know that only 60% of Americans have passports? Meanwhile, so many of us only know only one language well. Think how much better the world would be if we all spoke multiple languages, appreciated multiple customs, and experienced many more cultures? To understand a language is to understand and respect the people.
* Relieve frustration and put things into perspective. You may have recently been passed up for a promotion and didn't get a raise and are fuming. Meanwhile, the jacka** who worked half as much as you is now more senior to you because he so happens to come from the same University as the promoting manager. By taking a break, you get to calm the nerves and put things back into perspective. Are you living to work, or are you working to live?
* You might die an early death. Imagine working for 30 years non-stop until you are 52 and then dying from a heart attack. You planned to retire early at 55 and spend a good 25 years enjoying retirement on a cruise ship around the world but don't. By taking a sabbatical well before you are to retire, you hedge against an early death! If you were to die early at 52, at least you'd have traveled the world during your time off while you were young and remembered those wonderful memories for many years.
Conclusion – Break Free!
If you've got some savings and you're comfortable with the relationships you've built and the skills you've developed, go ahead and take a sabbatical within company guidelines. You don't want to short-circuit your career because you start resenting your job due to a lack of break time. Yes, you should expect a decrease in short-term compensation, but your sanity and long-term financial outlook will thank you!
Recommendations For Growing Your Wealth
Manage Your Finances In One Place: Get a handle on your finances by signing up with Personal Capital. They are a free online platform which aggregates all your financial accounts in one place so you can see where you can optimize. Before Personal Capital, I had to log into eight different systems to track 25+ difference accounts (brokerage, multiple banks, 401K, etc) to manage my finances. Now, I can just log into Personal Capital to see how my stock accounts are doing and when my CDs are expiring. I can also see how much I'm spending every month. Let Personal Capital track your finances so you can gain more freedom to do your own thing. Personal Capital takes less than one minute to sign up!
Break free! If you're burnt out of your day job, believe that you have options and can turn your career around for the better. I didn't believe I could escape the grind for the longest time, but fortunately I wised up before stress destroyed my life. I never would have thought I could negotiate a severance package and get paid to leave a job I grew to hate, but I did! Learn how you too could get paid to leave your job like I did and open your eyes to new opportunities.
Updated for 2019 and beyond.