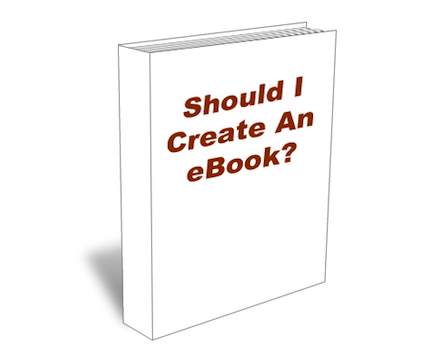 Lately I've found myself wondering more and more, should I create an eBook? This question has been floating around at the back of my mind since I first learned about the eBooks market and the art of self publishing. I've been fascinated by the publishing process for a long time and admire authors who have the drive and discipline to write their own books.
Even though I never really considered myself a writer until just recently, I've had dreams about a writing a book of my own for many years. So it felt natural to put publishing an eBook as a goal on my bucket list.
I Failed At Writing Fiction
Before I became a blogger, I actually tried writing a children's book for a few months, but I totally failed! Like a lot of people, I wanted to be the next J.K. Rowling and strike it rich. But I quickly learned that is way easier said than done. The majority of story ideas I thought of had already been written, and the few unique ones I managed to come up with were totally lame.
After that failure, I pretty much gave up my dream of writing a book because I wasn't as creative as I hoped and I had only considered fiction writing. Only now have I started to shake that off and am I starting to feel like a real writer, embracing now that my strength is in nonfiction.
Should I Create An eBook?
Now that writing a book doesn't seem so far fetched if I stick to nonfiction, I've gone from wondering should I create an eBook to when should I create an eBook? I keep a busy schedule like a lot of people, and almost every day I feel like I never get enough done. My to do list constantly grows more than it shrinks and I haven't mastered the cure for laziness yet.
So when I first added publishing a nonfiction eBook to my bucket list, I figured it'd be something I'd do down the road, maybe 3-5 years from now when I plan to become a full time entrepreneur. But recently I realized that there really is no point in waiting! I was busy three years ago, I'm busy now, and chances are I'm going to be just as busy three years from now. Time has a way of slipping away from us if we're not careful, so if I want to complete this goal, I might as well start now.
One of my favorite inspirational quotes is by Lao Tzu who says, "A journey of a thousand miles begins with a single step." Each step we take, even if it's small, will eventually get us to our destination if we can keep at it. And as we all know, sometimes taking that first step is the biggest hurdle of them all.
Benefits Of Creating An eBook
There are also several benefits to creating an eBook that have inspired me to give self publishing a shot.
Increase Traffic & Readership
I want to build the Untemplater brand, continue to grow our community, and share more of my knowledge and experience. I enjoy helping people, offering advice, and nonfiction writing in general. The idea of creating, designing, and simply having a product is also very exciting. Plus self publishing has lots of flexibility which I love.
Pulling Ideas Out Of My Head
I took my first step to creating an eBook last week and wrote down a bunch of ideas about what type of eBook I want to write and put together an outline of topics I plan to cover. I'm keeping the details under wraps for now but I will tell you it's going to include a bunch of tips from my own experience. I'm excited already! I also think it will be really rewarding if I can complete this goal on my bucket list, since I like challenges, and it will get me one step closer to becoming a full time entrepreneur. Since I plan to self publish, I will also have full freedom on the content, design, pricing, and timing of the book as well.
It's exciting being a project manager, and I've never had a product of my own before. I know I'm going to learn a ton in the process and will also need to stay disciplined since I already have a lot of things going on in my life. The good news is I helped Sam with the editing and design of his fabulous eBook How To Engineer Your Layoff this year, so I already have some experience and knowledge of publishing under my belt to propel me forward. And I already know how to design eBook covers, create 3D images, and make banner ads so that part should be fairly easy too.
Formulating A Plan
I love to plan, so I've put together a rough timeline of when I want to complete each chapter and all the other items I'll need to complete. After looking things over, I've set a goal to launch by July 15th, 2013. That sounds far away, but given the holidays are coming and the intensity of my work schedule for the next three to five months, I'll be doing the bulk of the work in Q2 2013. I'd love to finish it in one month, but I try to be realistic when I set goals because I don't want to set myself up for failure. Plus I can't deny I already have a lot on my plate right now. So July sounds reasonable, and of course if I manage to finish early, I'll be ecstatic!
The writing and editing is what's going to take me the longest, and since I already know I'm not the fastest writer out there, I want to have enough time to put together a book that I'm proud of. Anyone can sit down and write, but not everyone writes well. I want to make sure that my eBook is high quality so I know I will need more than just a couple months to put it together. I know my grammar isn't perfect either, and I'm not the funniest gal out there, but I like to think that my writing style is enjoyable for people to read and I hope this will show in my book!
Inspirational eBooks
A few years ago, I'd never even heard of eBooks and didn't know much of anything about self publishing. It's an exciting market, and I owe a lot of my inspiration to people like Chris Guillebeau who created The Unconventional Guides. Who knows how successful I will be, but I've happily decided the answer to my question should I create an eBook is YES!
It's really neat how we can learn just about anything from books and I don't think I'll ever tire of reading and learning new things. Here are a few inspirational and informative eBooks to help you on your untemplate journey to shatter the template lifestyle!

One of Untemplater's regular contributors is Sam Dogen of FinancialSamurai.com.  He's THE guy you go to if you want financial advice, guidance on the real estate market, and help with starting a new career you love with money in the bank. His popular eBook, How To Engineer Your Layoff, is the resource you can't miss if you are thinking about leaving your current job to do something else.
I was actively involved in the editing and launch of this ebook and I can assure you it's filled with helpful, easy to follow tips on how to get paid to leave your current job! Read examples of people who successfully launched new careers and lifestyles and find out how to get started on your own opportunities. Learn More…
The Unconventional Guide, Art + Money will teach you how to thrive as an artist without selling out. If you've been dreaming about becoming a full time artist, but don't want to be broke the rest of your life, this is the perfect eBook for you. The guide will teach you how to represent yourself, build a customer base, set pricing, and expand your online presence.
In addition to the eBook you'll also get to learn from and listen to five interviews with artists who are making money doing what they love. Learn More…
Want to create your own business? This Unconventional Guide, Empire Building Kit, will teach you how to build a business in one year by doing one thing every day. Get inside advice from 15 entrepreneurs making $50-150,000 a year in NET income and have 3 or fewer employees.
You'll learn which business ideas are the most likely to succeed, which steps to focus on and which to skip, how to increase profits, and more. You can also check out our video interview with Chris Guillebeau himself. Learn More…
 Untemplaters, have you ever thought about creating an eBook? Do you have any goals you want to reach in the next 6-12 months?
Copyright. Original content authorized only to appear on Untemplater.com. Thank you for reading!