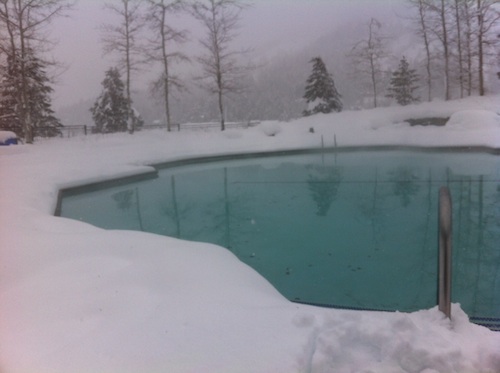 San Francisco and Silicon Valley are humming with the new IPOs of Zynga, LinkedIn, and Facebook.  Despite Zynga and Facebook having a difficult time post IPO, billions in new wealth has been created.  You may think money is raining from the sky here in San Francisco, and to that I would say you are correct!
When you live in an area that has so much activity, you start absorbing the energy simply by the people you meet.  Your poker game might have a person from Twitter, Google, and a VC firm for example.  Suddenly, your connections are that much better.  I've been busy thinking about how to further develop a sustainable online business.  I need to step up the sense of urgency because my career in corporate America is soon coming to an end.
Over the next 5 years, I plan on building the Yakezie Network into the best collaborative blog network on the web.  Meanwhile, I plan to continue saving aggressively, in order to retire solely off my passive income (savings interest, CD interest, dividends).  The idea is to create a perpetual runway of income so that I'm free to take risks and do things out of interest rather than money.
WITHIN FIVE YEARS

When we know there is an end, we cherish the present that much more.  It's the same concept where we write down a specific goal to remind us of why we are doing what we are doing.  Making money is pretty pointless if all you're doing is hoarding.
Within five years, I plan to move to Honolulu, the best place for an online entrepreneur to live.  If you read my post, you'll see that the time zone is perfect for working with Asia, Europe, and the continental USA.  Meanwhile, all the good things there are free or inexpensive: beach, surfing, boogie boarding, golf, tennis, swimming, and hiking.  Honolulu is also about 15% less expensive than San Francisco!  Such is the beauty of living in an expensive place during your working career.
The one thing I fear is island fever given Oahu is not that big of a place.  After about six months, I'll want to travel.  The plan is to live in Honolulu for six months, travel on a cruise or by land for another two months, live in Lake Tahoe, California two months and of course spend two months in my beloved San Francisco.
WHY NOT JUST GO NOW?
Responsibility holds me back.  I do wish I had the audacity to drop everything and kick back in Hawaii right now.  However, it's easier said than done if you've developed a long career and roots in one place over the past 11 years.  I don't want to completely severe all my relationships at once.  Instead, I plan to gradually make my way out to Hawaii, spending a little more time there as each year goes by.  So far, I've been back three times in 2012 for a total of 25 days.  Perhaps in 2013, I'll spend two months, adding on an additional month each year goes by.  Like my friend Paul, it's very hard to just walk away.
Ever since I was in high school, I've been very conservative, believing only hard work, networking, and getting a good job were the solutions to a financially secure future.  As many of you know, that's not true.  Extensive risk-taking is another possibility for living a good life as well.  You see it everywhere online and I just love it!
I'm just doing it a little differently from many of the untemplaters out there.  Instead of making my fortune the untemplate way, I'm making my fortune the traditional way to then allow myself to live the untemplate lifestyle.
GREAT FEARS REMAIN
Happiness has never been my problem.  My problem has always been the fear of failure with poverty as an end result.  I grew up in countries which displayed an incredibly sickening dichotomy between the rich and poor.  Images of children begging on the streets with their mothers have been seared in my mind.  As a result, I don't want to take anything for granted.  It's way too easy to just give up and live in mom's basement here in America!
It's up to each of us to find something that makes us get out of bed in the morning without an alarm clock.  I realized my enthusiasm for my day job began to fade after 10 consecutive years in 2009.  It's part of the reason why I started Financial Samurai, as an outlet to explore new things.  My recent sabbatical has also given me a lot of insight. I should probably also take some more vacation time in general as well.
As a result of my waning enthusiasm, my goal is to make a change this year in a positive way.  I'm almost there, and I hope to share the strategies I'm employing in an upcoming book.
Whenever I think about my five year plan, I smile.  The plan keeps me going in good times and bad times.  I'm sure there will be new twists along the way, but either way, having a plan helps keep the drive alive!
Readers, what is your five year plan and what's your strategy to get there? 
Regards,
Sam
Photo: The pool at The Resort At Squaw Creek, Lake Tahoe.  SD.