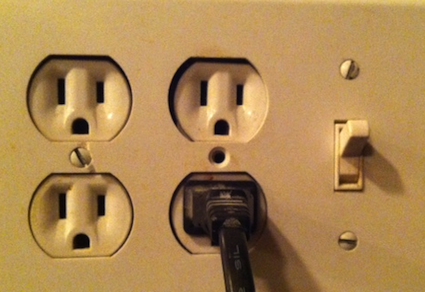 The recent events surrounding Hurricane Sandy have a lot of people wondering how long can we survive without gasoline and electricity? The lines for gas in New Jersey is stark reminder how dependent we are on basic yet crucial utilities like gasoline, running water, heating, cooling, phone lines, and electricity. Sitting on the West Coast, it's sometimes surreal to see the effects of natural disasters that strike year after year out East. We hope for the best for everyone who has been affected.
Everybody likes to talk about our earthquakes, but we haven't had a large one in well over 30 years. Eventually, the big one will come and those of us not affected by the storm should begin to question our dependability on power. Backup plans and disaster preparedness kits should be in place when everything goes dark one day.
Natural disasters sometimes make me wonder whether owning any property is worth it. But then, I come to my senses because it's not good to live our lives in fear. Besides, that is what insurance is for.
THREE WEEKS OF CLEAN LIVING
When I was a kid, my friends and I would hike up to the mountains and spend the weekends under the stars. We brought our tents, blankets, matches, canned food, and candles to spend time talking story and playing games. There was no such thing as the internet then, let alone a mobile phone! I could have spent weeks out in the wilderness with my buddies without a care in the world.
Nowadays, I fill up my car, Moose, every three weeks for $80. Although his gas mileage is atrocious, I only drive about 6,500 miles a year because I take public transportation everywhere. If I had to ration, I could probably go for at least a month without filling him up.
I've got a gallon of gas hidden in a safe place. It's not much, but it's enough to fuel a generator for days. The gallon is handy when Moose is running low, and I don't have time to fill him up because of some meeting.
In my cupboard is cereal, bottled water, dried fruit, a dozen cans of sardines, gatorade, and crackers just in case every single grocery store in a three-mile radius also loses power. There are several fruit trees in my backyard, which depending on the year will provide plums, lemons, apples, and pears.
Based on what I've written, I should be able to last for roughly three weeks without gas or electricity before I need to learn how to build my own fire without matches and shoot a bow and arrow. Hopefully, within three weeks, the power will go back on so I do not have to queue in line for gasoline.
A WORLD WITHOUT POWER
There's a new TV show on NBC called Revolution that I started watching a few weeks ago. It takes place in the future after an unknown event destroys all means of electricity and power sources across the globe. Even though it is a fictional story, one can't help wonder how close it could be to reality if such a large scale catastrophic event were to occur.
In the show, many people turned to violence over the years as a means to survival. Food and resources dried up, people easily got sick, and the safe places families used to live in became abandoned, decrepit, and dangerous. Without electricity, the infrastructures that used to hold everything together crumbled and so did everything around them.
Fortunately, we haven't experienced a disaster like in Revolution that affects the entire world and hopefully we never will. But it does make you wonder what would our world be like without any power at all? Would everyone start turning on each other, or would we manage to come together and find ways to ration and stay civilized? I certainly hope it would be the latter!
HOW PREPARED ARE WE?
With electricity coming back to NYC and New Jersey a week after the storm, how unprepared are we if folks felt it necessary to line up for four hours a day for gasoline just days after? Reports of fights started breaking out everywhere as people became tremendously frustrated with waiting.
Can you imagine living in a world without your smartphone or internet? It's kind of scary how addicted we are to staying connected. As a blogger, I probably will go stir crazy after three days without the internet! And imagine the frustration of not being able to call your family to tell them you were safe because your phone was dead. I'm sure this happened to many people during Sandy given the number of power outages and how short the battery life is on smartphones these days.
Untemplaters, how long can you survive without gas and electricity? Are you prepared for the next blackout? Why do so many people on the East Coast make fun of us on the West Coast for earthquakes? Is it human nature to make people feel bad?
Regards,
Sam