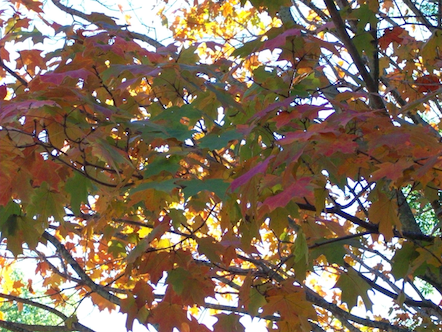 The orange fluoresce of each delicate leaf shimmers in the faded rays of sun. Soon, she will stand bare with a pile of crunchy fluff below that is so so fruitful one can't help but imagine diving in.  She is "Maggie," the oldest and most glorious tree at the center of campus.
Despite all the grumblings of the East Coast being a horrible place to live, I still love returning to my alma mater for homecoming in autumn. For just that short two-month window, I can forget about the biting cold winters and blistering hot summers. In the brief months of Autumn, everything looks and feels magical on the East Coast, even almost as good as the West Coast!
Homecoming stirs up a lot of nostalgia and excitement. The trumpets and drums ring true as the student band plays the theme song during the big rivalry game. You vaguely remember the words but mutter on through, proudly wearing your favorite college t-shirt, which is now faded and shrunk from so many years in the dryer. At last you are a student again!
Fall Freedom And Crunchy Leaves

Fall is a particularly kind month for travelers. School is in session and there are no major holidays except for Thanksgiving, which doesn't arrive until after homecoming has come and gone anyway. As a result, flights and hotel arrangements are cheap, generally 30% lower, and you don't have to fight the crowds.
As a vacation property owner, I'm always trying to increase occupancy during the months of September, October, and November.  Average occupancy rates drop from 80-90% during the Summer down to only 30-40% in the Fall. As a result, I'm always looking to find ways to increase revenue by advertising more effectively in these slower months.
Autumn Is The Best Time To Travel
Lowering room rates is definitely one key strategy to getting more reservations. The other is offering incentives for priority bookings during the peak season if customers also book during low seasons. If you are OK with less crowds, cheaper fairs, beautiful weather, and bargain hotel rates, Autumn is the best time to go anywhere!  The problem is that most people follow the herd, whether it's going to lunch at 12 noon, leaving work between 5-6pm, or buying stocks at all-time highs.
If you can be your unique untemplate self and vacation when others are not, you will undoubtedly save an incredible amount of money.  That's why Fall is my go-to season to head anywhere and partly why going back for homecoming is so much fun.
Homecoming Is All About Memories
What's more important than saving money though is experiencing nostalgia. On my homecoming trips, I spend hours each day walking the hallowed halls of my university. I visit the old bars where the gang and I would let loose after finals. I also make it a point to visit the places of all the "firsts," e.g. the first "C", the first time I saw her, the first place I passed out drunk, the first interview, and the first time my parents came to see me graduate. It's so true that memories and experiences are much more precious than material things.
Going back for homecoming to experience your time as a student makes you appreciate everything you have now. All the hard work you put in those years at school has paid off. And you're also reminded that you don't need much to be happy. A bike, a roomie, a meal card, and some clothes were all I had to my name when I was a student and I was thrilled! Nothing brings back a flood of good memories like homecoming!
Untemplaters, are you going to homecoming this year? When was the last time you returned to your alma mater? Have you passed your 5, 10, 15+ year reunions yet?

Regards,
Sam