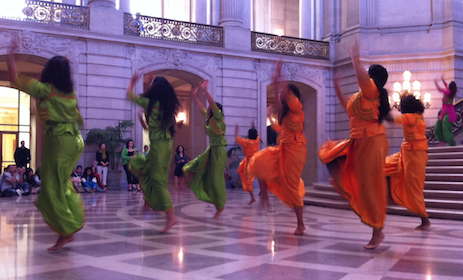 Happy holidays Untemplaters! This holiday season has been a hectic and emotional time for me and I'm so thankful that I've been able to spend some time with family I haven't seen in years. It really brings back memories and reminds me that even despite all the ups and downs, time apart, and unavoidable drama, at the end of the day we're family. Some things change, others stay the same, meanwhile life keeps going and our families keep growing and we get to welcome in new babies and new hope.
Little Miracles And Random Acts of Kindness
I was moved by a random act of kindness the other day when I was in line to get lunch. The man in front of me gave out presents to all the cooks who had children at home, and the smiles and thanks he got from the parents melted my heart. I was also touched by all the generosity of everyone who joined me in donating to the San Francisco Firefighters Toy Program, the San Francisco Food Bank, and Children International this year
I was crushed a few weeks ago when my mom had her purse stolen and the thief hit about 10 different stores within an hour. What upset her the most about the whole incident is that she lost family pictures that she has kept in her wallet for years. A few days before Christmas however, she got a call from the manager at the store where her purse was stolen because the thief felt so guilty he turned it back in! My mom lost all the cash that she had in her wallet, and had already cancelled all her credit cards by that point, but she was able to get her precious family pictures back. I called it her Christmas miracle!
Be Happy! It's Time To Get Up And Dance!
I was really lucky to get to see several concerts this year. I usually don't make it to many concerts because of the costs involved and distance to venues, but this year was an exception. Music is a huge part of my life and is one of the comforts I turn to every day. There's a song for every emotion and I can't imagine not having music to turn to. I feel really fortunate that this year I got to see Alanis Morissette, Pearl Jam, , Band of Horses, Kings of Leon, Matt Nathanson, Ed Sheeran, Ahmad Jamal, and Maceo Parker.
Alongside music, comes dance! And there really is something to the quote "Dance… even if you have nowhere to do it but in your own living room" from the Everybody's Free to Wear Sunscreen Speech. I have danced like a fool when I'm the only one home on many occasions and I strongly encourage you to do the same every now and then. Ha, it is so much fun! Plus, it's great for your health and reducing stress.
Whatever type of music makes you want to get up and bust a move, go pump up the volume and have a good laugh! Forget about the fiscal cliff, forget about the stress at the office, forget about feeling tired, forget about the latest family drama, and go give yourself a chance to forget about your giant to do list for a few minutes. It's time to get up and dance!
HAPPY HOLIDAYS!!!
Untemplaters, what's your favorite artist or musical genre to get your groove on? What are you up to for the holidays this year?
Copyright 2012. Original content authorized only to appear on Untemplater.com. Thank you for reading!