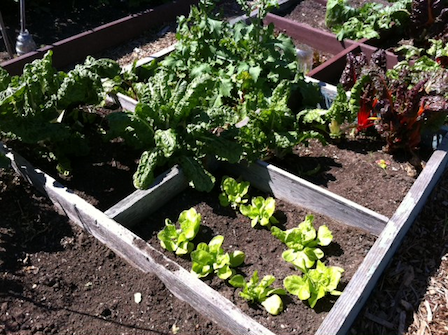 All in all, I'd consider myself a fairly healthy person.  I avoid soda, try not to drink too much caffeine, limit the amount of fast food I eat, squeeze in some exercise, and try to eat a balanced diet.  But lately I've been doing a lousy job, and I can feel and see the effects.  My sweet tooth has been on a rampage, I've been eating tons of fried and processed foods, my exercise routine has been entirely replaced with work or going out with friends, and I've been feeling off, irritable, and super drowsy in the afternoons.   Well, and my pants have been feeling tight lately too and although I'd love to blame the dryer, I'd just be fooling myself.
Time to DETOX and Reassess
I decided I really needed to make a change last week when after eating a tasty plate lunch of chicken katsu, rice, and mac salad, my stomach knotted up just five minutes after I finishing eating.  The food was properly cooked so food poisoning wasn't to blame, but my stomach was rejecting the grease and mayonnaise I'd scarfed down, and was punching me for some relief.  That lunch left me feeling like crap and I started to wish I'd opted for a carrot stick or a glass of water instead.
Why a One-Week Vegan Challenge?
Straight up – I love to eat, so it really got to me that my recent food habits have been taking the fun out of eating meals.  After thinking about different ways to detox and reassess my eating habits, I decided to untemplate my diet and go vegan for a week. Seven days seems like a reasonable timeframe to grasp what it's like and (hopefully) attain results. I want to see how far I can push myself and experience a diet I'm totally unfamiliar with and have always been rather skeptical about.  I hope to feel better physically, overcome my own ignorance and the stereotypes, and experience what it's like first hand.  Who wants to join me?!
Ok, So What Do Vegans Eat?

Vegan diets are plant based, and are more restrictive than vegetarian ones.  In addition to not eating any meats or seafood, there is no consumption of any animal-derived foods or ingredients (ex. no milk, cheese, eggs, honey).  Many vegans also adopt the practice to their lifestyle, only consuming cruelty free products not made from animals in any form (ex. no leather shoes/sofas/handbags, no silk clothing or accessories, no cosmetics tested on animals or candles made from beeswax).
And although veganism seems like a fairly recent practice, it's actually been around for many decades. Some health benefits include protection against certain cancers, heart disease, obesity, and rheumatoid arthritis.  Adopting a 100% vegan diet should be planned carefully though and discussed with your doc so you can make sure you're getting sufficient amounts of iron, calcium, omega-3's, vitamins D & B12, and iodine.
Celeb Vegans Perhaps I don't read enough celeb magazines, because I was surprised to find out these people are vegans:
Casey Kasem
Carl Lewis
Alec Baldwin
Gillian Anderson
Biz Stone
Brad Pitt
Cesar Chavez
Anthony Kiedis
Daniel Negreanu
Andre 3000
Petra Nemcova
Ellen DeGeneres
Bryan Adams
Woody Harrelson
Jason Mraz
Tobey Maguire
Clearly you don't have to work for Greenpeace or a health food store, have dreads, or shower in recycled rainwater to be a vegan after all!
The Good, the Bad, and the Results
I'll be keeping track of everything I eat during the 7-day challenge and logging notes throughout.  I'll post my thoughts, cravings, pros/cons, and results at the end of the week.  I really don't know what to expect, except that it should be a memorable experience and hope you'll enjoy reading about it next week, so stay tuned!
Untemplaters, what are your current thoughts on veganism?  Do you think it's over sensationalized, impractical, genius, or even dangerous?  Have you ever thought about going vegan?  Do you think your eating habits affect your mood, productivity, health, and happiness?