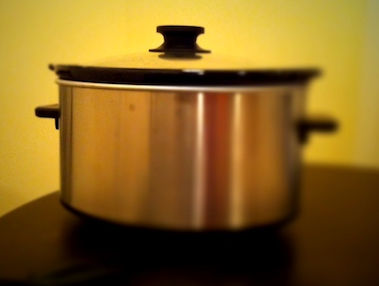 When you run your own business, juggle multiple jobs to pay off school debt, or are just plain swamped with life, it can be quite a challenge to eat healthy.  Fast food is everywhere, constantly tempting us to stuff our faces so we can quickly curb our hunger and get back to our massive to do lists.  An occasional burger and fries isn't that big a deal, but if you give in on a regular basis, you're gonna blow up like a balloon and have a laundry list of health problems to deal with.
While I'm pretty good at avoiding fast food, I have a bad habit of eating lots of frozen dinners and take out.  Even though I pick meals that are low fat and preservative free when I can, it's just not the same as cooking at home where you get to see and control exactly what goes into each meal.
If You SEE What Goes Into The Foods You Eat, You'll Make Healthier Choices
For those of you who love to cook, you're probably already eating lots of healthy foods, especially since you see everything that goes into what you eat.  I went through a brief baking craze phase (try saying that 5 times fast 🙂 ) in my 20's and ended up getting rather grossed out after I saw how much butter and sugar it took to make a lot of recipes.  I stopped eating sugar cookies and pound cake after that!
Several of my 2012 goals are focused on health and fitness and I'm really making an effort to work on them this year.  I'm getting regular exercise into my schedule now, decreasing my intake of processed foods, and eating more raw snack foods when like veggies and fruits.  Cutting back on frozen dinners and take out is another goal I'm working on, and I'm starting to cook dinner at home again a few times a month.
Good News – It's Hard to Screw Up Easy Slow Cooker Recipes
I've never considered myself a good cook, probably because I've had a fair amount of disasters in the kitchen. What I have learned however, is that simple cooking can have amazing results without talent!  A recipe really doesn't need 20 ingredients, 3 saute pans, and a double boiler for it to taste delicious.  Those are the ones that usually end up terrible due to getting the portions of different ingredients mixed up, not timing things right, or substituting too many ingredients when you don't have everything on hand.
Cleanup and planning are my least favorite aspects of cooking and fortunately I've found a solution to both – easy slow cooker recipes.  I am a KLUTZY cook but I've had a lot of success using a simple slow cooker!  They aren't expensive to buy, and many have containers that lift out making it easy for serving and storing leftovers in the fridge.  Most importantly though they make the simplest of ingredients taste delicious!
Save Time And Eat Healthier
I used to spend a lot of time flipping through cookbooks and making huge grocery lists and it lead me to dread cooking.  With a slow cooker you can save yourself a lot of time and headaches because you really don't need anything fancy – pop in some veggies, protein, and a broth or sauce and you're set.  I've even made a few of my own easy slow cooker recipes – most recently a vegetarian chili that's healthy and really basic:
Sydney's Vegetarian Chili
15 oz. can tomato sauce
15 oz. can diced tomatoes
15 oz. can black beans
8.75 oz. can kidney beans
8.75 oz. can corn
~ 1/3 cup chopped onions
2 large green peppers chopped
Combine all ingredients together in the slow cooker.  Turn on low when you leave for work and it'll be ready for eating by the time you get home!  I didn't even need to add ANY salt!
Try it some time and feel free to modify it to your liking.
Untemplaters, do you like to cook?  Have you ever created your own easy slow cooker recipes?  What steps are you taking to eat healthier this year?