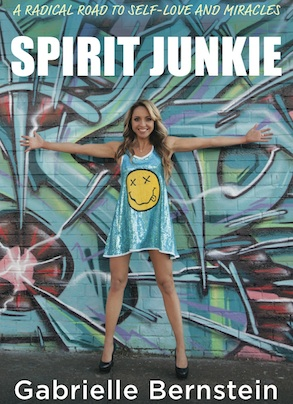 Have you ever thought self-help books are boring and only written on topics you can't relate to?  So not true!  They are actually quite a fun genre to read and are a great way to improve your lifestyle and open your eyes to new ways of thinking.  One such example I recently read is Gabrielle Bernstein's new book, Spirit Junkie, and I have two free copies to giveaway to some lucky Untemplater readers!
Who's Gabrielle Bernstein?
She's a Gen Y motivational speaker, entrepreneur, life coach, and author who grew up in NY and graduated from Syracuse University with a theater degree.  She co-founded a non-profit called Women's Entrepreneurial Network only a year after finishing college, and then started her own PR company shortly thereafter.
Bernstein's a savvy go-getter who found her spiritual journey and path to help others after recovering from a severe addiction to drugs and alcohol.  Gabrielle's first book, Add More ~ing to Your Life, was published just last year.  And an odd but neat talent she has is riding around on a unicycle, which is certainly no easy task and not something you'd think of just by looking at her.
What's Spirit Junkie About?
The book covers her spiritual journey from high school through her entrepreneurial days after college.  From her own personal experiences, Gabrielle also helps us identify and squash our own fears and bad habits, and learn how to replace them with happiness, positive actions, and meditations.
What I Liked About the Book
Gabrielle's writing style is honest and from the heart.
She touches on the darkest, scariest moments in her life and is living proof that you can turn your life around completely and find pure happiness.
Many of the emotions she highlights are things we've all experienced: fears of being alone, love and loss, struggling to please others, fighting and suppressing thoughts and feelings, and anxiety.
Many of the chapters include summaries, which are great to bookmark.
There are several sections throughout the book with helpful tips on meditation and exercises.
What You Should Know Before Reading Spirit Junkie
Some of the concepts get slightly repetitive towards the end, but Bernstein's personal experiences are woven in well and left me wanting to hear more stories about her life.
If you're easily offended by swearing or are giving Spirit Junkie to a young adult reader, be aware there's a handful of times she uses the "s" word.
The book has a total of 12 chapters, 288 pages, and is available in hardcover, Kindle, and Nook.
You can order a copy of of the book on Amazon here: Spirit Junkie
Giveaway Instructions
TWO lucky readers will win!  Increase your changes of winning by completing all of the below.
+1 Untemplater's homepage, 2 points
+1 recent post(s), 1 point each
Retweet this post, 1 point
Like Untemplater on FB, 1 point
Subscribe to RSS, 1 point
Sign up for the newsletter, 1 point
Then list which of the above items you've completed in a comment below.  If you've already subscribed and like Untemplater on FB, do let me know because that still counts!  Get 2 bonus points if you share what your favorite self-help book is in your comment.  Entries close 9/15 at 6pm PST. (Note: this giveaway is now closed)
Untemplaters, do you consider yourself a spiritual person?  Are you a fan of self-help books – why/why not?