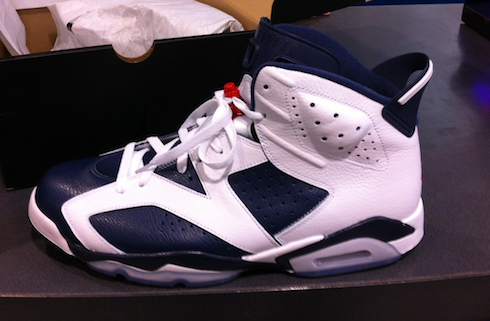 I went to Niketown the other day to pick up some Air Jordan Olympic 6's.  I knew there was little chance of me "copping" a pair at 1pm since the store opened at 8am, but I went anyway because I had to run some errands.  When I got there, there was still a line of some 40 fellas, ranging from 15-30 years of age.  They were able to get a wristband to stand in line for the last remaining pairs. No soup for me.
I then walked to Footlocker and then to Champ Sports.  Both places were all sold out of the $175 Jordan 6's as well.  When I asked the clerk at Footlocker what the buyer demographic is, he told me most were in high school or in their early 20's.  I told him that I was very happy to hear that so many young folks can afford $175 shoes and that I appreciated the latest bullish anecdote about the economy.
The clerk looked at me with confusion and said, "Dude, these kids don't pay rent, don't have a car, and don't have to pay insurance."
"What do you mean?" I asked.  "Did they all buy a place in cash when they were even younger and decide to save the world by only taking public transportation?"  After all, I am an avid bus rider and believe in property ownership as one way to wealth.
"No man, these kids are living at home with their parents!  They are unmotivated and all they do is spend money on shoes, clothing, and these overpriced Nike Elite socks for $15 dollars!"  He picked up a pair and tossed them to me.
SAY IT AIN'T SO
The clerk seemed very bitter for some reason, and I think it was because he had to come in a couple hours early on a Saturday for the Air Jordan launch.  I told him that he was making presumptions about these fine young adults, and that they are probably much wealthier than he knows.
"If they don't have money, how can they buy the shoes?  Why wouldn't they just invest the $175 in themselves instead?" I asked.
He shrugged his head and said, "Whatever.  I'm telling you, these kids just live at home with their parents and will never leave.  They'd much rather have the latest kicks than do something with their lives."
Wow, what a bitter guy!  And then I began to remember when I was a kid and got my first pair of second hand Air Jordans.  I was ecstatic!  I wore them with glee and kept them spotless clean.  They were my pride and joy and nothing could make me happier.
Does being unmotivated really matter if you are happy?!
THE NON BELIEVERS
You can only buy $175 shoes if you can afford $175 shoes.  When I was a teenager, I couldn't even afford $50 shoes so I didn't buy them!  Instead, I bought hand me down Jordans from my friends for $15 bucks.  Over a thousand pair of $175 Air Jordan 6's were probably sold in San Francisco today to young men ages 15-30.  They bought them because they have the money.
I talked to other friends about this scenario and they scoffed at my belief that these young adults have the money.  Here were their responses:
"They probably paid with a credit card they can't pay off."
"They probably stole their money from somewhere."
"They probably aren't even going to college and are just dumb spenders."
"They probably sell drugs."
"They probably have bad credit scores due to late payments."
"If they all have money, why do they all look like thugs?"
"They are all unmotivated and live with their parents.  Just look at them!"
Talk about not giving them the benefit of the doubt!  Just because many of them looked like "thugs" doesn't mean that they didn't go to a fine college, own their own homes, and make a lot of money.  I was ashamed of my friends's quick call to judgement.
SO LONG AS THEY'RE HAPPY
It doesn't matter if you're a 25 year old man living at home with the parents and working a $10 an hour job.  If you want to spend 22 hours to pay $175 in after-tax money on a pair of Jordans, go for it!  They might not be motivated to start a business, go to school, or have great careers, but who cares?  They're happy and that's all that matters.
Personal Story: I was able to negotiate a severance package equal to six years of living expenses. Learn how to negotiate a great severance for yourself in my new book How to Engineer Your Layoff! Never quit, always get laid off so you can collect a severance, health care insurance, deferred compensation, unused vacation days, and be eligible for unemployment. If for whatever reason you do not find the book helpful, you can have a full refund.