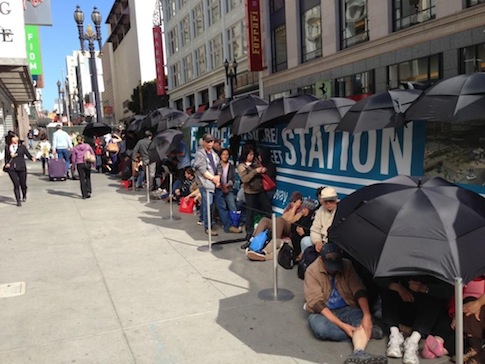 I've been hanging around with two unemployed friends more now given I've got a completely flexible schedule. Although they are unemployed, they don't have to work because Mike co-habitates with his mother, brother, wife, and child in a rent controlled apartment which only costs about $1,500 a month. His wife's family has money and they get some sort of government assistance beyond the child tax credit to raise their child.
My other friend Lorenzo graduated from college last year and comes from a very wealthy family in Brazil. He's looking for a job in IT, but can't get a company to sponsor his work visa so he's going home end of the year. He drove a BMW, wears Gucci shoes, and flashes Prada shades. He's a riot with a good heart!
The tie that binds us is our love for tennis. We've been going to the Tiburon Challenger pro tennis tournament event every day of the week to catch a glimpse of future great hopes such as Jack Sock, Steve Johnson, and Rhyne Williams. Given my rich friend sold his BMW, and my poor friend is poor, I volunteered to drive them over the Golden Gate Bridge to Tiburon each time to save them some money (gas, $6 toll, wear and tear) and do my part.
Every evening beforehand I text them to arrive at my house by a certain time to give us 30 minutes travel time to catch the first match. And every morning both of them are 30-60 minutes late! After the third time being late, I told them that if they don't come by X, I'm leaving without them and they can take a 1.5 hour bus ride or $60 cab ride on their own! They promised me they'd be on time the next day, and they were both 30 minutes late yet again!
Punctuality breeds credibility. Let's be honest. If you want to be on time, you would. You wouldn't arrive late to a dream job interview that pays mega bucks would you? Of course not! The reason why people are late is because they believe their time is more important than the person they're meeting. Slap, slap, slap in the face.
I then began wondering, maybe there is a reason neither of them can find jobs? Or maybe neither are motivated by money because they have assistance from others? Let's explore further.
iPHONE 5 MANIA SHEDS SOME LIGHT
It turns out both Mike and Lorenzo want money because they've been trying to snag a iPhone 5 at the various Apple Stores around the city! But guess what? Neither have been very successful because they kept arriving 30-45 minutes past 8am, when tickets are handed out for a 10am purchase!
Mike texts me, "Well, I just freaking HATE Apple! F-ing Apple cut me off by one person again! I've spent 6 hours waiting for phones that never come. Sh!t what an effing system they have! Just to make people come again the next day to pray and hope! At least this one girl got a ticket right in front of me. They felt sorry for her, so they gave her a ticket. Crazy!!!"
Lorenzo texts me, "These people waiting in line are on Redbull! I got here at 8:30am, and already there are 50 people in line! When the hell do they get here?!?!"
So here I am, laughing my ass off because Mike and Lorenzo are cursing the world and wishing Samsung won the lawsuit. Yet they are still willing to stand in line for hours for a $650 unlocked 16GB iPhone 5 to then flip for $700-$750 on Craigslist or Ebay!
They don't understand that if Apple says the ticket line opens at 8am, they need to get there BEFORE 8am if they want a chance!
THE 6am CHALLENGE BABAY!
I told them to stop being late if they want the iPhone 5. Then I told them to get their asses up at 6am and get to the store by 6:30am to get in line! If there is no line, then go to a nearby Starbucks and read a paper or think up some business idea or something. Here are their responses:
Mike: "Are you crazy?!"
Lorenzo: "F that sh!t!"
I already believe waiting hours in line to spend $650 on an iPhone 5 in hopes to make a $100 profit is crazy, especially since the music will stop one day and supply will be readily available to all. But, my friends are unemployed and want money! Hence, even if they got there at 7am and left at 10am, they will still make $33 an hour profit per phone if they sell right away.
GET RICH OR NOT  
I've been waking up around 6am for the past 10 years. In fact, everyday feels like Christmas, making me want to wake up early to discover what goodies await. Having an extra hour and a half of time lets me do focused work while my peers sleep. By the time they wake up, I'm already miles ahead. Not only did getting in before everyone else at work lead to recognition, getting up early also allowed me to pursue my online hobbies to a point where I no longer have to work!
In this example, I could have finished up a 1,500 word post by 7:00am, ate breakfast, and got in line by 7:15am. After getting my ticket by 8:30am, I'd write a little more, then pick up an iPhone 5 at 10am, list the phone on Craigslist for $750 and go to the Tiburon Challenger on time for a 10:30am start!
Waking up early provides a plethora of opportunity. The extra time adds up over the years. You can do a lot with an extra 300 hours a year! If you don't want to wake up early, at least be on time to your meetings. And if you don't want to be on time to your meetings, at least bring a basket of lemon meringue pie as an apology! And if you really want to make it up to the guy driving you 15 miles over the Golden Gate Bridge, then at least pay for the $6 toll and his tournament ticket!
Readers, why not wake up 1-2 hours earlier than average to get ahead? Why not be on time to your meetings? Do you think there is a correlation between tardiness and failure?
Regards,
Sam