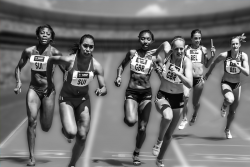 Are you starting to panic that December is practically half way over and the New Year is around the bend? I certainly have felt the weeks disappearing lately and only today remembered I need to get a jump on holiday gifts before I miss all the shipping deadlines for Christmas. Having to fork over expedited shipping costs at the last minute is such a burn and I don't want to get caught in that boat again.
With limited time left before the year is up, we have to focus on prioritizing our to-do lists! Here are some must-dos I recommend you tackle asap.
Complete open enrollment right now. Make sure you've taken care of all of your insurance needs! Reviewing policies and filling out forms is a pita, but it's not something to risk procrastinating on any longer. I can speak from experience that insurance is invaluable. Deadlines vary by employer and provider, so get on it!
Estimate your YTD taxable income and deductions. A lot of tax rule changes are coming. I know that taxes can seem confusing and impossible to figure out, but you can't use that as an excuse to stay in the dark. I hate paying taxes, but I love understanding what the rules are and how I can optimize and reduce my tax liabilities each year. Educate yourself on upcoming tax hikes on Social Security and Trump's middle class tax increases. You still have a couple weeks left to increase your tax deductions for this year or opt to defer income.
Max out your 401(k). One of the smartest things I've done in my retirement planning, was maxing out my 401(k) many years ago. At first I wasn't sure I could afford to do it, but I saw the immense upside, quickly adapted and never looked back. If you have access to a 401(k) plan, I strongly encourage you to push yourself and max it out. If you need some motivation, look at these recommendations of 401(k) balances by age. Be sure to get your contribution changes in asap before your employer's deadline.
Don't lose any hard earned PTO. I never had a problem going over my vacation accrual cap when I was working in a corporate environment full-time. But, I was surprised how many of my staff would lose days each year-end because they didn't schedule enough time off. Don't be like them! You've worked hard to earn your PTO, so check on your balance and make sure to get some time in before year-end. Even a 1-2 day staycation can be a huge refresher and a great way to tackle other year-end must dos.
Calculate your net worth. When I was younger, I used to think personal finance and investing was boring and complicated. But now I'm almost a bit obsessed. I started producing income reports to become more aware of my monthly earnings and to stay motivated to save and invest. During this process I also started tracking my net worth. If you're not sure where to begin calculating your net worth, there's a fantastic website, Personal Capital, that does all the leg work for you. And the best part is their online tools are free! Knowing your net worth will improve your financial awareness and help you grow your wealth faster. Look at these average net worth figures for the above average person to get inspired to grow your own empire.
Analyze the YTD financial statements for your business. If you are self-employed or a small business owner, I can't emphasize how important it is to review your financial statements before year-end. Hopefully you're already doing this on a quarterly basis, but if not, drop everything and do it right now. Look for ways to improve cash management, optimize expenses and identify your money makers and losers. There are always a million things happening at once when you have a business, that it's easy to forget to prioritize accounting and fine tuning operations.
List out your wins and losses. A lot can happen in 365 days. What have you done with yours? Unless we sit down and actually jog our memories, we often forget so many of the things that happened to us over the course of a year, which is such a shame. It's incredibly rewarding to remember your wins – it's worth the time. And even though losses are disappointing, we need to remind ourselves of what went wrong too so we can grow and set new goals. Check out the "1 Second Everyday: Video Diary" app for your smart phone. It's a great memory jogger. I've used it for almost 3 years now and wish I started sooner! Starting a blog is also a fantastic way to keep track of wins and losses – Untemplater has completely changed my life for the better. Check out my how to start a blog page for everything you need to get started.
Skip the cards and go simple for the holidays. I used to get so stressed out about sending holiday cards on time until one year I just decided to stop sending them altogether! Most people just end up throwing them in the recycling bin (although they won't say so to your face) so I figured what's the point. Now I send personalized emails or just pick up the phone and call instead – easier, faster, free and more effective. As for gifts, I just stick to the young kids in my family and don't feel ashamed giving gift cards. Who doesn't love money? I was ecstatic receiving cash when I was a kid!
Get excited about the New Year. This should be easy. I always feel rejuvenated when a new year starts and part of the fun is the anticipation. I start mulling about new goals I want to set, think about ways I want to grow and what changes could be in store. Life is too short to stop learning and to just sit around watching TV. Find ways to enrich your life and feel engaged. Get out there and have more fun!
Untemplaters, are you feeling stress from the holidays and year-end? What are some year-end must dos on your list? What do you have planned for the last few weeks of this year?