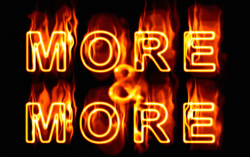 There's a saying in my family, "desire is the cause of suffering," which stems from Buddhism. Even though I'm not Buddhist myself, this principle makes sense to me from several angles: always wanting what you don't have, i.e. coveting, can lead to feelings of bitterness, jealousy and frustration. In addition, the more you have, the more you have to lose, which can cause pain, sadness and stress.
Religion aside, however, we're all faced with a wide range of desires, wants and longings every day. I don't think all desires are bad though. Life wouldn't be the same if we didn't long for anything at all. But the key to desires lies in what we're actually striving to get or achieve and whether or not we can learn to differentiate between wants that are good for us and wants that are bad. Thus, I think a great exercise in grit and determination is to seek answers to the question, do the things you long for make you weak or strong?
Desires that make us weak
As humans, we have a natural tendency as kids to want a lot of material things – tangible objects we can play with or sugary sweets we can devour. It's also incredibly difficult to be patient as a kid. Waiting five minutes feels like an eternity to a four-year-old. Most of us have to be taught how to share with others too. Kids are full of desires that make them weak.
Even though we've all grown up and become adults, most of us still have a lot of material wants. Our "toys" just tend to be a heck of a lot more expensive: $60,000 car; $5,000 camera; $700 smart phone, etc. The difficulties with material wants as an adult are of course whether or not we can actually afford to buy those things, if we become obsessed with always wanting more and if we actually need them or benefit from them.
Many material wants make us weak, especially if we're only acquiring them for pure consumption purposes or to try and fit in and impress others. Consumer spending helps our economy grow, but it generally doesn't help us reach financial independence or retirement faster.
There are also intangible desires that can make us weak such as dropping out of school, wanting to take the easy way out of everything, procrastinating, cheating and taking what isn't rightfully ours.
If any of your desires meet the below criteria, you may want to reconsider the things you're chasing. As they say, be careful what you wish for.
Traits of desires that make you weak:
Expensive and out of budget
Unnecessary with no value add
Similar to something you already have
Causes harm to someone else
Delays or conflicts with higher priority goals
Impairs your judgement
Damages your health
Increases financial or relationship stress
Desires that make us strong
Desire isn't always bad though. Longing for things can be incredibly motivational and spur all sorts of fabulous outcomes. I dreamed about leaving the east coast when I was in college and I turned that dream into reality when I moved to San Francisco over a decade ago. My life has changed significantly for the better ever since.
We all need things to look forward to whether they are tangible or not. Desire can help us achieve many things and bring about positive changes. Generally speaking, I believe that desires that improve the quality of our lives or those around us make us stronger.
Wanting to lose weight, longing for a better job, wanting to support your family, dreaming of starting a business or wishing you can study abroad to learn a new language are all excellent examples of desires that make us strong.
Focus on wants that make you stronger if you are striving for an untemplate lifestyle. If most of your desires meet the below criteria, you're on the right track!
Traits of desires that make you strong
Increases knowledge
Improves your future
Is free or comfortably within your budget
Adds value and serves a purpose
Brings positive change
Helps others
Strengthens relationships
Supports your existing goals
Improves your health
Reduces stress
Don't give up too soon
Being open to change is hard. Learning new things is also hard. Getting out of your comfort zone is especially hard. But I think it's worth it to get uncomfortable every so often. Life is constantly moving forward whether we want it to or not. If there's something you're dreaming about, make sure you give yourself a proper chance to achieve it. Expect to have some failures along your journey, but keep on fighting and get back up again. We only have one life to live. Let's make the most of it!
Untemplaters, do the things you long for make you weak or strong? Do you agree with the traits I've listed above? What are some things you're longing for? How have your desires changed over the years?