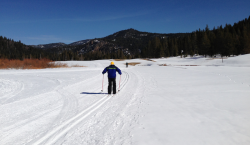 In the spirit of the upcoming 2016 new year and Star Wars: The Force Awakens (Episode VII), I thought I'd title this post based on Yoda's most famous quote from The Empire Strikes Back, "Do. Or Do Not. There Is No Try."
Yoda's my all time favorite character and I love that quote. I think most of you would agree there is something magical about Star Wars and I'm glad to hear that George Lucas is getting a 2015 Kennedy Center Honor award this week for his lifetime achievements.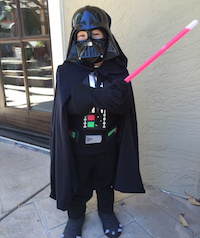 Star Wars is just so frickin' awesome. Even my 4 year-old nephew knows all the characters and he hasn't even watched the movies! I was blown away listening to him rattle off all the character names in the Star Wars sticker book I got him for Christmas.
He was Darth Vader for Halloween and could tell right off the bat that the awesome Star Wars Mr. Potato head I got him for Christmas was a storm trooper. I wish I had one of those when I was a kid!
Side note: Don't miss my favorite Star Wars quotes at the bottom of the post. I'm planning on seeing The Force Awakens this week, so if you haven't seen the latest movie yet either, don't worry – there aren't any spoilers in this post.
Get Ready To Start The 2016 New Year Off Right
At the time of publishing this post, there's less than one week left of 2015. This has been a really great year for me, so I'm a bit sad to see it go. But I have a bright outlook for 2016 and plan to make the most of it. I still have one year left of my mid 30s, so I'm not feeling that freaked out yet about 40 inching closer. Although I don't really like the sound of my late 30s being right around the corner.
Anyway, there are still several more months of cold, rainy weather ahead here. But getting through them will make spring and summer all the more wonderful when they arrive. I certainly have plenty to keep me busy in the meantime.
I hope the upcoming new year has you excited about your future as well. Some people brush off resolutions and goal setting, but I think that's silly. Making a list of things you want to accomplish is the first step in doing versus trying or not doing anything at all.
Don't be afraid to set the bar high in 2016. Keep yourself challenged, take on some new risks, and don't let the fear of failure hold you back. Another way to look at it is if you achieve 100% of your goals, you likely set the bar too low!
My 2016 Goals
I could have waited to write down my 2016 goals, but there's really no better time than the present. So here goes…
Grow My Net Worth By $75,000: This is a bit of a stretch, but if I work hard enough and keep my expenses down I might just be able to pull it off. I've run my net worth numbers and have a target I want to hit by the time I turn 40. If I can grow my net worth by $75,000 this year I'll be ahead of schedule. Please look out for my upcoming net worth report revealing on Monday, January 4th, 2016! If you want some tips on how to improve your own finances, check out this helpful finance checklist.
Pick Up Two New Freelancing Projects: Right now I have five active freelancing clients. Only three out of these five are pretty constant in terms of income, but one of the top three is fading. This is frustrating because my work load is fading not because of my efforts but because their business has been struggling and they are really starting to cut back on expenditures. I'm working on making the bottom two more active, but I'm competing against a lot of other contractors. So, if I can pick up two brand new freelancing projects in 2016, that should keep me in decent shape in case several of my existing ones completely fade out.
Migrate My Photo Libraries: One of my favorite hobbies is photography. As a result, I have probably close to 40,000 pictures spread across multiple photo libraries. For the last several years I have used Apple's Aperture software exclusively to store my photos. With this many photos, I have to split them up into different libraries to keep my computer from crashing. Some of my libraries are over 30 GB each so they are not easy to use in the cloud.
I'm bummed out that Aperture will no longer be maintained by Apple, but it is what it is. I really need to figure out what to do with all of my photos and  I've been putting this off for too long. Before I can upgrade my existing OS and eventually get a new laptop in 2016, I need to come up with a new action plan. Unfortunately, I don't think that Apple's Photos app will be sufficient for my needs, so I will most likely have to purchase Adobe's LightRoom software and migrate over.
Eat Slower And More Mindfully: Okay, I admit it. I tend to eat like a starving animal with only 1 minute on the clock. I developed a really bad habit in college of scarfing down food since I took so many credits each semester and was always running from one class to the next. I need to slow down, take time to chew, enjoy a beverage (I usually forget to drink something), and do a better job savoring each bite. My friends are always so generous about sharing their food and I want to be more like them. I'm not a very patient eater but I think I can be with enough effort and mindfulness.
Donate Or Declutter 8 Bags Worth Of Items: I failed my organization goal last year and I'm feeling a bit cluttered lately. I'd like to get rid of at least 8 grocery bags worth of stuff to clear out more space and have some extra breathing room. I have too many paper docs that can probably be shredded at this point (I still find it hard to toss tax returns over 7 years old even though I don't need them) and random things that I really should just part ways with.
One of them is my old stereo, which is the only device that still has a cassette player in it – who knows if it even still works, but I've got a bunch of old cassette tapes I've been planning on digitizing but never have. At this point I should just chuck them all! Alas, it's not easy getting rid of sentimental things, but I need to just let go already.
See Family At Least Once A Quarter: As you probably know, I live across the country from my parents and most of my relatives. This makes it tough to see them on a frequent basis, but I've been doing better the last couple years about making trips. If I can see at least one member of my family every quarter, whether it's me going to them or them coming to me, I think that would be a great effort.
Learn Three Full Length Tap Dancing Routines: This is easier said than done with my schedule and typically low desire to exercise. But, there's a great dance studio near my house that has a fun group of women who share my love of tap dancing. Tap is an incredibly entertaining and difficult style of dance that is sadly dying, but I hope it can gain its popularity back. My teacher is grey haired and probably in his late 60s/70s, but you wouldn't know it by watching his feet! Anyway, dancing is the best way for me to exercise besides hiking and yoga, so having a goal to learn three full routines should keep me attending weekly classes for the whole year.
Awesome Quotes From Star Wars To Inspire You Forward
I'll close this post with some of my favorite quotes from Star Wars. May the Force be with you into 2016!
"Truly wonderful, the mind of a child is." Yoda, Attack of the Clones. Kids say and think the darnedest things! Treasure the time with the children in your life, whether they're in your own family, your relatives' or your friends'. They grow up quick!
"A Jedi uses the Force for knowledge and defense, never for attack." Yoda, The Empire Strikes Back. Don't let bullies or doubters get the better of you. Take the higher path.
"Fear is the path to the dark side…fear leads to anger…anger leads to hate…hate leads to suffering." Yoda, The Phantom Menace. Fear not what the future holds or what you do not have. You can accomplish anything you set your mind to with enough time and effort.
"Your focus determines your reality." Qui-Gon Jinn, The Phantom Menace. You're in control of your destiny. Make the most of it.
"Your eyes can deceive you. Don't trust them." – Obi-Wan Kenobi, A New Hope. Sometimes you just have to go with your gut.
"This is a new day, a new beginning." – Ahsoka Tano. Anything is possible. Get up and do something!
Readers, what are your goals for 2016?
START YOUR PROFITABLE WEBSITE TODAY
Want to make more money and be more free? Work on building your brand by creating your own website the easy way with a WordPress site like mine through Bluehost for super cheap. You can register your domain for under $20/year and get hosting for just a few dollars a month. Whatever your interests are, focus on building your skills and developing your own unique niche.
I've been blogging since 2010 and it has allowed me to break free from the corporate grind to travel, work from home, and do so many more things I've always wanted to do but couldn't. The income is relatively passive as posts I've written years ago are still being found through Google and generating income. What's better than making passive income and creating a valuable asset you can one day sell for a multiple of annual income? There's not a week that goes by where I'm not thankful for starting this site!