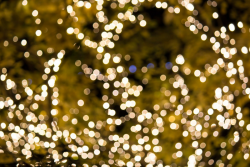 Blink and it's gone; another year comes to a close. Time doesn't stop for anyone, no matter how desperately we need it. You've probably got a lot on your mind. I certainly do. Things get crazy this time of year – promotions and raises or frustratingly a lack thereof, figuring out what gifts to buy your family and friends, visiting relatives, dealing with bad weather, scrambling to finish year-end projects, you name it…
Hopefully you were able to focus on these three key themes this year:
Health
Happiness
Financial Independence
Not many people can say they completed every one of their New Year's resolutions and/or personal goals – I certainly can't – but hopefully you were able to make some progress with some of yours. Even if you failed in a lot of ways like I did, surely you've got some good memories and small wins thrown in there somewhere that you can celebrate.
Sometimes when life gets too crazy and it feels like we can't get anything done that we want or need to, stepping back and thinking about the big picture helps. And that's where those three themes come into play, for me at least.
Reflections
It's been a year of many firsts for me and I'm left feeling extremely grateful and also somewhat melancholy. I definitely had more losses and moments of weakness this year than what seems like any other. Man, I've got a frog stuck in my throat just thinking about them. But, thankfully I do have some wins that help make up for my fails that I'm proud of.
I didn't set too many goals at the start of the year – I admit that was largely because I wanted to avoid having to admit failures – but I'm in the mood to confess so I've listed out some more stuff to help me remember when some random day in the future I come back to read this post and reflect on life.
Losses
Publication frequency took a nose dive. If you followed my blog prior to 2017, this is my most obvious fail. In my early years, I published two times a week, maybe even three on occasion. Then it became once a week steadily for a long time. I kept that weekly publication schedule no matter how crazy stressed out I got at my day job. I would have liked to publish more, but weekly became a manageable part of my rhythm. When I got pregnant and approached my third trimester, I stepped up my preparations and got about two months of posts written before I gave birth. I figured I'd be able to handle a weekly posting schedule after taking two months "off." Boy did I underestimate the time and energy it takes to raise a baby and my ability to get back to my previous schedule. I don't know when I will get back to weekly publications, but I will continue to write whenever I can.
Failed to expand my personal finance writing portfolio. I had a goal to become a regular contributor on Financial Samurai and totally failed. I wrote one post early in the year, but the topic and timing weren't quite right and it just wasn't written well enough for publication so we didn't release it. I was exhausted in my third trimester and used what little writing energy I had to prep Untemplater's schedule and didn't prioritize getting pieces written for FS. And then after becoming a mom, writing majorly went on the back burner. I'm sorry Sam for failing you! I not only failed to write, I also failed to record a single podcast with you. I had good intentions but failed to follow through. Shame on me.
Didn't complete contingency plans for my business and assets. I met with an estate planner, but unfortunately didn't get further than that. I wasn't persistent enough to get things together quickly and the guy I met with also failed to return my calls and emails. I could have hounded him, but too many other things took my attention and he seems too busy or too flaky to get anything done anyway. A friend gave me a few other estate lawyer recommendations that I need to reach out to instead and hopefully make more progress. I did write up some notes and instructions on some business stuff I do, but didn't get through as much as I should.
Still not a great communicator. My dh has told me many times I'm not a good communicator and he's right. Bad habits are hard to break, especially the older we get. I need to explain myself better when I speak, listen more closely to others, be more interactive in conversations and be more empathetic. I started reading a good book on communication, but like most things I haven't finished what I started. I need to finish reading it!
Fear continues to make me hesitate, doubt and say no. I'm a cautious person by nature. Always have been. I too often let fears consume me and make me afraid to do even the dumbest things like take our empty stroller on an escalator when my dh has the baby in a carrier. I've seen the warning signs that say don't do it and my cautious nature tells me not to break the rules even if I'm just pushing an empty stroller. It's hard for me to let go of my cautious side. But hopefully I can start to ask myself "what's the worst that could happen" before just saying "no" by default. I need to be more open to trying new things.
Procrastinating too much. I add things to my to do list faster than I take things off. Sigh. I admit that I choose trying to catch up on sleep during most of my precious free time when I have it and thus things just don't get done. Something's gotta give. If I want to do more, I've got to sacrifice elsewhere and that's usually sleep.
My cooking skills still suck. I can't believe I actually set a goal to improve my cooking skills. This seems like such a laughable, dumb goal now. I think I cooked maybe three times since I gave birth and my last attempt was a soup that shouldn't count because more than half of it went in the trash. It really wasn't any good. Thank goodness for food delivery in SF or I would have starved this year.
Pushes
Regularly investing $10,000 a month. I started off great with this in the beginning of the year and then got very side tracked with parenthood. Fortunately my dh really helped pick up my slack and invested the cash I had coming in for me. So I don't deserve credit for this goal, but I was able to keep putting cash to work thanks to him!
Connected with 3 new friends in my neighborhood. I met three new friends who live pretty close by and unfortunately one of them I really liked moved away. Another I didn't connect with too much, but the last one is really funny and we've met up several times. It's hard for me to meet up frequently due to being low on energy some days and finding times that work for both of us, but I think we'll be able to hang out more in 2018.
Recorded clips for 1SE more often. I've done a great job recording more clips for this app, especially thanks to Live Photos on the iPhone, but have struggled to actually select my daily clips in the app that get linked together for my yearly video. At least I have the footage!
Wins
Became a mom and a darn good one. This is by far my most proud and priceless win for 2017. Having a baby truly is life changing and I feel so blessed to be able to spend my days and nights with him. Every day is different and I've learned so much. Time is going fast though so I try to treasure every single moment I have. Even though I don't do everything by the book and maybe I'll look back on some things later on and think, "why did I do that" or "I should have done this instead" I'm not stressing about it. It's impossible to be a perfect parent and there really is no instruction manual. I just use my gut, do my best to figure out what he wants and needs, and give him a lot of love, support and laughter.
Gutting out sleep deprivation. 2017 taught me that success starts with sleep, seriously! I can't even remember when I last got 8 hours of uninterrupted sleep. It was probably summer of 2016 or something lol. But I've adapted and think I've done a darn good job at not letting interrupted sleep annoy or frustrate me. I just make do with what I can get and power on through.
Breastfeeding. No man will ever fully understand what it's like to breastfeed or pump and no woman who's never done them will either. Think it's straight forward and natural? It's N-O-T! I won't bother going into the details, but it's definitely way more complicated than I ever imagined before I became a mom. Who knew that even lactation consultants don't give the same advice and instructions lol. Every mom has their own challenges and we just do our best to deal with them and learn things as we go. Fellow nursing mamas, we deserve trophies!
Patience. I'm generally a pretty patient person and this year I had to tap into my patience quite a lot. Sleep deprivation makes it a LOT harder, but I've stayed pretty darn level headed and think I've done a good job not letting things get me angry or upset. I've been around short tempered people throughout my life and career and oddly I think that could be partly why I've been able to be so calm. Seeing someone get easily heated makes me not want to do the same. Although I admit, talking to AT&T customer service and Gusto during tax season are my Achilles heal – man they have screwed me over one too many times and dealing with people who just don't get it really gets under my skin lol.
Onward we go
I hope you had a great 2017. I certainly didn't get to do everything I hoped to accomplish, but all in all it's been a phenomenal life changing year. I count my blessings every night and am looking forward to making even more lasting memories in the weeks and months to come.
I wish you all the best in 2018, a big thanks for reading, and with you a Happy New Year!
Recommendations
Never Quit, Get Laid Off Instead. Learn how to negotiate a great severance for yourself in How to Engineer Your Layoff! By getting laid off from a job you wanted to leave anyway, you can collect a severance, health care insurance, deferred compensation, unused vacation days, and be eligible for unemployment. The book provides helpful case studies and a framework for you to have a strategic conversation with your manager on how to profitably quit your job. Can you imagine having a nice financial runway to pursue your dreams without the stress of having to make a lot of money?
Start Your Own Profitable Website Today – Want to make more money and be more free? Work on building your brand by creating your own website the easy way with a WordPress site like mine through Bluehost for super cheap. You can register your domain for under $20/year and get hosting for only $3.49/month. Whatever your interests are, focus on building your skills and developing your own unique niche.
I've been blogging since 2010 and it has allowed me to break free from the corporate grind to travel, work from home, consult for companies that I like, and do so many more things I've always wanted to do but couldn't. The income is relatively passive as posts I've written years ago are still being found through Google and generating income. What's better than making passive income and creating a valuable asset you can one day sell for a multiple of annual income? I've conquered my biggest fears by going off on my own thanks and it feels wonderful. Not a week goes by when I'm not thankful for starting this website!