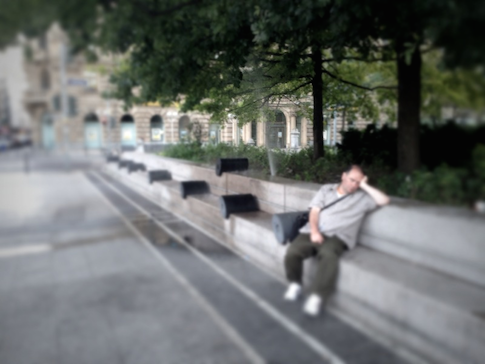 I've been stuck under the weather for the last four days feeling really lousy. Being sick and stuck in bed is the worst, but at least it's a decent time to think about life in between foggy naps. Somehow I got to thinking about some of the stupid things I've done over the years. There are more than I could fit in one post, but I picked a few to remind to myself not to do them again. And perhaps I can help some of you avoid these stupid things I've done too.
Oh The Dumb Things I've Done…
Underestimate the sun – The sun and I don't mix too well. One time I was at a friend's clubhouse and didn't put on any sunscreen because it was super cloudy. The sky was covered in white. But stupid me ended up getting burnt to a crisp after being out for a couple hours. Another time I was at the beach, I knew to put sunscreen on, but even though I used 50 SPF, I was out too long without reapplying and got burnt cherry red. Talk about a lot of pain and skin damage that could have been avoided if I wasn't out so long. Note to self – get a waterproof watch and 100 SPF sunscreen!
Forgot to put my wallet in my purse – I'm usually not forgetful when it comes to where I put my belongings. I rarely misplace my keys, phone, purse, or sunglasses. But I've made the dumb mistake multiple times of taking my wallet out of my purse (usually to get my credit card to make an online purchase) and forgetting to put it back before going out. Once I did that and arrived at my doctor's office without my wallet. How embarrassing. Fortunately they were able to just bill me for my copay. Note to self – either put my wallet back as soon as I'm done, or bring my whole purse with me when I need to use my wallet.
Let worrying delay getting incorporated – I was way too over worried about starting a business that I kept dragging my feet about it. Now I know that I really didn't have anything to worry about. Starting a business in California is a bit more complicated than in other states, but it isn't as bad as I thought it was. If you're thinking about starting a business or are already working side gigs, consider starting the steps to incorporate and don't let over worrying drag your feet.
Didn't take enough sick days – There were many days early on in my career when I pushed myself to go to work even though I was sick. I was too worried about being seen like a slacker instead of taking care of myself and preventing my colleagues from getting sick. Without rest we end up taking longer to heal, which is pretty dumb.
Tried to use both feet to drive an automatic – You know how they teach you in drivers ed not to use two feet when you learn how to drive an automatic? Well I was stupid and tried it anyway. I thought it was easier but low and behold I got my feet mixed up when I was driving. Fortunately I didn't crash into anything, but I learned to stick to just one foot after that.
Waited to open a retirement account – My first couple employers didn't offer any retirement accounts. I was stupid enough not to open one myself for several years even after joining an employer that offered a 401(k) plan. At least I was using money to pay off my student loans. But if I were to do things over again, I would have opened my own retirement account the first year I started working. Even small contributions can really add up over time.
Didn't buy short term health insurance – Once when I was in between jobs, I don't think I knew about Cobra or maybe I wasn't eligible. Anyway, I had a new job lined up, but was without health insurance for a couple weeks. I was stupid and too cheap to pay for short term health insurance. Well low and behold just a day or two before my new insurance kicked in, I got incredibly sick with a severe fever and could barely walk. I was all by myself with nobody to watch over me, so I bit the bullet and went to see a doctor for antibiotics without any insurance. Fortunately it wasn't a fortune, but I still felt dumb for not having any insurance.
Over worried about what other people thought – When I was growing up I was easily intimidated. And when I started my career I worried way too much about what other people thought of me. All of my worrying lead to fear and not taking enough risks. Fortunately I grew out of this, but I do wish I had more confidence earlier on in my life. All that worrying about what other people thought was wasted energy and unneeded stress.
Didn't stand up for my value early enough – It took me a while into my career before I had the courage to ask for a raise. Fortunately I finally did and started getting better pay after that. It seems ridiculous that we have to ask to be paid well, but company's will all too often try to pay the least amount possible they can get away with. Once you know how much you're worth and start asking for it, assuming you're performing well of course, your compensation should improve.
Shot to the surface scuba diving – I'm really proud that I became a certified open water diver a couple years ago. But I made the rookie mistake of shooting to the surface too quickly by accident when I should have been staying down at the safety stop. Now I know to continue letting air out as I rise even if it seems like no air is coming out, and to grab the emergency dump valve if I feel myself rising out of control. Thankfully I ended up being okay and didn't need to go to a decompression chamber!
START YOUR PROFITABLE WEBSITE TODAY
Want to make more money and be more free? Work on building your brand by creating your own website the easy way with a WordPress site like mine through Bluehost for super cheap. You can register your domain for under $20/year and get hosting for only $3.49/month. Whatever your interests are, focus on building your skills and developing your own unique niche.
I've been blogging since 2010 and it has allowed me to break free from the corporate grind to travel, work from home, consult for companies that I like, and do so many more things I've always wanted to do but couldn't. The income is relatively passive as posts I've written years ago are still being found through Google and generating income. What's better than making passive income and creating a valuable asset you can one day sell for a multiple of annual income? There's not a week that goes by where I'm not thankful for starting this site!