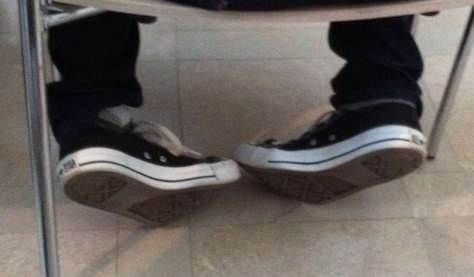 Remember being confused as a kid trying to figure out when it's okay to tell a white lie, but not okay to tell other types of lies? I remember laughing a lot when I watched the Jim Carrey movie Liar Liar, when the main character played by Jim has a magical wish cast on him by his son that prevents him from telling any type of lie. We can get so used to telling lies, especially white lies, that we don't even realize it sometimes. Life would be very different if we had to tell the complete truth all the time. A lot of us would probably get really depressed or angry at each other!
So while I think telling small white lies usually isn't a big deal, real lies can cause some serious damage to relationships. Trust is a precious and priceless binder between people, and once that's lost it can be very difficult to get it back.
Although I have no desire to be a psychologist, I do find it interesting that humans act and say things that can reveal when we are not telling the truth. I was fascinated with the TV show Lie To Me for a little while, which was a drama about a team that could identify when criminals were lying based on their micro expressions and body language. We can reveal a lot more than we realize when we are guilty and trying to hide something.
The Liars In Our Lives
Perhaps you know someone who constantly tells lies. Or maybe you suspect a friend or family member from masking the truth about something important. Neither situation is fun to be in and confronting someone can be awkward and may result in a fight.
Fortunately, I haven't had to deal with too many liars in my own life. I have one relative whom I don't associate with anymore, who has a tendency to lie a lot. I wouldn't call him a con man, but he has a slick personality, and talks his way into and out of bad situations. I've also come across a few liars at work who were too stubborn to admit their own mistakes, even when we had proof they were guilty. Needless to say, those folks ended up getting fired and hopefully learned their lesson.
Want to know how to tell if someone is lying? There are little tells that can help unmask the truth if you're short on evidence. If you suspect someone of lying, take a look and see how many of the below clues ring true. It's better to do a little research first before jumping to conclusions and confronting someone. Accusing someone of lying is serious and not something to take lightly. Because if they are innocent, it will probably be quite hard for them to forget and forgive you for falsely calling them a liar.
Verbal Clues Someone Is Lying
There tend to be both verbal and physical clues when people are lying. Some people have more verbal tells than physical ones, and vise versa. Here are some clues to listen and watch for that will help you learn how to tell if someone is lying.
Inconsistencies in their story
Their emotions seem off and dismissive
Slow to respond
Details are lacking or inappropriate
Their answers are blunt and short
Don't want to cooperate
They may whine or complain about being questioned
Too focused on irrelevant details
Doesn't provide specifics about the main topic in question
Focused on persuading you versus explaining facts
Their voice sounds weak and apologetic
They respond by repeating your questions
They may say things like "I swear on the Bible."
They use a lot of expressions like "Honestly…," "To tell you the truth…," or "As far as I know…"
Their answers are evasive
Physical Clues Someone Is Lying
In addition to verbal signals, body language and other physical gestures can indicate when someone is lying. Keep in mind that sometimes we do these things just because we're bored, fidgety, or restless and aren't actually hiding something.
Standing or sitting slumped over
Wringing their hands
Unnaturally stiff in the upper body or still
Fidgeting with objects
Feet curled inward
Self protective posture
Increase in blinking
Tapping fingers nervously
Sweating
Breathing heavily
Closing their eyes when telling a story
Looking off into space like they're pulling from their imagination instead of memory
Shrugging
Their smile seems fake
Fists are clenched
Grooming gestures
Rubbing or touching below their eyes
Biting or pursing their lips
Palms turned up out of sync with their speech
Famous Liars In History
Nobody's perfect and trying to maintain a certain image, especially in the spotlight, leads many people to lie in order to cover up their mistakes and wrong doings. Here are a few famous liars in history that you'll probably recognize.
Lance Armstrong – I always had a suspicion that he was not telling the truth all those years about doping. He was just too good at cycling. But with all the tests they ran on him, I figured he wasn't guilty along with everybody else. What a shock to us all when his interview with Oprah came out in 2013 and he finally confessed to everything!
Bernie Madoff – Ponzi schemer to the max, Madoff swindled close to $50 million dollars from investors. He finally confessed to 11 Federal felony charges. He's projected to be in jail until 2039 and may pass away long before then as he's already 76.
Anna Anderson – Anna was one of many who claimed to be the lost Princess Anastasia, the only survivor of the Russian royal family, The House Of Romanov. I remember being fascinated by the movies and stories surrounding Anastasia's disappearance and wanting to believe they finally found her. Anna stuck to her story until she died in 1984, but later analysis on her DNA ended up revealing the truth that she lied about the entire thing.
Frank Abagnale – Probably best known by Leonardo DiCaprio's depiction of him in the film Catch Me If You Can, Abagnale was a professional liar. He started young and cashed tons of fake checks all around the world and managed to convince people he was a doctor, pilot, lawyer, and professor. 
Titus Oates – Back in the 1670s, Oates convinced Londoners there was a plot to kill King Charles II and get the King's Catholic brother, James, in the throne. The whole thing turned out to be fake and Oates went to jail for 7 years.
There are tons more liars that I didn't touch on like Bill Clinton, Marion Jones, Richard Nixon, but you get the idea. Hopefully you come across very few liars in your life, but if you do it's helpful to know how to tell if someone is lying. Some people are a lot easier to read than others too. And once you find out that they did lie, the next question to ask yourself is if they deserve forgiveness and a second chance. It's always wise to proceed with caution before accusing anyone of lying. Gather as much evidence as possible first because facts don't lie!
Untemplaters, are you good at how to tell if someone is lying? Why do you think the liars you've come across in your life couldn't tell the truth? Do you have any other tips on how to tell if someone is lying?