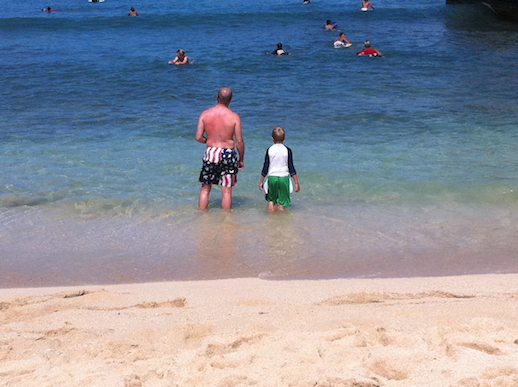 One of the major finance sites talked about how a 50 year old wife refused to let her 57 year old husband retire!  She said, "I'm not letting him retire and play golf all day.  He needs to work so long as I'm working!"
Wow, what an awesome wife!  Not.  The wife is being totally selfish.  She basically has the attitude of, If I can't stop working and relax, than neither can he!  She also doesn't come to terms with the fact that her husband is seven years older than she is, and has therefore worked for seven more years!
F0r some whacko reason, the wife thinks they are the same age and have the same amount of work experience.  Crazy talk I tell you!  From my standpoint, I would much rather have my spouse not have to work so that only one of us suffers.
Stay at home spouse envy is an ever growing problem as more and more men decide to work from home, or simply stay at home and smoke cigars all day.  As someone who just announced his retirement, I am concerned about the such discrimination!
DO WOMEN WANT THEIR CAKE AND WHIP CREAM TOO?
In the past, it would be commonplace for a wife to stay at home and be the homemaker.  Thank the lord, Ben Bernanke, this is no longer the case!  Men have finally risen up from society's pressure to decide they too can stay at home and still be manly men.  In fact, I wrote a post entitled, "Stay At Home Men Of The World, UNITE!" as an ode to all men out there.
Anybody who has worked for more than 10 consecutive years knows that after a while, work becomes a grind.  You're in your 30s and suddenly you realize you're almost middle aged and want to do new things with your life.  The internet has completely changed the way we need to live our lives and make money.  We all know that here on Untemplater and if you can figure out a way to make money quitting your job, you would!
I'm all for women wanting to work from home, or stay at home to raise a family.  Studies after studies show that a woman's equivalent day job income as a SAHM is worth roughly $100,000.  I believe it, given the job is 24-7!  I would love to have the mother of my children spend as much time with my own flesh and blood for as long as possible.  Much better than a stranger no?
If me and my men friends are so open-minded about women staying at home, why aren't women as open-minded about men staying at home?
ARE STAY-AT-HOME MEN THAT LOOKED DOWN UPON?
In another survey about occupational prestige, male homemakers were ranked at the BOTTOM of a list of the top 25 occupations. Some of the more prestigious occupations include being a firefighter, scientist, and doctor.  I don't have the facts, but I'm sure that most firefighters, scientists, and doctors are males 10 years ago, and probably even now.
We can conclude that society simply looks down on men who are not only firefighters, scientists, doctors, lawyers etc, society also thinks men are bums for just staying at home, EVEN THOUGH society believes in the equality of men and women!
I strongly believe in the equality of men and women when it comes to pay, recognition, treatment and so forth.  I want my mother, sister, and spouse to be treated equally.  Yet, do women not want men to be treated equally?
THE WOMAN WHO COULD NOT GET OVER HER STAY AT HOME HUSBAND
I have a good female friend who is slowly starting to drive me BONKERS!   Every time we catch up over drinks, she complains to me how her husband isn't doing enough in their marriage.  He's six years older than she is, and left corporate life last Fall to run his own design start-up.  He's saved a ton of money for them both and really doesn't have to work for anyone else again.
Despite her husband being older, working longer, and providing the bulk of the couple's net worth, she still complains!  Here are some things she complains to me about:
"I have to work all day and when I come home, shouldn't I have food on the table instead of dirty dishes in the sink?"
"Why do I have to continue to work if he's at home?"
"I try not to think about having to work for several more years because that's depressing." (she's only worked about seven years full time).
"I wonder what he does all day?"
The point is, her resentment is festering and I just want to tell her to please be quiet, enjoy her cushy job, and support and trust her husband as he builds his company.  Being an entrepreneur is hard, and she needs to stop her complaining and put herself in his shoes for a change.  I'm friends with her husband too and I know all he wishes for is for her to be supportive and show she appreciates how hard he's working.
IMPENDING FAILURE
If she does not rectify her resentment, not only is she going to drive all her friends away with her complaining, her husband is going to start resenting her for not understanding his situation.  Society places a tremendous amount of pressure for males to succeed, so they can earn enough money to take care of a family. When roles are reversed, there really seems to be a shutdown because we've been so ingrained with the fact that men need to be out of the house and working.
In Japan, housewives ban their husbands from coming back before 7pm because it is a sign they aren't socializing and working enough to get ahead!  Meanwhile, Japanese men have this crazy cultural notion of not allowing their wives to work.  If that's the case, no wonder why Japanese wives crack the whip!
If women don't recognize the growing trend of men who want to stay at home, I'm afraid there will be a lot of breakups in the future.  Men have dreams too you know.  We aren't all looking to climb the highest rung of the corporate ladder and set off fireworks once we get there.
Readers, why can't women be happy for their stay at home men?  Is it impossible for women to see themselves as the breadwinner?  Is resentment a natural reaction?  What happened to equality?  Are you interested in figuring out how to make money by quitting your job so you can do whatever you want?
Regards,
Sam